Eye on Golf Equipment: Club Glove travel gear
Our Eye on Golf Equipment reviews continue with a look at the Club Glove travel gear.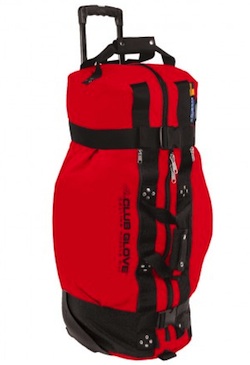 Trust your golf clubs and travel gear with the best in the business. (Club Glove)
Golf is a sport with ever-changing tools. There are drivers, putters, balls, towels, bags, socks, grips and everything in between. Here at Eye on Golf, we're reviewing the latest in golf equipment each week in hopes our words will help you make a better decision about what's best for you. This week, we look at the Club Glove travel gear that will get your important golf stuff to your destination in great shape everytime. 
Ideal handicap: All handicaps
You've all seen those FedEx commercials with the tagline, "there's nothing more important than your clubs." We're buying gadgets all the time to mark our balls, improve our swings and make the music on the golf course the loudest possible, but what about making our golf clubs safe?
That's where Club Glove comes in. Think about how much money you have committed to your golf bag right now. A $300 driver, $700 worth of irons and that snazzy $200 putter that you were Christmas-morning giddy to get in the mail. The game of golf is an expensive one. So when you travel to play, you need to protect your golf clubs with as much care and commitment as you put into making that golf bag what it is today.
Club Glove does that. The company has put together an indestructible line of travel gear, from the golf bags that almost wrap your club-heads in protection to the travel bags that seem to fit just about every piece of clothing you have. 
I had a chance to check out both the Rolling Duffle XL and the Last Bag. Let me tell you, it's travel-gear bliss. 
The last time that I took an international trip, my travel bag ripped when I was getting it at baggage claim. There are few more depressing things in travel than when your bag is done and you're forced to find, and buy, a new one immediately (especially in an airport where the things are marked up four times). 
Club Glove is basically a company that guarantees that your clubs, and clothes, will make it to your destination without a scratch.
As a golfer, I don't see any product out there that could compete here. And if you really care about your clubs, and your clothes, I'd suggest dropping a line to your significant other that this would make the perfect holiday present. 
The next season of golf has a real chance to be one of the best any of us has ever seen

This season will fascinate as old stars converge with up-and-coming superstars

With a single golf lesson up for auction, Tiger Woods changed some lives forever in Texas this...
The Days have had a rough 2017 from beginning to end

Why in the world would a former FedEx Cup winner hop on 24 hours worth of flights this wee...

Following the debacle at the ANA Inspiration earlier in 2017, Thompson has some thoughts