Eye on Golf Equipment: Our Big Belt Review
Our Eye on Golf Equipment reviews continue with our review of some seriously good belts.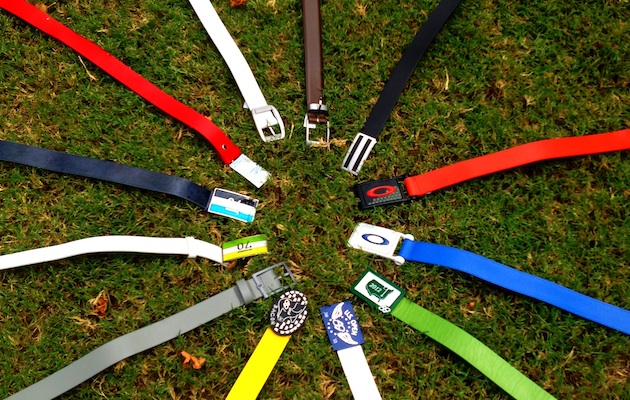 Belts these days come in all shapes and sizes. (Shane Bacon)
Golf is a sport with ever-changing tools. There are drivers, putters, balls, towels, bags, socks, grips and everything in between. Here at Eye on Golf, we're reviewing the latest in golf equipment each week in hopes our words will help you make a better decision on what's best for you. This week, we look at a bunch of belts. 
Ideal handicap: All golfers (and waist sizes)
59 Belts -- There are plenty of reasons that 59 Belts trended this summer at the U.S. Open, and it wasn't just because amateur sensation Beau Hossler was rocking them all week; the concept and company is great. 59 Belts have been around a while, and for good reason, but unlike belts you buy off the rack, these things require some work. Each belt is cut according to your waist size, and buckles perfectly to how you wear them. That isn't where the customization stops; 59 Belts have conquered personalizing belts, like the Masters and U.S. Open buckles you see above (bottom of picture, green and blue), and even the Bacon buckle they made for me with the Pig on it (yellow). They'll do whatever you ask, and the people behind it are as great as their leather. www.59belts.com
Canterbury Golf -- You see the Canterbury belts at the top of that picture (white, brown, black), but don't think that's all the company offers. While they do have a good grouping of classy, non-flashy golf belts, they don't mind dabbling in the crazy. Canterbury Golf has established themselves as one of the leaders of a belt you might wear when you play a country club, but their silicone line would be perfect for a John Daly outfit. The coolest part about their silicone line? They come in one size, and you can move the buckle around to fit your waistline, which helps if that changes from time to time (Thanksgiving is just a few months away). www.canterbury-golf.com 
Sub70 -- If you were going to sum up the idea of modern apparel on the golf course in one golf company, it would probably be Sub70, the leader in making golfers stylish (something that is always a struggle). The belts (white and black to the left of the picture) come with different colored belt buckles, which helps mix and match if you have just one belt but want to change up the buckles to fit your outfit. Also, they're incredibly affordable, which helps, and have just about every color that you could possibly want when picking out what you're going to wear the next time you hit the links. www.sub70usa.com
Oakley -- You've seen Rory McIlroy rock the Oakley belts before, so you know, but the orange and blue ones above to the right are some of my favorites simply because they're thick, the buckle is solid, and they look good with just about every outfit. A boring white shirt/black shorts outfit will be quickly spruced up with either of those two options, with many more on their website. Oh, and added bonus; you'll at least look like Rory even if your game is far from his. www.oakley-golf.com 
Travis Mathew -- The simplicity of the Bruno Belt you see above (grey) is that it doesn't take away from an outfit that you might be excited about showing off while adding a little class. Travis Mathew has definitely put themselves near the top of the list as golf gear you want to own, and the new belts are no different (also, make sure you check out the blue plaid when you get a minute, definitely a cool look that almost screams Webb Simpson and Zach Johnson). www.travismathew.com 
Fila Golf -- Few things I don't like about the red belt you see at the top left of your screen. The simple silver belt buckle; the color; the diminished branding that doesn't take away from the look. Fila Golf is definitely up-and-coming and I like a lot of their new stuff, especially this red belt. www.filagolf.com
SportsLine simulated the 2017 WGC-HSBC Champions 10,000 times and came up with some surprising...

Tiger Woods keeps posting slo-mo videos of himself on Twitter, and that's not a bad thing

This was quite a sixsome in Dallas this weekend
Braden Thornberry has won some big tournaments in his career, but this was a pretty great...

Thomas birdied the second playoff hole to beat Marc Leishman

The reigning PGA Tour Player of the Year righted the ship after a shaky second round