Eye on Golf Equipment: The Cleveland Classic Driver
Our latest installment of Eye on Golf Equipment takes a look at the Cleveland Classic Driver.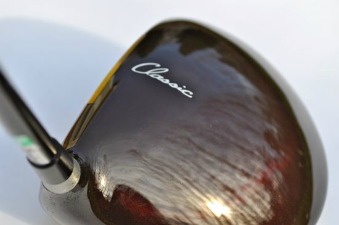 Cleveland Golf has gone old school with their Classic series. (Cleveland Golf)
Golf is a sport with ever-changing tools. There are drivers, putters, balls, towels, bags, socks, grips and everything in between. Here at Eye on Golf, we're reviewing the latest in golf equipment each Tuesday in hopes our words will help you make a better decision on what's best for you. This week, we look at the Cleveland Classic driver.


Technology in golf is a fun little battle. Club companies will do just about anything to distance themselves from the competition. We've had white heads, pink heads, changes on the color black. We've had screws, weights, plates and shaft adjustments. 
But maybe the simplest, yet coolest, idea is what Cleveland Golf decided to do. If things like Instagram give the general public any indication that we really do like retro things (that company just sold for a billion dollars), the golf club seems to always be moving forward in the looks, taking on comparisons to the Dark Knight and less like something from a Sam Snead collection.
Not anymore.
The Cleveland Classic is a step back in time, looks-wise, to when clubs were persimmon and beautiful in a simpler way. The driver is so incredibly beautiful that it takes a little while to realize this thing can perform like today's technology.
It really is an interesting concept by Cleveland. 
After you get over the look of the club, you start dabbling in performance. The clubface is super deep, so just setting it behind a golf ball gives you the confidence to rip at it like any other new driver. One little addition that Cleveland made is introduce a gold-colored trapezoid section on the face that is a step back in time to how the face of drivers used to look, but also gives the club what appears to be added loft, meaning while your driver is 9 degrees, it actually looks a bit more lofted. Confidence to find the fairway is immediately raised (this is helpful for someone like me, who tends to enjoy higher lofted drivers but doesn't like giving up the distance switching to something in the 10.5 range would take away). 
There are three options with the Classic, ranging from 270 grams to 290 and finally, the tour, which is 310 (I was swinging the 290, and would probably move to the 310 if I had my choice, but I still loved the weight of the middle version). 
And along with all that, Cleveland decided to go retro even with the headcover, shipping the driver with an old school leather cover that simply has the "1" on top like a lot of old head covers did, assisting in helping the Classic truly feel just that … classic. 
I would recommend this club for any type of player, and think more golfers need to give this one a try when swinging the newest and latest equipment. Pulling the Classic out of the bag will definitely land you some compliments from your playing companions, and having something this beautiful over a golf ball will do nothing but help your confidence. 
www.clevelandgolf.com $299.00 - $379.00
The Englishman lapped a monster field on Sunday with a closing 65 that was better than it...

It's the second time Phil Mickelson missed the cut in his first tournament of a season

Everything about the event so far this week has been a home run
Rahm lost his lead, but a 67 keeps him in the chase at CareerBuilder

Koepka is looking to recover in less than three months to play at Augusta National

Thomas Pieters and his Ryder Cup partner could go at it for a title this weekend