Eye on Golf Equipment: The True linkswear phx
Our Eye on Golf Equipment reviews continue with the True linkswear phx golf shoe.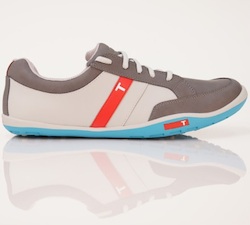 The True linkswear phx shoe might be the most comfortable golf shoe on the market. (True linkswear)
Golf is a sport with ever-changing tools. There are drivers, putters, balls, towels, bags, socks, grips and everything in between. Here at Eye on Golf, we're reviewing the latest in golf equipment each week in hopes our words will help you make a better decision on what's best for you. This week, we look at the True linkswear phx golf shoe. 

The interesting thing about golf apparel and footwear these days is it isn't exactly that simple to break into. You have the big dogs like Nike, Adidas, Oakley, Puma and Ralph Lauren that demand a huge market share, and up-and-comers like Travis Mathews that seem to be making a big splash. 
But the thing about shoes is, the older we get, the less we care about who makes the shoe and the more we care about is the comfort. Golfers simply want a golf shoe that is just as comfortable on the 18th green as it was on the first tee. 
True Linkswear might be the golf shoe company to beat, and they're doing so with the new True phx.
The idea for this shoe company that has Ryan Moore involved is, simply, be comfortable. That's it. 
How can we make a golf shoe you really enjoy wearing, and how can those shoes look better and better? In my opinion, the phx is their best shoe yet, with the simple design and cool colors (the one to your right is grey/charcoal/electric blue, but the simple white/navy combination is what will most likely be picked up by golf fans looking for a versatile shoe to wear with multiple outfits). 
In a day when the bulky spiked golf shoes are becoming obsolete and being replaced by comfortable, everyday looking shoes that you can golf in, the phx is simply ahead of the game. They're fantastic to look out, are made with the True idea of "making a shoe from the ground up" and are extremely light and playable. 
With the summer months fast approaching, having a golf shoe that can breath and not hold you down seems to be a must, and these shoes are specifically made for that.
The best part? They won't break your bank. The shoes are just $99, a great price for a shoe that is easy to wear and looks good. The company's idea was to simply make a shoe you could wear to play golf and wouldn't mind keeping on for a few hours after. 
Trust me, these babies will make changing your golf shoes in the parking lot a thing of the past. 

www.truelinkswear.com, $99 (also, helpful tip, the phx shoe run about a half size big, so keep that in mind)  
Riviera is the home of this week's 117th U.S. Amateur

A bunched-up leaderboard could be dominated by last year's Open winner

The scores are preposterously low in Greensboro thus far
Dealing with a rib injury, McIlroy considered sitting out the rest of the 2017 golf season

The No. 41 player in the world is all about core strength and his short game

The U.S. team is clearly jacked up for this event