Firestone is the site of both Tiger Woods' best play and darkest days
Tiger Woods has won at Firestone Country Club seven times in his career, but he's also had some recent finishes that are lowlights in his storied career.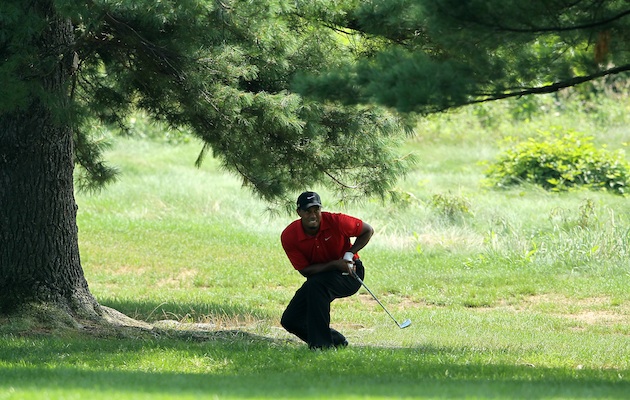 Tiger might have won at Firestone seven times, but his last two appearances have been forgettable. (Getty Images)
There have been few instances in the history of sport where a venue can be both the highlight and lowlight of someone's career. Roger Federer will remember the grass at Wimbledon for all his incredible championship wins. Derek Jeter will remember Yankee Stadium for those World Series titles. And Tiger Woods should remember Firestone Country Club as the site of his seven (and counting) PGA Tour victories. 
The problem is, Firestone is also the sight of Tiger's lowliest golf moment ever, when in 2010 he finished T-78 at the cut-free event, posting rounds of 74-72-75-77 to finish one spot away from dead last. It was a dark week in the career of Tiger, putting the finishing touches on a run that Woods would be trying to forget as fast as possible. 
More on Bridgestone
Related links
It's interesting to look at the antithesis of the "then Tiger at Firestone" and the one that has played there the last two years. From 1999-2007, he never finished out of the top-4, racking up six of his seven wins at this venue and giving us one of the most memorable golf shots of Tiger's career, his second shot into the 72nd hole in 2000 when the darkness was basically blanketing the Akron gem. But it was also the site of his former caddie, Steve Williams, remarking a year ago after Adam Scott won the Bridgestone that it was "the best win he'd ever had," forcing every critic around to point to the 13 majors Williams and Tiger had together and think, "huh?" 
But unlike 2010, Tiger is heading into the Bridgestone in good form. In his seven wins at Firestone, Tiger has never come into this tournament with less than three wins, the number he's accumulated this year on the PGA Tour, and only twice has Tiger failed to win this event with three or more wins heading into Firestone ('02 and '03). Basically, when Tiger has it going in a season, Firestone is his victory lap. 
So what Tiger should we expect this week? He's won this event by an incredible amount of shots over the years, starting in 2000 when he blitzed the field by 11 shots. In '07 he won the Bridgestone by eight shots, and in his last victory here, in '09, he beat Robert Allenby and Padraig Harrington by four shots. 
But is there a chance that we will see the Tiger of late at Firestone? Not the guy with three wins that is coming off a T-3 at the British Open, his best finish at a major in three years, but the guy that can't seem to find any magic at Firestone. For the way he has played this golf course in the past, the last two years have been completely forgettable. Not counting his T-78 in 2010, last year Tiger's T-37 is his second worst finish in his World Golf Championship career, meaning that he has played both his best and worst golf of his career here. 
Tiger once said of Firestone, "certain golf courses you just feel comfortable, you see the tee shots, you see the approach shots, and the greens seem to be easier to read than others," but the biggest problem for Tiger at Firestone now compared to then is that Woods genuinely seems scared to pull out his driver.
He sure didn't do it at the British Open, a decision that landed him near the top of the leader board on Sunday night, but with never enough aggressive play to seriously contend at Lytham. If Tiger is going to win at some of these driver-friendly golf courses (the PGA Championship will also be a similar test), he's going to need to bang driver down the middle of the fairway like he used to, which may be easier said than done. 
Woods is definitely a different player now than he used to be, anyone with a gimmie putt of knowledge about the sport knows that, but his dominance on these types of venues (The ones he once loved) might simply be to lose that fear of the big dog and go out and rip it, even if that means more missed fairways. 
Tiger's golf game is good enough to get him back to always finishing in the top-10 at regular tour events. The problem is, his career will never be measure on top-fives. If Tiger wants to exorcise the demons this week at Firestone, he's going to need to think driver-driver-driver, and leave the stinger for another day. 
How do we think Tiger will do this week at the Bridgestone? Check our Expert Picks, and follow Eye on Golf on Twitter for Firestone updates all week. 
With three months left before the first major, let's look at the field

Find out when and how to watch the 2018 Abu Dhabi Championship live this week

SportsLine simulated the 2018 CareerBuilder Challenge 10,000 times and has some surprising...
SportsLine's Mike McClure, a DFS pro with more than $1M in winnings, gives optimal lineup...

Paris is just nine months away, and it's not too early to start talking about

This week always feels like a big one on the European Tour, and this year is no different