Graeme McDowell in prime position to snag his second U.S. Open win in three years
Graeme McDowell put himself atop the leaderboard with an impressive 2-under 68 on Saturday at the U.S. Open.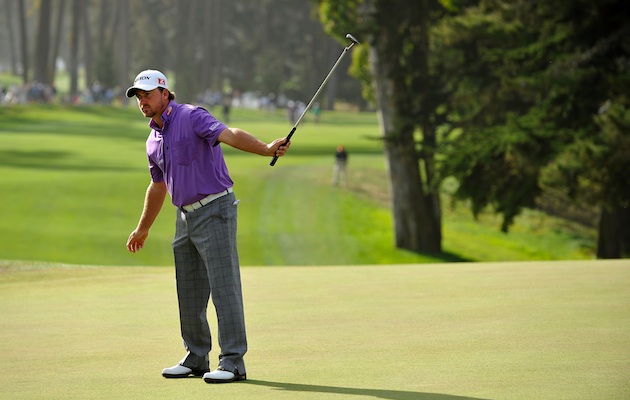 Graeme McDowell is tied with Jim Furyk after 54 holes at the U.S. Open. (Getty Images)
SAN FRANCISCO -- The U.S. Open changed on Saturday. The course didn't play as hard, grinding out pars became firing at pins for birdies. The course accepted more golf shots than it had all week, with some friendly back-nine pins that allowed guys to finally score at Olympic Club.
And while one former U.S. Open winner was struggling mightily in the final group, Graeme McDowell, the winner of this event in 2010, slowly made his way up the leaderboard, finishing with a 2-under 68 to share the lead at a golf course not far from where he won his other one.
Related links
McDowell is exactly the type of golfer that should win at Olympic Club. He used the term "plodder" earlier this week when describing his co-leader, Jim Furyk, and mentioned on Saturday that the two have a game that resembles the other, something needed at this golf course that has allowed only two golfers to break par in multiple rounds. 
It's the perfect leaderboard for McDowell, who was chasing Dustin Johnson by three shots the last time he won this tournament, but he said this time he's a bit more comfortable where he is heading into the final round. That comfort stems from McDowell simply being honest with himself. He admitted that heading into Saturday's third round at Olympic Club, he was nervous, but he wasn't scared to admit it to his team and work through the nerves.
"I've gone through these emotions all the time.  It's basic stuff.  It's basically fear.  Fear of going out there and messing it all up.  I always remember reading (Bob) Rotella's book when I was a kid, the two fears we all have are the fear of success and the fear of failure.  I don't fear success.  I only fear failure, really.  We all do. 
Tomorrow is not going to be the be all and end all for me.  Hopefully I've got a few more years in me.  If I can go out tomorrow and not put it up on a pedestal, just try to go out and do any job.  If it's good enough, great.  If it's not, perhaps I'll drink a cold beer and get over it."
Sound like a guy with the right mindset for the brutal test that is Olympic Club?
McDowell started out his third round solidly, making pars on the first eight holes before dropping his only shot of the day, and bouncing back with a birdie on the par-4 10th. He followed that up with a clutch birdie on No. 13 and while he wasn't able to capitalize on the short par-5 17th, he stuffed a wedge into the final hole to set up his third birdie of the day, and a seat in the final group.
"Not birdieing 17 was disappointing.  I hit a bad tee shot and a pretty sloppy third shot.  It was nice to finish in a little bit of style.  It makes that little trip up to the clubhouse a little easier," McDowell said. 
What does a win for someone like McDowell mean? Well first, it gives him that illusive second major that almost seems harder to grab than the first one. Great names like Fred Couples, Tom Kite and even playing partner Jim Furyk only won one major despite their storied careers, and to get that second means you really join a heralded group. 
On top of that, it would give him his second U.S. Open in three years, and make it three-for-three for Northern Irishmen with Rory McIlroy claiming the last one at Congressional. And all this helps with the Irish-heavy crowds that have come out to support McDowell.
"I've got great support out here in San Francisco.  There might be more Irish men out here than there are in Ireland. But great support in the crowd.  And I enjoyed interacting with them today and having a bit of fun.  And I felt they kept me relaxed out there today."
And what does McDowell have to do on Sunday? Basically keep doing exactly what he's been doing. He mentioned that he'd take even par right now if it was available because he thinks that will be the winning score, and if he can plod along like he likes to say, and keep hitting the ball like he does when he's on, it's going to be tough for even the likes of Furyk to keep him from his second U.S. Open.
And if he wins? 
"And perhaps I might have a couple of cold Guinness in there tomorrow night if this goes well.  And if I don't do well, probably do the same thing."
Sometimes you need ice water in your veins. Sometimes, simply a cold Guinness. 
Big Cat is back at it for the second straight week, this time near his home in Florida

SportsLine simulated the 2018 Honda Classic 10,000 times and has some surprising picks

This is truly an unbelievable feat from Paul Shadle at this show in Minneapolis
The matches in Paris are starting to take shape, and the best ever is going to be involved

SportsLine's Mike McClure, a DFS pro with more than $1M in winnings, gives optimal lineup...

The field for the Honda Classic this week is fabulous, and Tiger is just one of the big dr...