Hitting reset on Tiger Woods and the Player of the Year race
The 2013 PGA Tour Player of the Year award is (probably) a three-man race and some guy named Tiger Woods is once again at the head of it.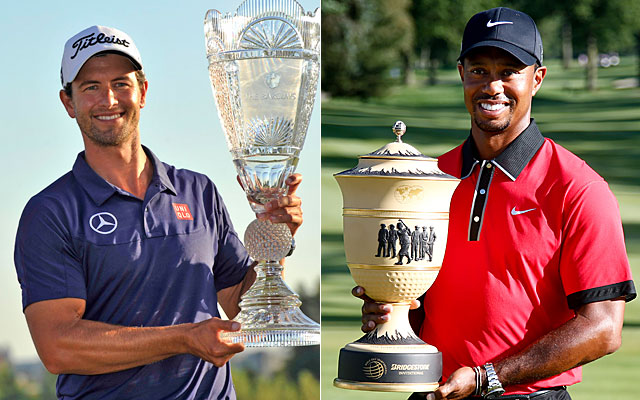 More Golf: Leaderboard | Rankings | Schedule | Expert Picks | Equipment | FedEx Cup
Before the FedEx Cup playoffs started we knew the only thing that could disrupt Tiger Woods' bid for a 10th Player of the Year award was either one of the four 2013 major winners winning again, somebody swooping in and sweeping the playoffs or winning three of four or something crazy like that.
We got the former in the form of an Adam Scott one-shot win over, who else, Woods on Sunday at The Barclays. And now, ladies and gentlemen, we have ourselves a Player of the Year race.
In the Tiger Woods era (1997-present) the PGA Tour Player of the Year award has been presented 16 times. Here's the breakdown of who has received it (again, nine of these were Tiger):
Masters winner: 5
US Open winner: 2
British Open winner: 5
PGA Championship winner: 7
No majors for winner: 4
Multiple majors for winner: 6
Multiple wins for winner: 16
Only one win for winner: 0
5-plus wins for winner: 10
It's pretty interesting to me that the PGA Championship winner has determined Player of the Year more than the Masters and as much as the British Open and US Open combined.
In terms of this season, all signs point to Woods winning again. There are no multiple major winners (those are automatic Player of the Year credentials) and Tiger's the only golfer who has even come close to winning five times (next closest is Scott with two).
It would be a bit unique if Woods won because it would be just the fifth time since 1997 that a non-major winner won the award -- Woods (2003, five wins; '09, six wins); Jim Furyk (2010, three wins); Luke Donald (2011, two wins as the weakest POY in recent memory).
But with the year Woods has had, I think he deserves it. Bill Haas said last week at The Barclays he thinks Tiger deserves it as well.
"His lack of winning a major is the only thing talked about, which I think is sad," Haas said. "I think it's ignorant. There's five wins this year ... but [not winning a major] is what we're basing his year on. He's not winning the smaller events. He's winning the WGCs and Bay Hill, and yes, it makes what he's doing that much more impressive."
More insane than not giving Tiger the hardware is that Phil Mickelson has never won this award. He's obviously in the mix and I think surges past Scott and Woods with a win in any of the next three tournaments. But for the career he has had and the wins he has posted, for him to never have taken the crown is stunning (and a testament to Woods' greatness).
Scott gave himself a chance last week in Jersey City with his 10th career PGA Tour victory but he needs to do more. Not a lot more, given his Masters win and consistency in the other majors, but he needs another win.
I think Woods is your runaway winner unless Lefty or Scott wins one of the final three FedEx Cup events.
You know what the best part is?
They're all three in the same group at the Deutsche Bank Championship this weekend.
For more golf news, rumors and analysis, follow @EyeOnGolf and @KylePorterCBS on Twitter or Google+ and like us on Facebook.
Masters 2018 and several other props for Big Cat have been released

The reigning Player of the Year is off and running early on at the CJ Cup

But hey, at least playing with Lefty will benefit a charity
Royal Birkdale has something new for its historic display case

This brand new event will look stunning on television with Jeju Island as a backdrop

Matt Parziale will play in some of the biggest golf events of 2018 ... wait, who?