Is it time to start considering Tiger Woods will never win another major?
Tiger Woods' play over at Royal Lytham & St. Annes was good enough for a fine finish, but it wasn't good enough to win, and it raises the question if he ever will again.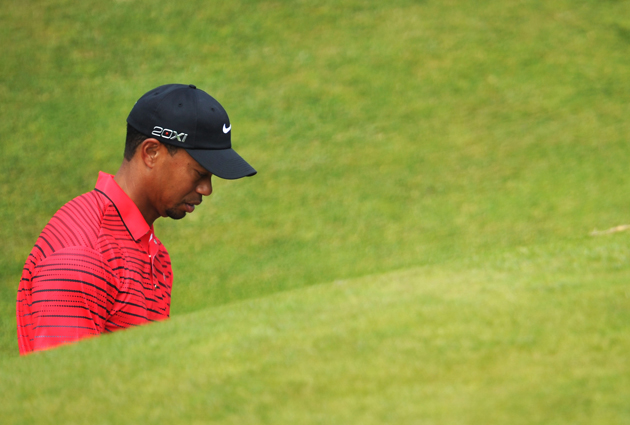 There is something about legends that does weird things with our logic. When Magic Johnson came back to the NBA we all thought, "what if?" The same for Michael Jordan, when his return to the Wizards raised as many eyebrows as anything else in sports, even if we all knew in the back of our head he wouldn't be the same player.
When gets get to a certain level, we all can't seem to get past what they used to be able to do, and occasionally, we're rewarded with a once-in-a-lifetime performance (like Jack Nicklaus at the '86 Masters), but almost always, it's a bit of a disappointment until the next time they tease us and we're back to square one.
Tiger Woods is currently in that weird "maybe, maybe not" world of legends. He continues to tease us with his glimpses of brilliance, like his first two round at last month's U.S. Open or his Sunday run at the 2010 Masters, and when we all get excited that "this is the one," he falls back to reality.
On Sunday at the British Open, Tiger wasn't really "in contention" like it might have been written, but he again had a chance at a major championship and when his name and majors get combined in the same sentence we goofily predict a win. The thing is, that isn't happening, and the question must be raised that maybe it'll never happen again.
Crazier things have happened to guys when losing becomes habitual. Arnold Palmer didn't win another major after he was 35, finishing second five times in his career after that 1964 Masters win, but never converting again. Jack Nicklaus had a similar run in majors before his fluke victory in '86 that was both incredible but unexpected. 
Tiger's play this week has been strange to say the least. He seemed to be locked in to a plan that would put him contention, but never get over the hump, and for a man that hates second place more than anyone in the world, it was a head-scratcher.
Woods is obviously scared of his driver. There is no golf expert in the world that would disagree with that. His decision to hit irons all week was partly for position and partly because he doesn't think he can get the driver consistently in a place that allows him to make birdies. On top of that, his wedge play has been spotty all seasons despite the three PGA Tour wins, and golfers have always said that your biggest flaws are exposed during major championships. That was the case at Augusta National and Olympic Club, and it has been the case this week at Lytham, with Tiger hitting wedges over and over again outside 20 feet. 
But can Tiger win another major? The question seems insane. "Of course he can," your mind tells you. He's Tiger Woods, one of the best golfers to ever play the game and a man that once won four majors in a row! But those sentiments are exactly what I talked about. It's the past taking over for what is directly in front of us, a man that seems lost when he gets to the first tee of a major. He can win as many PGA Tour events as he wants, and I'm sure he will, but we all know what the measuring stick is for the 36-year-old with 14 majors. This will be the 17th major since his last win, and the 13th he's played since that remarkable victory at Torrey Pines without a trophy. He has struggled at different times with different things, but it seems clear that the one consistent problem in Tiger Woods' golf game is, simply, Tiger Woods. One of the mentally strongest athletes in our generation seems to get rattled when things go back. 
This isn't a takedown piece on Tiger. I think Woods has pulled a lot from his golf game this year to be able to do what he's done, and I think it was rather incredible that he was only five shots back heading into the final round of this British Open with as few woods and drivers as he hit. If nothing else, it shows that the guy is swinging well enough to contend, just not well enough to win. 
Tiger looks frustrated because he is frustrated. Frustrated that he can't win, frustrated that the swing isn't where he wants it or the shots don't fly like they do in practice, or even in those regular PGA Tour events he wins. He's an incredible talent, but we need to start looking at the guy for what he is now and not what he once was. 
I hope Tiger wins more majors. I would love to see him get on another run and go after that golf record most never thought would fall. The problem is, if you had to bet your life on him winning another major in his career, for a second, you'd definitely considering saying Tiger wouldn't. He continues to get himself in contention, but it's what happens when he gets in contention that is the biggest concern. 
Woods doubts himself now. Shouldn't we start? 
The next season of golf has a real chance to be one of the best any of us has ever seen

This season will fascinate as old stars converge with up-and-coming superstars

With a single golf lesson up for auction, Tiger Woods changed some lives forever in Texas this...
The Days have had a rough 2017 from beginning to end

Why in the world would a former FedEx Cup winner hop on 24 hours worth of flights this wee...

Following the debacle at the ANA Inspiration earlier in 2017, Thompson has some thoughts