Kuchar logs early sessions at Olympic Club, says it's already firm, fast -- and darned hard
World No. 6 plays two practice rounds at next week's U.S. Open venue and was astounded by how hard the venue already was playing. And maybe a little bit frightened.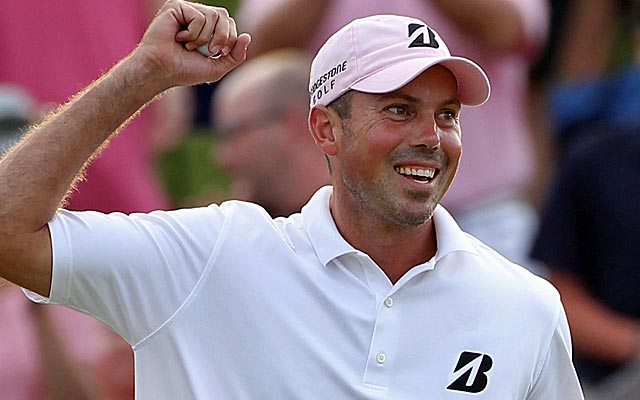 Matt Kuchar will try to ride the momentum of his Players Championship win at the U.S. Open.
(Getty Images)
ORLANDO, FLa. -- If conditions at the moment are any example, next week's U.S. Open will be every bit as gritty as advertised – and maybe even tougher.
World No. 6
Matt Kuchar
headed out to the Bay Area earlier this week and logged two rounds at Olympic Club, site of next week's competition for the first time since 1998.
Needless to say, he was astounded at what he saw.
He played practice rounds on Wednesday and Thursday, and the venue was already hard enough to stage the event. Emphasis on hard.
More on Golf
Related links
"The greens on Wednesday were so firm, I saw some of the USGA guys out there on the course and I was telling them how amazed I was at how firm and fast it was," Kuchar said by phone from California. "The greens were just, incredibly firm.
"Thursday, it seemed like they realized they were too firm, too early, and dumped some extra water to soften them up a little bit."
Kuchar played at Olympic in 1998 as a 19-year-old amateur and finished T14. Still, he wasn't expecting it to be so difficult a full week before the event began.
"I think of that general area as being a bit damp and wet, and certainly not being firm and fast, but it was the opposite," Kuchar said. "The fairways are running out and you had to land it on the front of every green to try to hold the green. It is quite a test.
"Those first six holes are going to be really tough. I thought I played a nice round of golf on Thursday, and played for a score, and thought I played a pretty solid round of golf.
"Well, I was unable to make a birdie and made two bogeys. So it's already playing hard and it's going to be a great test, for sure."
Kuchar, who won the vaunted Players Championship last month for the biggest victory of his career, has been installed as the sixth-best favorite to win at Olympic at 25/1.
Lee Janzen
won the 1998 title at Olympic with a score of even-par 280.
It was a star-studded week in Los Angeles, and this tournament (as always) delivered the g...

Long John pumped one in at TwinEagles Golf Club in the final round

Woods confirmed that fans have cost him shots and trophies over his career
Augusta National could be planning to make some changes to the fifth hole

Bubba Watson is cruising, Justin Thomas is coming and Patrick Cantlay is still lighting it...

Watson got his jumper trashed by former NBA All-Star McGrady on Friday, but was more in his...