Lefty loses ball on nightmarish first swing, can't stop the bleeding in dismal 76
After five runner-up finishes in the U.S. Open, Mickelson's horrific start leaves him in danger of missing the cut on Friday.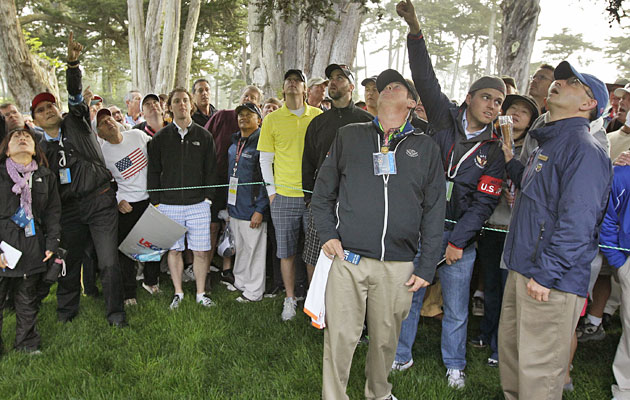 Fans keep pointing, officials keep looking, but nobody can find Lefty's ball at No. 9 (AP)
SAN FRANCISCO -- Admittedly, we're never one to let an easy metaphor slide.
As Phil Mickelson's attempt to become the third San Diego native to win the U.S. Open at Olympic Club was spiraling down the commode, he hit a shot that pretty succinctly encapsulated his dismal day.
When Mickelson missed the green on the 17th hole of his first round on Thursday, his ball skirted through a closely mown areas and into the gallery, where it came to rest among a series of metallic poles placed there to support … a trio of plastic garbage bags.
From the very beginning, this one needed to be placed in the recycling bin.
After losing his opening tee shot of the tournament, Mickelson skidded around in a 6-over 76 that not only ruined a chance to win his first National Open, but left his weekend very much in doubt.
Mickelson teed off in a threesome at 7:33 a.m., and by about 7:40, he was already dealing with his first big setback. His opening shot was a careening hook into some centuries-old trees that nobody was able to locate. He had to do the walk of shame back to the tee box and hit another drive.
When he somehow salvaged a bogey, it seemed like a nice recovery, given the situation. Then he bogeyed the next two holes, too.
"I was trying to make sure that I hooked it into a slice wind and I pulled it over into the trees and it must have stayed up there, because nobody ever saw it or heard it come down," Mickelson shrugged. "I mean I made a pretty good bogey thereafter. I just let it continue, unfortunately. I wasn't able to get it stopped."
Mickelson played his last seven holes in his most recent start at Memorial in 7 over. He played the first three on Thursday in 3 over. Not exactly the mojo he was seeking.
Fighting a bad case of the hooks, Mickelson played out of the long grass most of the day. His stat sheet was indicative of the day: He missed half the fairways and only found eight greens.
"I've got a tough challenge just to get to the weekend," he said. "I'll go out tomorrow and see if I can shoot something under par.
"I think that it will be kind of have to put this round aside for now and see if I can just play one round under par and maybe that will get me to the weekend."
Mickelson, pressing to make something happen, three-jacked the fourth hole from perhaps 10 feet for a bogey that really put him on his heels. Mickelson headed to the range after the round to see if he could find his swing.
"We don't get a chance to play under these conditions very often, so tomorrow I'm going to try to see if I can just shoot a round under par," Mickelson said. "That will be a good challenge for me. 
"I got to kind of wipe this round out. I can't really think about the lead or anything I just got to make the cut right now and to do that I got to shoot something under par."
Find out when and how to watch the 2017 Tour Championship live this week

What if the No. 1 guy in the FedEx Cup standings is watching a putt for $10 million on Sun...

Belichick is talking about driving and putting again
The final 30 are set for East Lake on Thursday as the hunt for $10 million begins

There is $34 million at stake, who will take it home?

SportsLine simulated the 2017 Tour Championship 10,000 times and came up with some surprising...