Louis Oosthuizen takes lead at Deutsche Bank thanks to seven straight birdies on Sunday
Seven straight birdies had Louis Oosthuizen looking to join a rare club on the PGA Tour.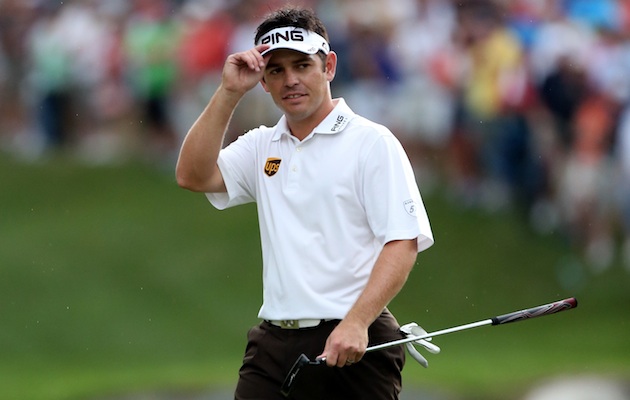 Louis Oosthuizen's start had everyone thinking of that magical 59-number. (Getty Images)
It was the start golfers dream of having on Sunday at the Deutsche Bank Championship for former British Open winner Louis Oosthuizen. A par on the first, a birdie on the par-5 second, another par at the third and then you black out for seven straight holes playing alongside the best golfer in the game right now.
Oosthuizen made seven straight birdies starting on No. 4, turning the front nine into an episode of St. Andrews 2.0, and his outward experience concluded in just 29 shots. The start had every golf fan alive with a pulse and an idea of magic thinking sub-60, but as it normally happens, the clubs cooled and the 29-year-old had to "settle" for an 8-under 63.
Seven straight birdies. Think about that for a second. For more than a third of his round, Oosthuizen couldn't miss a shot. He was finding fairways, refusing to miss greens and then rolling in putts from everywhere. The best part came on the par-4 10th, when after having that incredible front nine, he knocked his second shot to within three feet, kicking that birdie in to keep the streak alive.
What did the man that was doing this think during his incredible run in the third round of the Deutsche Bank Championship? The same thing a lot of us thought.
"Once I started getting birdies, making putts, I started going at the pins because my swing felt great, and after 10 holes being 8 under, you always think about getting it to 59," Oosthuizen told the media after his round. "I didn't do anything different from there on in.  I hit great shots on 11, 12, 13, 14, so I gave myself good chances to post that number.  But I think it would have been really tough playing tomorrow shooting in the 50s today."
Playing partner Rory McIlroy sure noticed. After he put the finishing touches on his 4-under 67 McIlroy said it was hard not to be a spectator when a guy you're playing with has that sort of run going.
"it's hard not to look at the guy beside you making all these birdies and feel like you're going backwards," Rory said.
But as the holiday weekend goes, there is still another round, and for all the good Oosthuizen did on the front, he missed some opportunities on the back and guys like Rory, Dustin Johnson and Tiger Woods are breathing down his neck.
At one point, Oosthuizen's lead seemed insurmountable, but McIlroy sits just three shots back, with Dustin and Tiger six shots back on a golf course that has continued to yield low scores throughout the week.
We have complained at times about the idea of a playoffs in golf, but right now, at TPC Boston, the cream is atop the leaderboard, and with names like Rory, Tiger, Dustin and Louis battling, you'd be crazy not to tune in on Monday and see the fireworks that come with what looks like another great finish in 2012.
We get a second round reset as Kyle Stanley leads the charge at East Lake

Kyle Stanley is your leader after a busy first round at East Lake

Find out when and how to watch the 2017 Tour Championship live this week
What if the No. 1 guy in the FedEx Cup standings is watching a putt for $10 million on Sun...

Belichick is talking about driving and putting again

The final 30 are set for East Lake on Thursday as the hunt for $10 million begins