Martin Kaymer rises to the occasion during first round of KLM Open
Paired with European Ryder Cup captain Jose Maria Olazabal, Martin Kaymer posts 5-under 65 during the first round of the KLM Open.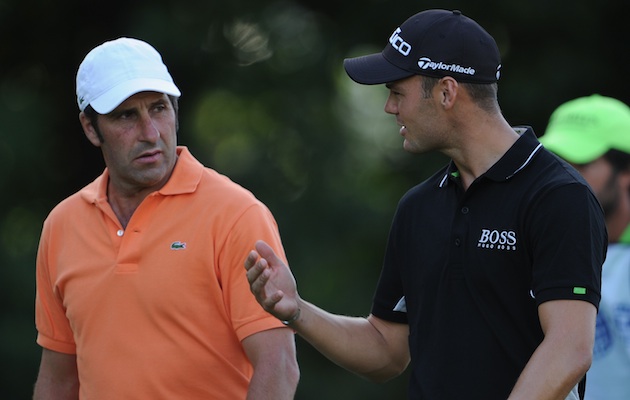 Martin Kaymer is trying to prove he belongs on the Ryder Cup team this week at the KLM Open. (Getty Images)
As the Ryder Cup fast approaches, questions about captain's picks and teammates and outfits will fly around, but there is no bigger variable for either team than Martin Kaymer.
Kaymer, the former No. 1 in the world, barely qualified for the European team, and there was talk early that he might actually forfeit his spot as an automatic entry into the event because of how bad he's been playing (Kaymer has just one top-10 on the PGA Tour this year, and that came back in February at the Accenture Match Play). 
So when the pairings for the KLM Open were announced, and it just so happened that Kaymer was paired with European captain Jose Maria Olazabal, you knew that the pressure would be stifling for the former PGA Championship winner.
But Kaymer rose to the occasion about as good as one can, posting an opening-round 65 to sit in a T-2 in the European Tour event, just two shots back of Graeme Storm.
Face it, Kaymer needed this. He needed to show something to Olazabal, but more important, he needed to show it to himself. At his last outing, Kaymer shot 79-79 at the PGA Championship to miss the cut by a billion, and he hasn't had a top-10 on the European Tour since the Malaysian Open back in the middle of April. His game has been atrocious to say the least (I was actually surprised he was still high enough to automatically qualify, and I wasn't alone in thinking that), but we all know how momentum can change one's approach and maybe this opening round, paired alongside Olazabal and another Ryder Cupper in Nicolas Colsaerts, will give Kaymer the confidence he's been searching for the last year or so. 
The thing is, there are still three rounds to go, and Kaymer will once again be alongside the man pulling the strings on Friday. If he can follow up that round of 5 under with something similar, he might just prove that he's not only worthy of those European colors later this month, but he might not be left off the list when the team pairings come out on Thursday of Ryder Cup week. 
Find out when and how to watch the 2018 Honda Classic live this week

The 17th hole was devastating on Friday at PGA National and tons of golfers paid the price

Tiger looks lithe and powerful again, and he has the score at the Honda Classic to prove i...
Some of the best players in the world were having trouble scoring on Thursday at PGA Natio...

A cool move from the 14-time major winner to this 10th grader from Stoneman Douglas

There is certainly some progress from Big Cat this week at the Honda Classic