McDowell poised to make second run at Open title in Northern California
Northern Ireland looking to extend its run of U.S. Open champions to three as McDowell seeks second title in three years, at Olympic Club.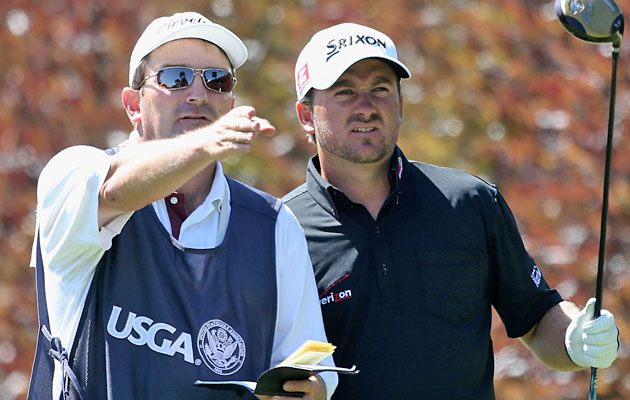 Graeme McDowell, the 2010 U.S. Open champ at Pebble Beach, seeks his second major title. (Getty Images)
SAN FRANCISCO -- Put side by side, it was easy to see how Graeme McDowell and Jim Furyk each managed to win a U.S. Open over the past decade.
The pairings partners had plenty in common beside their slightly quirky swings -- including an affinity for gnashing their teeth when necessary to get through tough spots. The duo took turns jumping up and down the top of the leaderboard Friday morning at the 112th U.S. Open at the Olympic Club.
"I think that it's very understandable why he's succeeded in the U.S. Open," Furyk said of the 2010 champ, his playing partner the first two days.
Yeah, he has some of the same attributes as Furyk, the 2003 Open champ. McDowell scratched his way to 2 under overall at one point Friday before making bogeys on three of his final four holes to finish 36 holes at 1 over, good for a spot well inside the top 10 heading into the weekend.
112th U.S. Open: Round 2
Related links
"I think what I like so much about his game though is, he's tough," Furyk said. "When he went head-to-head with Tiger at the Chevron [event], he's not afraid to win a golf tournament. He closed out the last Ryder Cup at Celtic Manor with some beautiful shots.
"Obviously he's got a lot of guts and his game is very well-suited for this type of golf and he just gets the ball in the fairway, get the ball on the green and go from there."
Ah, the magic formula, indeed.
McDowell was the steadiest player down the coast at Pebble Beach in 2010, holding off some major firepower to win his first major. He looks like a prime-time plot fixture this week, too. McDowell has learned there's only one way to handle the Open -- grin and bear it.
"My day was as equally enjoyable as yesterday," he deadpanned. "It's just tough to have fun out there, I got to be honest with you. It's just a brutal test of golf."
McDowell wasn't giddy about the way his round ended after having climbed into solo second place at one point, but he quickly came to realize that overall, his position is tough to beat.
"That's what this golf course can do to you in a heartbeat," he said. "To be honest with you, if you had offered me 1 over par starting on the first tee yesterday, having seen what I saw yesterday morning, I would have probably snapped your arm off for it."
A sense of humor never hurts when the USGA is torturing you in serialized fashion, either. The glib McDowell, who has guest-hosted some shows on the Golf Channel, is certainly not lacking in the character department.
McDowell hasn't been laughing much so far. Nobody has. But he's handling the rigors, as rigor mortis sets in for others.
"Obviously it gives you less chances than a regular tour course gives you and it frustrates you quicker and in many ways," he said. "You've just got to be so much more patient and respect the word par.
"You've really got to give par a huge amount of respect out there and it's tough. It's a tough mindset to get into, but it's a mindset you have to get into."
Tiger is back, and he's fired up about the future

Steve Stricker and his team will not take a knee at Liberty National

A look back on the year that was on the PGA Tour
Matthew Southgate got maybe the worst beak of all time last weekend

J.T. finally showed the media what was on his phone to start the year

The $10 million man got a party when he got to New York