MMSC: Another strange, but normal, week for Tiger Woods
Tiger Woods struggled over the weekend at the PGA Championship, but this week it didn't seem to be that much of a shocker.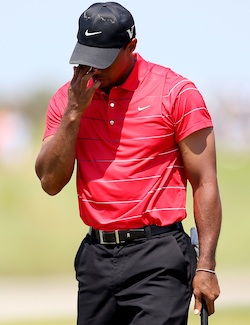 Tiger Woods' change of approach didn't help at Kiawah Island. (Getty)
Golf is probably the hardest sport in the world to play, and play well, so it makes total sense that everyone is a critic, and that's what we're going to do here at Monday Morning Swing Coach. Cover just the PGA Tour? Nope. We're going to try to expand this Monday feature to anything and everything that happened the past weekend.
Initially, after Tiger Woods had put the finishing touches on another disappointing weekend at a major championship, and started spouting off to the media about his wrong approach this week at Kiawah Island, people starting muttering the word "strange."
A strange week for Tiger Woods. Strange comments from the 14-time major champion. Why is Woods changing an approach to majors that has worked so well in the past?
And it took me a few minutes to realize, nothing about any of this is strange anymore. This is normal for Tiger Woods these days, a man that changed the way we thought about golf and has now changed the way we think about him.
No, this is no takedown of the once great champion. Tiger still has plenty of talent to finish in the top-11 at the season's final two majors, and he's still the only guy on tour with three PGA Tour wins, no matter if none of those came at majors. But that's the thing with Woods; in the historical context of all this, nobody cares about the Memorial or the AT&T. Tiger's entire being rests with what he can do at four tournaments a year, the rest be damned, and it has now been four full seasons that Tiger has left the building holding none of them. 
Tiger's comments about being "too relaxed" heading into Saturday's third round reflect more about how lost he seems now when getting into contention at a major than anything else. At first, I was a bit confused. He was too relaxed? How is that even possible?
But it really is telling for how much pressure the world puts on Tiger to do well at the four tournaments that everyone pays attention to. 
Think about this for a moment; all Tiger's life, up until the 2009 PGA Championship, when he had a chance to win a big event, he did it. Every. single. time. He had an impeccable record at the major championships that anyone with a dose of logical and understanding of this game realized wouldn't hold true his entire career, but it was amazing to watch a man continue to do the unthinkable in a game that has never been mastered. It was history being made unlike anything we'd ever seen in golf and looking back, it was truly incredibly to watch.
Now, since that loss to Y.E. Yang at Hazeltine, everything has been more work for Tiger. He's had stretches at majors where he's played brilliant golf, but 2012 has been the most telling of any of his seasons since that '09 PGA because it's the first year he's really had himself in the mix multiple times with the best shot of anyone in the field to win, and at both the U.S. Open and the PGA, he completely lost his way. 
The story leaving Kiawah Island was how impressive Rory McIlroy's win was, but the cameras didn't stop rolling when Tiger was grinding out his even-par round of 72 on Sunday, never really mounting much of a charge and looking genuinely confused at times on the golf course. 
It's sad, really, to see Tiger finish a round and talk about how his approach this week wasn't what it needed to be. After his round, he told the print media, "I was just trying to be, you know, a little bit happy out there and enjoy it, and unfortunately that's not how I play."
Kudos to Tiger for trying to be a different guy on the golf course, and have a little bit more fun with the game that made him the most famous athlete in the world, but if Tiger wants to truly be "back," he's simply going to have to win one of these big four, no matter how he looks on the golf course. Is it a nice change to see Tiger attempt to enjoy the five hour walk around championship links? Absolutely. Is that the best approach for the only thing that matters these days in his career? No, sadly, it isn't. 
Nobody gets scrutinized like Tiger for not winning (look at guys like Lee Westwood and Luke Donald this week), but finally, it seems not winning at this level has become the norm for Woods, and it continues to feel strange to admit that. 
Silver lining for Phil Mickelson
I'm fairly certain Phil Mickelson isn't going to spend much time talking about how great a week he had a Kiawah Island, but it must be nice to know that Lefty doesn't have to lean on Davis Love III to get picked for another Ryder Cup team.
Mickelson qualified on the number, landing at No. 8 on the United States list, and will be making his ninth appearance in the event next month at Medinah. 
He said all week that he wanted to get into the Ryder Cup without having to use up a captain's pick, and his play, and the struggles of others, helped him do that. 
(Oh, and this video won't embed, but I really enjoyed this Mickelson shot from Saturday at the PGA. Nothing like trying to hole the same shot twice!) 
Donald's Tweet of the Week
For three days, it seemed the former No. 1 in the world wasn't enjoying his time at Kiawah Island. The Pete Dye golf course played tough, and Donald wasn't figuring it out.
That didn't stop Donald from having a little fun with it, tweeting this message after Saturday's third round. 
Pete Dye 3, Luke Donald 0

— Luke Donald (@LukeDonald) August 11, 2012
Obviously keeping the good attitude helped, with Donald shooting a final round 66 to jump 32 spots to finish T-32. 
Following the debacle at the ANA Inspiration earlier in 2017, Thompson has some thoughts

Fowler is as good as it gets on the PGA Tour

The USGA and R&A have decided that you will no longer be able to phone in penalties
The Spaniard captures another piece of hardware during an all-time season

The man who ended on his bag in 2017 will apparently begin on it next year

This snowboarding ball flip and drive is simply spectacular