MMSC: Another win for McIlroy; Creamer's putting woes; Canadian Tour run for Wong
This week's Monday Morning Swing Coach focuses on Rory McIlroy, Paula Creamer and a Canadian Tour player on a heck of a run.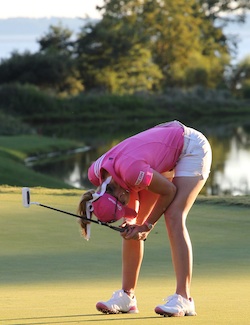 Paula Creamer's putting woes cost her a chance at a 10th LPGA Tour win. (Getty Images)
Golf is probably the hardest sport to play and play well. So it makes sense that everyone's a critic, and that's what we're going to do here at Monday Morning Swing Coach. Cover just the PGA Tour? Nope. We're going to expand this Monday feature to anything and everything that happened the past weekend.
Rory McIlroy's win at the BMW Championship on Sunday wasn't the most exciting of the season. He didn't come from behind in dramatic fashion. He didn't drop a putt on the last hole to slam home his fourth PGA Tour win of the year. He didn't even play his best golf of the week on the way in, struggling on Saturday (Rory tweeted "turned a 76 into a 69 today") before playing proper golf on Sunday. But this is all more of a compliment than an insult to the No. 1 player in the world.
The scary thing is, Rory doesn't have to do that. He's good enough to do this, in an event featuring the best 70 guys from 2012, with his B-game. That's downright scary.
We talked about this last week. Rory has now entered Tiger-ville in that sense. Woods used to dominate the field with whatever game he'd bring to the course that day, losing tournaments not because he got beat but mainly because he didn't have a single part of his game click. 
The same can be said for Rory. Each day at Crooked Stick, Rory did something exceptionably well. When the other things weren't as solid, he just leaned on the part of his game that showed up.
On top of that, we now see why the hype was justified for McIlroy. Critics keep pointing to the fact that he "only" has six PGA Tour wins, but it's the way he has turned his season around in the last month that shows how determined he is to be special. 
If 2012 had ended at the end of July, McIlroy would have had a decent season. He won the Honda Classic after starting out the season on fire. He lost in a playoff to Rickie Fowler, who hit one of the best clutch shots of the season on the first playoff hole at the Wells Fargo. It wasn't a "bad" year by any other PGA Tour player's account, but that's the difference in the elite. They have a gear that others can't go to. They hit it, and their game blows past everyone like those old scenes from "Fast and the Furious."
McIlroy won the PGA Championship in historic fashion, but it was almost a precursor for what he was going to do in these playoffs.
Two wins in consecutive weeks, both at 20-under par? That's a pretty special run for Rory. And the scary thing is, I think he is only going to get better. Like, way better.
A tough loss for Paula Creamer
There is no doubt the LPGA can always use more Paula Creamer. The poster child for American golf (and I say that with all due respect to Stacy Lewis) always brings the big crowds, but it's amazing that she hasn't won on tour since that incredible U.S. Women's Open victory in 2010.
That streak continued on Monday, when Jiya Shin beat Creamer to win the Kingsmill Championship on the ninth playoff hole. At least Creamer can pat herself on the back for being part of one of the longest playoffs in the history of the LPGA, but it's the putts that she continued to miss that was disappointing.
Creamer three-putted on the 72nd hole. And after playing the 18th the exact same for seven straight playoff holes, she 3-putted again when it mattered to lose to Shin, who just continued to make steady pars.
The LPGA could use a Creamer comeback. She has played fine golf all season, but the viewers tune in when she plays well (just like they do with Michelle Wie). A win here would have really got her going as the season ended.
It was a fun playoff to watch and great television, but Creamer couldn't hold it together on the greens and will be leaving another event disappointed.
Wong taking control of the Canadian Tour
If you think Rory McIlroy's run of two straight wins was impressive, check out what Eugene Wong is doing in Canada right now. 
The 21-year-old won the Vancouver Open three weeks ago, followed that up with the Canadian Tour Championship with this epic golf shot, and, on Sunday, snagged the Great Waterway Classic by a shot over Daniel Im with a final round 65 by Wong.
As much as you might discard a run on something like the Canadian Tour, you must understand these are some serious players battling for some serious dough. Wong won $16,000 this week for his efforts, battling 11 other players who were able to finish double-digits under par at the Crosswinds Golf and Country Club.
You might not know the name Eugene Wong now. But the way he's playing, I wouldn't be surprised to see him at Doral and Firestone over the next few years. 
This shot from the Honda Classic leader was incredible (and incredibly lucky)

Big Cat had a top 15 finish for the first time since the 2015 Wyndham Championship

Find out when and how to watch the 2018 Honda Classic live this week
Big Cat is not friendly to all birds at PGA National on Sunday

Live scores, highlights and updates as Tiger Woods takes the course at the Honda Classic

The tournament at PGA National is probably the PGA Championship winner's to lose on Sunday