MMSC: Is it now time for Ryan Moore to live up to expectations?
Our Monday Morning Swing Coach looks at Ryan Moore's win and John Daly's epic collapse.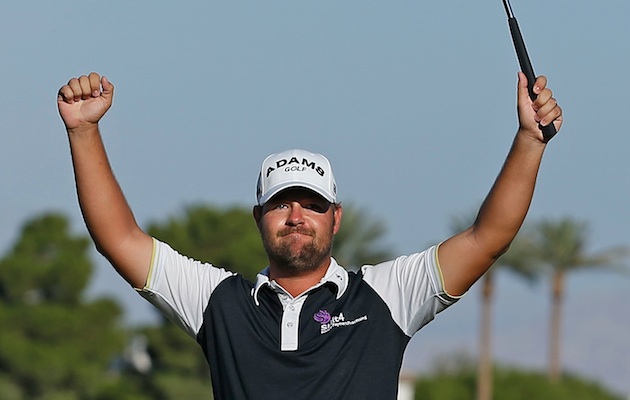 Ryan Moore snagged his second win on tour on Sunday. (Getty Images)
There is something rather unfair about expectations. When they are set at a certain height before you turn professional, you will be compared to what other superstars did in their careers as they joined the highest ranks in sports.
Tiger Woods is a perfect example of someone who came into golf with Everest-sized expectations and immediately lived up to them. Many others have struggled to do so. Enter Ryan Moore. The amateur bully by comparison was raking up wins in non-professional events like he was playing against middle-schoolers. And when he turned pro in 2005, it seemed he would be the Next Big Thing in golf mainly because he had the game and the record to get everyone excited.
But Moore struggled to find himself in many ways as a pro. He did earn enough money playing on sponsors exemptions to get his full-time card for 2006 (only he, Gary Hallberg, Phil Mickelson and Justin Leonard have done such a thing), but it wasn't the type of play most had expected. And on top of all that, the professional swag never seemed to fit Moore's style.
He would eventually drop all of his sponsors and focus on his golf. In 2008, he got himself into a playoff against Adam Scott at the Byron Nelson but couldn't close the deal. In '09, Moore landed his second-best finish at a major at the U.S. Open, but things weren't progressing the way that he thought. Later that year, though, Moore would get himself into a playoff at the Wyndham Championship against Jason Bohn and Kevin Stadler. This time, he wouldn't be denied.
Now comes his win in Las Vegas, the same town that saw Moore do incredible things in his amateur days. The win came despite a push by a lot of guys in the field. No matter if this was a B-level event by PGA Tour standards; it's wins like this that can get a guy like Moore going.
By all accounts, he's a nice kid with a solid game that occasionally loosens when the pressure gets to him. But he now has two PGA Tour wins and the type of resume that suggests things could get better. I said on Sunday that Moore seems like the type of player who could win 10 PGA Tour events and a major before his career is over, and I still stand by that. A lot of golfers know how to play solid golf but aren't exactly sure how to win when it comes down to the final putts on Sunday. Moore has been winning his entire life. And if the Shriners was any example, his game is going nowhere but up.
Hopefully this is just the start of big things. 
John Daly's Strangest Week?
There have been plenty of moments in John Daly's career that could be considered strange. The guy has whacked golf balls off greens while the ball was still moving. He's walked off courses in the past, and I'm not even going to mention some of the off-course antics that have made him one of the most interesting athletes in the history of sports.
But this year seemed to be a turning point for Daly. He's 137th on the money list having just played 13 events and needs to get in the top 125 if he wants to get full status for next season. He has made 10 of 13 cuts, with four top 25s -- a really good season for Daly.
And then came the Shriners. Daly opened with rounds of 69-63 and looked like he might pick up enough cash to jump up that money list in one week. That was, until he shot a third-round 86, then closed the week out with a 77 on Sunday to finish last, earning just $8,910 for his efforts.
Daly has had some inconsistent weeks over his career, but this one might take the cake. 
Rahm lost his lead, but a 67 keeps him in the chase at CareerBuilder

Koepka is looking to recover in less than three months to play at Augusta National

Thomas Pieters and his Ryder Cup partner could go at it for a title this weekend
Phil Mickelson returns and the Web.com Tour is cleaning up

Lefty returns at the CareerBuilder Challenge this week