MMSC: Jason Dufner becomes dominant, and bad news for Anthony Kim
Our Monday Morning Swing Coach focuses on Jason Dufner's second win in three starts and tough news for Anthony Kim.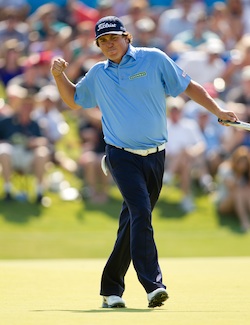 Jason Dufner won his second PGA Tour event in three starts on Sunday. (Getty Images)
Golf is probably the hardest sport in the world to play, and play well, so it makes total sense that everyone is a critic, and that's what we're going to do here at Monday Morning Swing Coach. Cover just the PGA Tour? Nope. We're going to try to expand this Monday feature to anything and everything that happened the past weekend.

It's fun to actually watch the process of a guy that starts to understand how to win. It took David Duval a long time. Rickie Fowler was questioned if he'd ever win a PGA Tour event before his breakthrough at the Wells Fargo. And then there was the quiet Jason Dufner. 
A season ago, Dufner was the heavy-lipped quiet guy that came out of the pack at the PGA Championship on fire, and had both hands wrapped around the Wanamaker Trophy before he decided to put them around his neck instead, drown one of his Titleists at the Atlanta Athletic Club and give the tournament to Keegan Bradley.
Dufner was steady for most of that week, but when the nerves entered his arms, feet and brain, you could see the confidence slip from his face. The one thing Dufner had was a great golf swing and an even better stroke of the ball on the greens. He wasn't going to be some guy you'd never hear of again. 
And then 2012 happened. After missing the cut at the Sony Open, Dufner had a nice T-12 finish at the Humana and followed it up with a T-8 at the Waste Management, a tournament he lost in a playoff against Mark Wilson the year before. Early in the season, it appeared even if Dufner was never going to win, he was surely going to rake up a ton of cash with these solid finishes. 
His year flatlined out after Phoenix, but he got his game back at the Transitions, finishing T-10 there and T-15 at the Arnold Palmer. 
Then came the Zurich. A win there simply felt like a long time coming to everyone involved. Dufner is the type of journeyman PGA Tour guy that seems to becoming extinct. He isn't extremely flashy. He isn't going to be on the cover of a golf video game, or out pushing 5 Hour Energy with Jim Furyk. Dufner is simply the golfer that can get his ball around, especially when the conditions get nasty, and seems to enjoy a tough test of golf. 
His birdie putt on the final hole at the Byron Nelson to win showed a lot of growing up in just three weeks. Win once, and you now feel like a true PGA Tour player. Win consecutive times in a season and you've become one of the elite. 
Dufner's win places him in company with only Hunter Mahan as multiple PGA Tour winners in 2012. The guy's is on a great run. Don't expect things to stop now. 
Tough news for Anthony Kim
You never like to see a guy fall from grace as hard as Anthony Kim has, but there is always a little hope that the guy gets back. That apparently won't be happening anytime soon, as Kim announced on Monday that he will be out 4-5 months with tendinitis in his left forearm that's been around since he hit a rock at the Valero Texas Open a month ago. 
Kim has had some personal issues, and people sometimes think the guy didn't take the game as serious as he should have, but I think it's worth remembering some of his greatest feats as a golfer. 
The first came in 2008, when Kim was an important component in that Ryder Cup victory for the Americans. The youngster was fired up, got other teammates fired up, and did it in a competitive, non-obnoxious way. He was fun to watch on that team, and showed real passion that you never really saw from the guy outside of that team event.
The other time came at the 2009 Masters, when he set a record at Augusta National by making 11 birdies in one round. He always has had that ability to go low, and that was definitely the pinnacle of his birdie-making experiences.
Hopefully Kim will be back soon, but tough news for a youngster that had some serious promise at one point in his career.  
This season will fascinate as old stars converge with up-and-coming superstars

With a single golf lesson up for auction, Tiger Woods changed some lives forever in Texas this...

The Days have had a rough 2017 from beginning to end
Why in the world would a former FedEx Cup winner hop on 24 hours worth of flights this wee...

Following the debacle at the ANA Inspiration earlier in 2017, Thompson has some thoughts

Fowler is as good as it gets on the PGA Tour