MMSC: Pettersson shows golf isn't always biceps and sit-ups
The Heritage winner doesn't exactly have the same approach to the game as others, and that's just fine.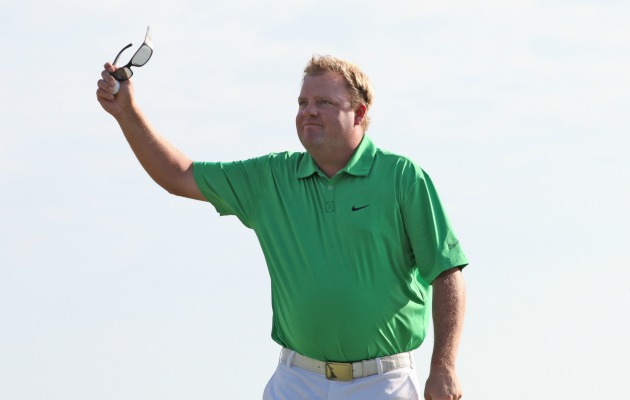 Carl Pettersson's win at the Heritage shows that there isn't just one way to get it done on the PGA Tour. (Getty Images)
Golf is probably the hardest sport in the world to play, and play well, so it makes total sense that everyone is a critic, and that's what we're going to do here at Monday Morning Swing Coach. Cover just the PGA Tour? Nope. We're going to try to expand this Monday feature to anything and everything that happened the past weekend.

The story of Carl Pettersson is a strange one. A rotund Swede with game for days that seems more fit for the 1980s PGA Tour than that of 2012, where personal trainers and protein and "say no to alcohol" seem to be the norm (just a week ago, the man that won the Masters once told me he'd never a drop of alcohol in his life). 
For all his accolades, Pettersson is far from a small man, as you can see, and when Tiger Woods introduced working out to the golfing community, Carl decided to get onboard. Four years ago, the man lost 30 pounds and subsequently, his golf game. The sudden body change had Pettersson missing cut after cut, to the point that he realized something; being big wasn't that bad. 
He gained the weight back, and has had some serious success since. 
His win on Sunday was his fifth of his career, and his second in the last three seasons. He shot the exact same score to win this past weekend as he did in 2010 at the Canadian Open, where 14-under was good enough to edge Dean Wilson by a shot. 
It's actually great to see a guy like Pettersson have success. Golf is a sport full of differences. Guys have different golf swings, putting strokes, pre-shot routines and paces of play. There is no "right way" to do things on the golf course, and that should apply to the way certain guys on tour look. 
Camilo Villegas' veins can pop out of his biceps all he wants, but there are men on the other end of the spectrum that can play just as good a golf in a completely different fashion. 
Remember, it was the British Open a year ago that saw the champion show up on Monday for a photo shoot without a single wink of sleep. Professional golf is a job, but it's also a pretty incredible life. I'm glad Pettersson seems to get that. 
Regression for Rickie? 
If you were to rank the top names in the game of golf, you'd start with Tiger and Phil, and then move to Bubba, Rory and probably Luke. But right around that second group would be Rickie Fowler, the youngster with the flat-billed hats and tons of young fans.
Problem is, his golf game sure doesn't seem to warrant all the press. Fowler nearly won in his second ever start as a professional back in 2009, but things have started to slip for Rickie. 
This past week was a missed cut at Harbour Town, meaning in 10 starts this season Fowler has more missed cuts than top-10s. 
It isn't exactly time to push the panic button, but was the hype a little too loud for Fowler? It sure seems like it right now. 
A great summary of this weekend
It is never easy for golf fans to get pumped for a golf tournament the week after a major, but it sure seemed the Heritage struggled more than most after such an incredible Masters. No real star power at the top of the leader board made it tough for fans to get totally involved, and a runaway win at the end sure seemed to push the remote in another direction.
The best summary of the week came from Ryan Ballengee, who threw up this tweet on Monday. 
This is the 1st week in the history of Euro & PGA Tour co-existing that two different guys with 10-letter last names won in the same week.

— Ryan Ballengee (@RyanBallengeeGC) April 16, 2012
Yep, that's about right. 
The former FedEx Cup champion won't be participating this season

Find out when and how to watch the 2017 Wyndham Championship live this week

The year's opening tournament has a new Wisconsin-based backer
Rory McIlroy, Rickie Fowler and Henrik Stenson tee it up from the wrong side

Lefty just reached the century mark, and he'll keep going from there

The South Korean will be back in September