MMSC: Rory McIlroy puts on incredible season-ending show
Rory McIlroy finished his 2012 with a five-birdie run to snag the DP World Tour Championship.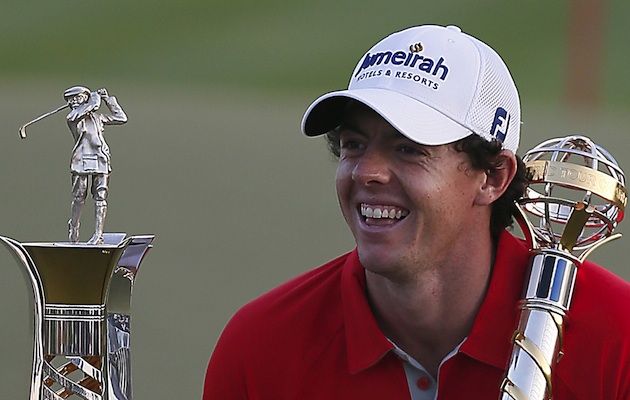 Rory McIlroy's best performance might have been his last one. (Getty Images)
A rare moment happened on Sunday at the Jumeriah Golf Estates for Rory McIlroy. All season, the young Northern Irishman had been showing the world that he was, in fact, as good as advertised. He came into the season with an incredible run of golf and ended the season with an even more impressive run that included another major championship (by eight shots) and two FedEx Cup wins. 
But Sunday was different. McIlroy came into the final leg of the Race to Dubai a winner already, but his mantra all week had been that he was coming to leave with two trophies, not one. But on the 13th hole, McIlroy carded his third bogey of the day (he had made just two the previous 54 holes combined). It looked like his 2012 season would end in a very rare instance of disappointment.
But something has changed about the 2012 McIlroy from prevous seasons for the 23-year-old. The 2012 McIlroy finds some ridiculous Fast and the Furious gear in his golf game that nobody else in the world has, and he hits the button when he absolutely needs it.
McIlroy pitched it to a couple of feet on the par-5 14th for a kick-in birdie. He wedged it close again on the 15th for two in a row and then drained a lengthy birdie putt on No. 16. The par-3 17th was where it all came to be, when McIlroy cut a clever little 5-iron into one of the toughest holes on the course and then rolled in the birdie putt for his fourth in a row and a Tiger-like fist-pump.
McIlroy would add another birdie on the last hole for good measure. He had already wrapped up his fifth win of the season and put the finishing touches on the richest season in golf history. But it was the fashion in which he did it that made it so special. 
Learning how to close out golf tournaments is a thing that even in the best in the world have trouble grasping. You can be an incredible golfer who never misses a shot on the range or on a Thursday. But when you're coming down the stretch of a huge event, you either know what to do to finish a tournament or you don't. 
There's also a lesson that McIlroy learned here about coming back to win. Chasing down a hot golfer in a big golf tournament is tough. If you're able to, especially when you don't have your best stuff, it means you are on a whole different level than the rest of the guys on tour. And that explains McIlroy. He has shown in 2012 that he can win by a country mile like the PGA, and chase down one of the hottest golfers in the world right now (Justin Rose) at a season-ending event with a closing stretch that was downright magnificent.
"The big difference this year has been that when I haven't been at my best, I have still competed and won tournaments," said McIlroy to the Guardian after his round on Sunday.

"That's something I said I wanted to get better at. Before this year, I felt my wins came when I just played great golf and nobody could get near me."
You think he doesn't understand how good he's playing? It's like the first time that we've caught a glimpse of Tiger Woods -- since Tiger Woods. Who knows if he can continue to do this for years to come, but it has been great to watch in 2012. And McIlroy concluded it with arguably his greatest show of all. 
This season will fascinate as old stars converge with up-and-coming superstars

With a single golf lesson up for auction, Tiger Woods changed some lives forever in Texas this...

The Days have had a rough 2017 from beginning to end
Why in the world would a former FedEx Cup winner hop on 24 hours worth of flights this wee...

Following the debacle at the ANA Inspiration earlier in 2017, Thompson has some thoughts

Fowler is as good as it gets on the PGA Tour