MMSC: The journeyman's Open, and Fred Couples' second Champions Tour major
Our Monday Morning Swing Coach looks at all the names battling at the Canadian Open and a familiar face taking down a Champions Tour major.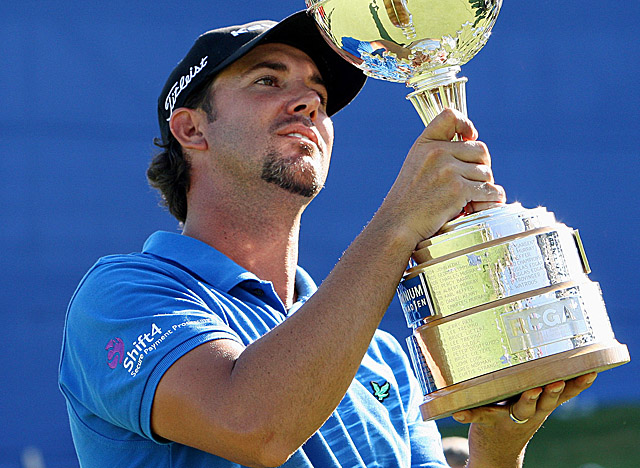 'I'm kind of speechless,' Piercy said Sunday of winning the Canadian Open championship. (Getty Images)
For every guy like Hunter Mahan and Bubba Watson, extreme talents that seem to be able to win multiple times a year, there are tons of journeymen golfers that are forced to take advantage the moment an opportunity comes up. 
Those players were on hand this week at the Canadian Open. Once a marquee event that was host to one of Tiger Woods' greatest shots ever, the scheduling a week after the British Open has forced a lot of big names to skip this event, and while that might be a bummer for the tournament hosts, it sure is a welcome sight to guys like Scott Piercy, Sean O'Hair and Carl Pettersson (the last three winners here). 
Sunday was a battle of who would further their careers and who would wilt under the pressure, and we had a little of everything.
The first was, of course, Piercy. The 33-year-old sure seems to strive at events where you need to go low, winning the Reno-Tahoe Open a year ago with a third round 61, and opened this week with a nice little 62 on Thursday. His closing rounds of 67-67-67 were good enough for the win, helped by a hot start on Sunday with four birdies over his first five holes. 
Piercy is an emotional guy, but he was able to hold them in check as he finished up his round and hoped the guys chasing him would fall apart.
And they did. 
Robert Garrigus struggled all day, posting a final round 70, his worst round of the week by four shots, to finish a shot out of a playoff. The worst part was Garrigus had a great opportunity to get to 17-under as well on the 72nd hole, but left his birdie putt dead in the middle of the hole, but just a couple of rolls short. His reaction was one we'd seen before from Garrigus (go back to the 2010 St. Jude, when Robert had a three-shot lead heading into the final hole only to make triple-bogey and eventually lose in a playoff to Lee Westwood).
Garrigus looked beaten down on that final hole, but it was William McGirt who might be kicking himself the most. McGirt had it to 18-under on Sunday with four holes to play, but two bogeys, including a closing one on No. 18, left him a shot out of a playoff number with Piercy.
The big question is if this is good for golf. Do people want to watch journeymen try to win their first or second PGA Tour win against a bunch of other guys you won't see much of the rest of the year?
A lot of people probably don't enjoy it, but real golf fans love seeing people struggle to achieve something they have been dreaming about for decades, and understanding that this moment might not ever happen again (there are plenty of golfers with only one PGA Tour win in their careers). 
I love it, and the final round of the Canadian Open was great drama all the way down to that final putt that Garrigus couldn't get to the hole. 
Couples adds another Champions Tour major
People figured when Fred Couples joined the Champions Tour, he'd be a serious force. His approach to the game is legendary, but the fact that he can still routinely hit the ball as far as some of the young PGA Tour stars made it seem like he'd be dominant with the older guys if he ever invested himself in that tour. 
Sure, Couples still plays his PGA Tour events, but since 2010, he has racked up eight Champions Tour wins including the Senior British on Sunday. 
Couples birdied his final two holes at Turnberry (think Tom Watson wishes he could have borrow that finish in '09?) to win by two shots over Gary Hallberg. 
"I've never won an Open Championship, so this is the next best thing," Couples said after his win, a pretty good way of looking at it, and as he mentioned, gets him in the British Open next year which is definitely an added bonus. 
Nobody is ever going to make the Champions Tour must-watch sports for the casual fan, but Couples still plays golf like a PGA Tour pro, booming drives and sticking wedges and going low when the conditions call for it. If there was ever a couple of guys that could make a Sunday battle on the Champions Tour more exciting than the PGA Tour golf, it might be when John Daly turns 50 and Couples takes him to the final few holes. 
His performance at Turnberry was great stuff, and his way of looking at things in golf is still pretty tough to beat. 
Tommy Fleetwood is hot on his heels as the European Tour winds down

A tour rookie is leading a tour veteran by one at the halfway point in Georgia

Jonathan Thomson has had a quite a ride, and it had a happy ending on Thursday
He's still chasing, but Fleetwood is now in premium position in Dubai

A local has his eyes set on his first PGA Tour win since 2015

It felt like a Ryder Cup for one day in Dubai