MMSC: Woods vs. McIlroy mano-a-mano event in China pretty entertaining
Tiger Woods and Rory McIlroy went head-to-head in China, and it turned out to be some of the best golf viewing of the season. The latest installment of the Monday Morning Swing coach.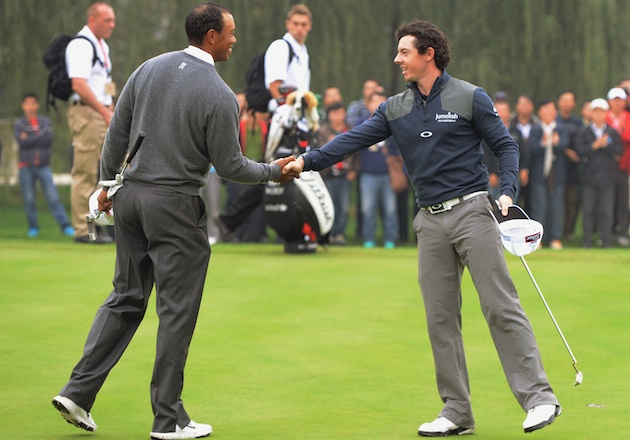 Rory McIlroy defeated Tiger Woods in the Duel at Jinsha Lake. (Getty Images)
There is some saying about the difference in people when they're always on and when they have their guard down. Tiger Woods is a machine in this sense. He always says the right thing, no matter if that right thing isn't interesting, and he never seems to let himself slip up. He has trained himself to not let anyone in, and while it can annoy the media at times, it is exactly the way Woods wants it.
So when it was announced Woods would be playing against Rory McIlroy in a one-day, 18-hole stroke-play event called the Duel at Jinsha Lake, most figured it to be just another chance for the two biggest names in the game to earn a big payday while spending around three hours on a golf course with an incredible amount of fans roaming the grounds.
It wasn't. The result was an event unlike any other.
Woods and McIlroy were wired for sound for the event, but it seemed Tiger forgot his mic was always hot. Woods talked about his swing changes with Sean Foley ("I've been struggling with Sean … he has me hitting my irons so f---ing far"); he poked fun at McIlroy after Rory mentioned Ryo Ishikawa shot 58 the same week he shot 62 ("he smoked your ass"); and was as candid to his caddie and his playing competitor as Tiger has ever been. 
Woods mentioned he'd lost eight pounds while in Malaysia, called his chip-in while it was in the air, and seemed to even enjoy the awkward but entertaining mid-round interviews that he kept receiving from a local reporter.
On top of all that, it was pretty fun to watch the two go at each other. Sure, it wasn't the most serious of golf, but McIlroy shot 5 under and Tiger shot 4 under, and they both could have easily been about two or three shots better if they were more comfortable on the greens (Tiger mentioned that the greens were a lot slower than what they were used to making it tough to putt). 
The bottom line is there are few professional golfers that will force multiple people that I know to stay up well into the 3 a.m. range on a Monday morning with no real benefit coming from what they're watching. Rory and Tiger did this, and with the candid speak from Tiger, and the fun match between the two, it was well worth the lack of sleep.
Rory might have won the duel, but it was really the fans who won by getting a chance to see Tiger in a completely different light than we might have ever seen him. 
More of this would be great for golf, and great for Tiger's ability to reach the fans. 
Speaking of these two:
Before the Duel, Rory and Tiger were both playing in actual golf events, and while neither won their respective starts, they combined to shoot 39-under together. 
Tiger couldn't get past Nick Watney, who needed a birdie on the last hole at the CIMB Classic to post a sub-60 round (he made bogey, but it was still good enough to win), and McIlroy couldn't beat fellow Ryder Cupper Peter Hanson in Shanghai. 
Neither left with the trophy, but they both continue to be in good form. 
Thomas Pieters and his Ryder Cup partner could go at it for a title this weekend

Phil Mickelson returns and the Web.com Tour is cleaning up

Lefty returns at the CareerBuilder Challenge this week
Find out when and how to watch the 2018 CareerBuilder Challenge live this week

The Ulsterman played solidly down the stretch on Thursday