Monday Morning Swing Coach: It's Ryder Cup week, baby!
We kick off Ryder Cup week by looking at the best weeks on the golf calendar, Stacy Lewis' win on Sunday and the best tweet of Tour Championship week.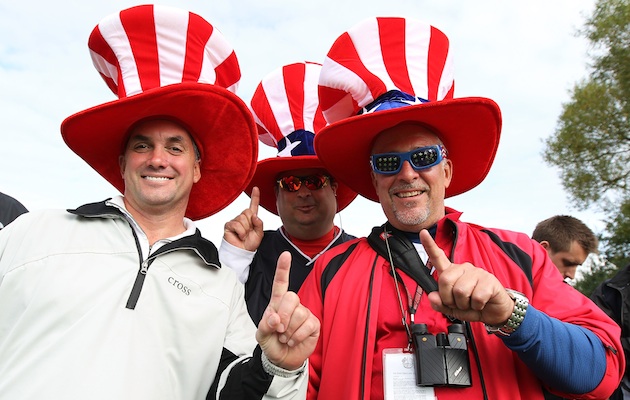 American fans will be out in droves at Medinah this week. (Getty Images)
Golf is probably the hardest sport to play and play well. So it makes sense that everyone's a critic, and that's what we're going to be here at Monday Morning Swing Coach. Cover just the PGA Tour? Nope. We're going to expand this Monday feature to anything and everything that happened the past weekend.
Monday marks the start of one of the best weeks of the year for golf fans as Americans and Europeans head to Medinah to battle in the best team test in the game. Yes, the Presidents Cup gives us our fill during non-Ryder Cup years, and the Solheim Cup has really started to come of age the last two matches, but nothing gets the golf world going like the Ryder Cup.
In my opinion, the best golf weeks of the year go as such:
-- Masters week (first big tournament of the golf calendar, plus it's at the best venue in the world with the most tradition and people from all walks of life tune in to get their Augusta fill)
-- Ryder Cup week (the team dynamic coupled with the fact that you get to see so many big names play in a different format against wily competitors makes it more exciting than any of the other majors)
-- U.S. Open week (second big major of the year and it's normally during a down-time in sports)
-- British Open week (you get to wake up early, watch a major championship in some nasty weather and still get 18 holes in yourself when the pros wrap up)
I love the Ryder Cup for a number of reasons, one being that the 1999 Cup might have been the moment I realized how much I loved the game. As a ninth grader, I was more interested in baseball or football or how to beat puberty. Golf was a game I was playing, and enjoying, but it wasn't at the top of my list. Watching the Ben Crenshaw speech followed by that epic performance by the Americans showed that golf has the ability to be as exciting, and competitive, as any of the other sports. After that, I was hooked, and lucky, too, since it was just about that time Tiger Woods went on his epic run and showed that golf can also, somehow, be dominated by an individual.
The best part about the 2012 Ryder Cup is that it looks to have the most competitive teams by both sides in ages. 
No offense to some of the other players who have competed consistently for both sides, but there really isn't a disappointing name on either team, and it has taken some rather serious stretching to find guys to pull out as possible red flags (Jim Furyk and Martin Kaymer seem to be the easy picks until you realize both of them have won a major championship in their careers).
Even the rookies for the American team look like solid choices. Brandt Snedeker just won the FedEx Cup. Keegan Bradley seems like a guy molded for this type of competition. Webb Simpson and Jason Dufner might not have been people you would have loved seeing rocking the red, white and blue a year ago, but 2012 has proved they're the type of golfers you want to have down the stretch and they seem primed to give Davis Love III a rookie boost. That's exactly what you want for these three days of play.
But the easy reason that the Ryder Cup is so much fun is that deep down, it's fun to root for your country (and in some cases, fun to root against others). Golf fans don't usually get this. We don't have the game in the Olympics (yet) and these days the lines between an international player and an American are paper thin (seriously, most of these European stars are as American as a double-double from In-N-Out at this point).
This is the week that American fans get to complain about how annoying Sergio Garcia and Ian Poulter are, and how stupid they think Rory McIlroy's haircut is. The Europeans get to counter with hating on Bubba Watson's on-course antics and the smugness of Woods in a match, while poking fun at Phil Mickelson's putting stroke and the droned look of Dufner.
It's a golf fan's dream, especially for the patriotic fan, and during an election year with so much hatred being spewed both ways, it seems like a welcoming sight for a country that loves to rally around a group of people.
Ryder Cup week is here, and we hope you are as excited as we are.
Stacy Lewis responds in a big way to those critical Yani Tseng comments
If you didn't catch the comments Yani Tseng said last week about the commitment to practice that's seen on the LPGA, make sure you take a look. Tseng said: "Most of the time, on Monday mornings, the only people you see on the range are Asians." She used that as a reason why they had won all four majors in 2012 and eight straight events heading into the Navistar.
Stacy Lewis, arguably the most talented non-Asian golfer out there right now, probably saw the comments and didn't like them but she let her clubs do the talking in Alabama, shooting rounds of 66-70-65-69 to win by two over Lexi Thompson (also an American).
The win was Lewis' fourth since April of 2011, and it showed that despite the incredible year for those Asian-born players, Lewis is definitely one of the best in the world, no matter if she's grinding on the range early Monday morning or not.
Tweet of the Week
The AP's Doug Ferguson tweeted Sunday evening a note about just how much Lee Westwood, who finished last at the Tour Championship, would make with the guaranteed money at East Lake coupled with his FedEx Cup bonus.
Ferguson came up with $628,000, a nice little payday for the former No. 1 in the world. 
Stina Sternberg, the always entertaining senior editor at Golf Digest, added this little gem to the tweet, which sums it up quite nicely:
"Thanks for the reminder" - all LPGA players. RT @dougferguson405 Lee Westwood picked up $628,000 for finishing in last place (incl. bonus)

— Stina Sternberg (@StinaSternberg) September 23, 2012
Why would she say that? Well, $628,000 would put Westwood No. 16 on the LPGA money list, ahead of names like Suzann Pettersen, Cristie Kerr and Brittany Lincicome. 
It's nice to be a PGA Tour star. 
For Ryder Cup news and updates all week, follow us on Twitter at @shanebacon and @eyeongolf.
Rahm and Landry battled one another through four extra holes on Sunday

The Englishman lapped a monster field on Sunday with a closing 65 that was better than it...

It's the second time Phil Mickelson missed the cut in his first tournament of a season
Everything about the event so far this week has been a home run

Rahm lost his lead, but a 67 keeps him in the chase at CareerBuilder

Koepka is looking to recover in less than three months to play at Augusta National