Monday Morning Swing Coach: What is the best possible Sunday matchup for the Tour Championship?
In this MMSC, we break down the best Sunday group for the Tour Championship and touch on the Women's British Open decision to cancel the second round.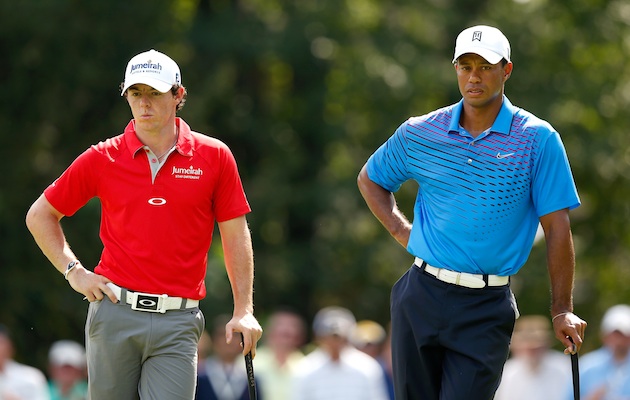 Rory McIlroy and Tiger Woods would bring the most drama at this week's Tour Championship. (Getty Images)
Golf is probably the hardest sport to play and play well. So it makes sense that everyone's a critic, and that's what we're going to do here at Monday Morning Swing Coach. Cover just the PGA Tour? Nope. We're going to expand this Monday feature to anything and everything that happened the past weekend.
This week marks the last relevant week of the PGA Tour season. It isn't a major or a WGC event or ever the Players. But for the first time, the Tour Championship is the tournament to watch.
So the question isn't what is going to happen; it's what could happen. There are 30 PGA Tour professionals out there, and we rank what we think would be the best matchups come Sunday at East Lake Golf Club. 
5. Keegan Bradley vs. Phil Mickelson -- Since Riviera, I've been rooting for these two to go up against each other. I think they really respect each other, and I think both are passionate golfers who get the best out of their games when something extra is on the line (you know, besides the millions of dollars and PGA Tour exemptions). Bradley seems to feed off Mickelson, a guy whom he has mentioned was a hero of his, and I think the two will be paired together at the Ryder Cup. Before Medinah, I'd love to see how the two play against each other, especially in the final big event of the season.
4. Louis Oosthuizen vs. Jason Dufner -- Honestly, are there two guys who seem more comfortable playing this game than these? It's like Fred Couples opened a school of how not to show anything on the golf course, and these two were the only ones who signed up. I love both of them on the golf course and would love to see them go head-to-head just because it would be the first time two athletes failed to sweat in Atlanta since the city was founded.
3. Lee Westwood vs. Luke Donald -- Because, hey, remember when they were No. 1 in the world?
2. Tiger Woods vs. Phil Mickelson -- Still the biggest draw in golf if it actually happened, plus, it would allow Tiger a chance to avenge that absolute tail-whipping he got from Phil back at this event in 2009 (when Phil shot 65 in the final round to Tiger's 70). 
1. Rory McIlroy vs. Tiger Woods -- Obvious. Young stud. Old champion. New blood. Previous mecca. The kid with the curly hair. The guy who's losing his hair. The dude with the perfect golf swing. The guy who wins despite his golf swing. Honestly, Tiger vs. Rory on the final day of the Tour Championship would be more exciting than anything that happened at a major championship this side of Augusta, Ga. I want this. I pray for this. The two freaks who seem to really enjoy each other would be fun to observe on a Sunday of a tournament with serious implications. You'd tune in for this; I'd tune in for this. Golf would bump the NFL if Tiger and Rory were battling.
LPGA, wind, and the British Open
I had mixed feelings about the cancelation of the second round of the Women's British Open at Royal Liverpool, mainly because, as a golfer who has spent time in Scotland, you golf no matter the weather.
That said, if wind is making professionals play two or three holes at 8-over-par, something needs to happen. 
I guess all this says is, if you're heading to Scotland to golf, make sure to bring all weather-appropriate garb. 
Crane time
If you haven't had a chance to check out Ben Crane's latest Internet video, give it a whirl. The guy might not have a win on tour, but he's undefeated on YouTube.
Following the debacle at the ANA Inspiration earlier in 2017, Thompson has some thoughts

Fowler is as good as it gets on the PGA Tour

The USGA and R&A have decided that you will no longer be able to phone in penalties
The Spaniard captures another piece of hardware during an all-time season

The man who ended on his bag in 2017 will apparently begin on it next year

This snowboarding ball flip and drive is simply spectacular