Move over, Tiger; Rory's here and he's a better version of you
It's time we anoint Rory McIlroy, who joins elite company with four majors by age 25, the next Tiger -- only better. Not because he wins, but how he wins.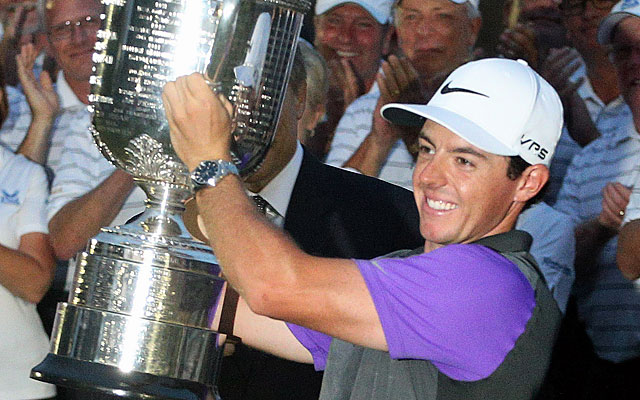 PGA Championship: Leaderboard | Photos |  Odds & picks |  Videos & GIFs |  Stories | Tiger
Dear god, we already have our next Tiger. He's here in full-throated roar, announcing himself on Sunday at the PGA Championship at Valhalla where Rory McIlroy fended off the rise of Phil Mickelson, the fall of night and his own early round mediocrity to win one of the most competitive, compelling majors in years.
McIlroy joined Tiger Woods and Jack Nicklaus as the only golfers to win four majors by age 25, but it's more than that. It's not just that he wins. It's how he wins, with prodigious length and mental toughness and intimidation, all of which makes Rory McIlroy the second coming of a player most of us had never seen before and at least one of us -- me -- didn't think we would see again.
But here we are, less than five years after his dalliance with the Perkins waitress punctuated the scandal that ended Tiger's seemingly perfect marriage and obvious golf greatness, and already we have our second coming of Tiger.
It's not just the four majors McIlroy has won by age 25. It's how he has won them, setting records along the way, like the 2011 US Open he won by eight shots. His score of 16 under was a US Open record.
He was 22.
It's how he won the 2012 PGA Championship, setting a record in that major by lapping the field by eight shots. He was 23.
It's the way he won the 2014 British Open, becoming the first player from Europe to win three different majors.
And it was the way he won the 2014 PGA, sitting in the clubhouse waiting, and waiting, and waiting, not just to tee off in the final group but after a rain delay of roughly 90 minutes. While he was waiting players in earlier groups were putting up great scores, like Ernie Els ripping off birdies to get into the picture, and when he did get started -- he didn't. McIlroy didn't tee off until 4:19 p.m. and lost his lead by bogeying two of his first six holes and at one point was playing so poorly, relative to the rest of the field, that he was the only golfer in the top 30 who wasn't under par on the day.
But then came the 10th hole, a 590-yard par-5 that McIlroy eagled, and it was on. He was back in business. While everyone else was running on fumes, playing near-perfect but not quite perfect enough -- Mickelson, Rickie Fowler and Henrik Stenson had one bogey each on the back nine -- McIlroy was hitting the accelerator. He birdied the 13th and the 17th, needing the second to give himself a two-shot cushion that allowed him to hurry his way through the 18th, two-putting from 40 or so feet in the near dark to par the hole and hold off Mickelson, who birdied the hole moments earlier to get within one.
This is Tiger stuff, and again, not just because he has won four majors at such a young age. It's the way he plays, playing a game unlike anyone else on the course. On at least three holes on Sunday, McIlroy hit the longest drive of the day -- twice by more than 10 yards. Like Tiger used to do, McIlroy was playing the same course as everyone else, only he was playing an easier version of it. He was attacking the monstrously long par-4s with 8- and 9-iron second shots. He was staring down putts and you just knew when he was going to make them, and McIlroy was following the ball into the cup with a fist pump.
It's not like we've never seen this before, because we have. But when we watched Tiger Woods do this stuff -- he won the 1997 Masters by 12 strokes at age 21, and he won the 2000 US Open by 15 shots at age 24 -- we thought we were watching something we wouldn't see again. We had never seen it before. Other than Nicklaus, golfers don't win four majors by age 25. Almost nobody wins a major by that many shots.
And nobody wins two of them by that kind of margin.
But here we are with Rory McIlroy, winning these majors and winning them in crazy fashion and doing it all by age 25. He's Tiger, only kinder. He's Tiger, only gentler.
He's Tiger. Only better.
The 2016-17 PGA Tour season came to a thrilling end as the FedEx Cup champion was crowned...

It's fitting that the five-time winner also took the year-long race for the grand prize

With so much at stake at East Lake, how will the tournament play out?
Find out when and how to watch the 2017 Tour Championship live this week

Paul Casey looks to shut down the tournament at East Lake on Sunday

The final round of the PGA Tour season is all that stands between Paul Casey and $10 milli...