Na fights swing, course, rules officials, Sawgrass -- and still owns 54-hole lead
Kevin Na, 28, drives viewers nuts by backing off and fidgeting over shots for an eternity, but darned if he isn't leading the Players Championship by a shot entering the final round.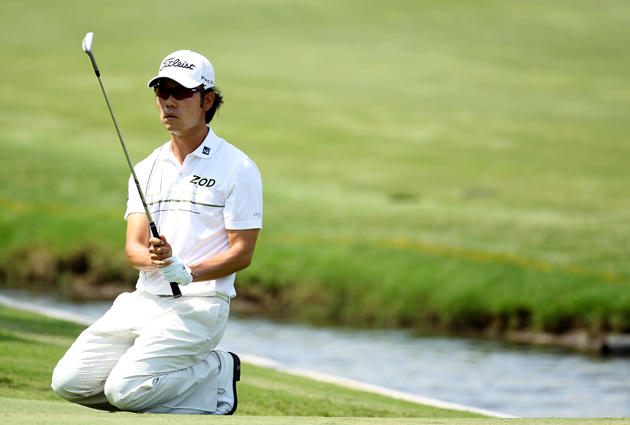 Kevin Na reacts to a shot on Saturday at the Players Championship in Ponte Vedra Beach, Fla. (Getty)



PONTE VEDRA BEACH, Fla. – It was, without question, the single-most riveting and revolting round in recent Players Championship history.
Shot after interminable shot, 54-hole leader Kevin Na tried to get comfortable over the ball and kept executing an endless series of waggles, backing off the shot or even semi-whiffing the stroke intentionally by swinging over the top of the ball.
With apologies to the drug-makers that advertise during golf broadcasts, it might be the worse case of projective disfunction in the history of the PGA Tour.
The end result was one of the most fascinating, infuriating rounds ever played on one of the biggest stages of the game, TPC Sawgrass.
Not only was Na, who has one tour victory, trying to play one of the toughest tests in the game and beat a world-class field, he was kicking his own butt for repeatedly being unable to pull the trigger over the ball.

That's a lot of air traffic to control, a lot of slamming doors, an entire blanket of cobwebs.
Incredibly, Na shot a 4-under 68 on Saturday under difficult conditions to take a one-shot lead into the final round, where he will try to hold off Matt Kuchar, Rickie Fowler and a slew of swing and mental demons.
"As ugly as it is and as painful as it is," Na said, "believe me, it's really tough for me, and I'm trying."
Na changed swing coaches 13 months ago and has had trouble getting comfortable over the ball ever since – even as his performance has improved. His inability to pull the trigger has, at least twice, prompted him to twice scream at himself this week as he stood over the ball, fidgeting.
"I'm not being nice to myself, trust me," he said. "I am ripping myself."
So are plenty of others. The end result is that Na, 28, has become the poster-boy for slow play, and he frequently gets excoriated in the locker room and in social media. He was put on the clock during Saturday's third round and then recorded a bad time, which means he is likely subject to an automatic fine.
He's jointly trying to win the flagship event on tour, wrestling with rules officials, fighting the voices in his noggin – and still leading the tournament. Na said that at the end of the day, he is so fried he sleeps like a dead man.
"Yeah, it's pretty high stress," he said. "I mean, after I get done, I'm pretty tired because not only am I grinding for the golf tournament, but I'm fighting within myself in my mind and trying to play a round of golf without backing off, without all this extra thing going on.
"Trust me, I get ripped, a lot. I know TV, Twitter and fans are tired of me backing off. I understand people being frustrated with me backing off, but all I can tell you guys is honestly, I'm trying, and it's hard for me, too."
A few in the gallery have been overheard at times, when the waggle count pushes double digits, complaining vocally as he stands over the ball, very much a rarity.
It ain't pretty – except on the scoreboard.
Na won over some folks with the way he has faced the situation -- head on and without blinking. He even threw a few barbs at himself Saturday night.
"Just bear with me," Na said, "and hopefully we get that tomorrow round in."
Rahm lost his lead, but a 67 keeps him in the chase at CareerBuilder

Koepka is looking to recover in less than three months to play at Augusta National

Thomas Pieters and his Ryder Cup partner could go at it for a title this weekend
Phil Mickelson returns and the Web.com Tour is cleaning up

Lefty returns at the CareerBuilder Challenge this week