Nick Faldo talks Ryder Cup, Rory McIlroy and his new book, 'A Swing for Life'
We sit down with Sir Nick Faldo to talk about golf and his new book.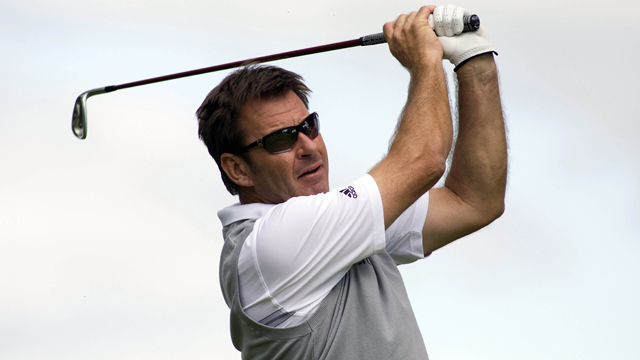 Nick Faldo won three Masters and three British Opens in his career. (US Presswire)
Sir Nick Faldo is no slouch to the golf swing. A six-time major winner, Faldo is the most recent Englishman to win the Masters and has been one of the most successful European golfers in the history of the game. Now a golf analyst with CBS Sports, Faldo re-released his book, "A Swing for Life" on Nov. 6, and we sat down with him to chat about everything golf, including the new book. 
Q. OK, first thing's first -- the Ryder Cup is a month past. I wanted to get your thoughts on what happened and if you thought it was more of an American collapse or a comeback by the Europeans?
A. Well, it was definitely a comeback by the Europeans. For two days, the Americans outscored and out-putted the European team. And that's why they were 10 points to six up. Then it was Ian Poulter getting that point [on Saturday evening] that was very important, because it could have been 11-to-five, which would have been done and dusted. 
That was such a serious moment. It gave the Europeans real hope, and we all talked about it that evening, that [the Europeans] had a shot, and it had to happen, and it sure did.
It was quite unbelievable how that Sunday went. 
Q. Do you think that a guy like Rory McIlroy, playing in a competitive decade that's going on right now, could win 10 majors in his career?
A. He might be the next big guy, because you have to say that other guys are getting older. Tiger has been struggling to get another one, and you have to look at the next batch of names, which the key players were, a lot of the guys are winning. Keegan Bradley is new, but that's not a big surprise. To me, I'm more surprised that Bubba [Watson] won a Masters with his style.
Adam Scott is a potential major winner. I think two more faces might come in, and I think Poulter might get something out of this and contend in a major now. Luke Donald is still there.
There is a group of guys from 20-30, which think, "I've got a shot at this, and I can beat these guys at the majors." Now, if Rory becomes supersonic and becomes like Tiger, well, could he get to 10? I don't know. I'd be very surprised to be honest. 
Q. You mentioned Poulter in the majors, but give us a sleeper to snag a major in 2013?
A. The guy right now ... is Justin Rose. He is a little bit of a Martin Kaymer, and Rose has been winning some good events. He hasn't been in the major mix a lot, and I know he's got in the mix a couple of years at Augusta before he hit it in the water -- takes a bit of time to deal with it. He might be one of those guys that could churn it out. He's the first name that comes to me as a semi-dark horse.
Q. You've played, you've commentated, you've done it all. What can golf do to speed up the players and help out with the pace-of-play issue?
A. I think that they've been on this pace for 20 years now, and I think too much is made of it. On television, you don't see pace of play. You don't get the total time because you're always jumping from shot to shot, so it's really for the players. 
You're asking guys to putt on greens that are faster, and this sort of thing -- and I think this takes time to evaluate all that. I think the players really put the foot down they're going to have to make the rules for themselves. The thing is, they might think, "Wait a minute. I might as well take the penalty because if I rush a shot it might be worth hundreds of thousands of dollars." I'm not going to jeopardize or rush a shot that might cost me a tournament. Everyone talks about it, but it just doesn't come through on television. 
Q.  One last question, wanted to ask about the book, A Swing for Life. What should we expect from the new edition?
A. The last one was 17 years ago, and equipment has changed a lot. We've got a couple interesting things. We've got Trackman and a little more technology to gain. It's a smart book that actually has a video lesson as well. 
I really wanted to do it and mark my experience with club golfers in the pro-am. I really can recognize things people struggle with and to give them pointers and different feelings. We paid a lot of attention to things, and I'm very confident that there are some interesting things in there to help your game. 
The rookie gets his first-ever win in just his 14th PGA Tour start

The final event of the European Tour season had an anticlimactic ending, but Fleetwood took...

A PGA Tour rookie looking for his first win will take a nice lead into the final round of the...
Tommy Fleetwood is hot on his heels as the European Tour winds down

A tour rookie is leading a tour veteran by one at the halfway point in Georgia

Jonathan Thomson has had a quite a ride, and it had a happy ending on Thursday