Once again, Tiger Woods shows he's best when his game is questioned
Comments earlier this week about Tiger Woods being intimidated by Rory McIlroy probably played a big role in Woods' opening round at the Tour Championship.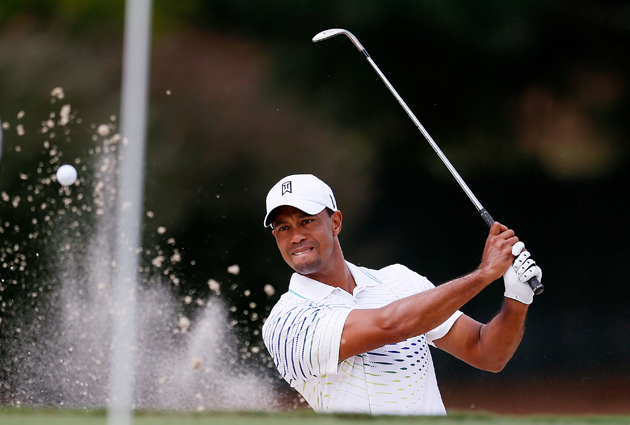 Tiger Woods was in control of all parts of his game in the opening round of the Tour Championship. (Getty Images)
There is something inside Tiger Woods that seems to wake up when the masses start chirping about his golf game. It happened with Stephen Ames at the 2006 Accenture Match Play. Rory Sabbatini got some of it at the Wachovia some years ago. And of course, there was that whole "Tiger who?" situation with Vijay Singh at the Presidents Cup.
So I guess the rest of the field can all blame Greg Norman for saying Tiger is intimidated by Rory McIlroy days before the opening round of the Tour Championship. The quote was brought up just about everywhere (even at Tiger's press conference), but Woods knows his clubs do the talking and he's always allowed it to be that way.
More on Tour Championship
More Golf coverage
On Thursday at East Lake, Woods went out with his 14 best friends (no, one of those wasn't Mr. McIlroy) and he absolutely bombarded the Tour Championship, posting a sweet 4-under 66 to tie for the lead after the first day.
It wasn't necessarily the score that was so impressive by Tiger (Justin Rose matched his number through day one), but it was the way Woods went about his business in the first round. Tiger looked as confident as I've seen him this year off the tee, swinging freely with the driver and twirling the club after almost every tee ball he smacked with his driver (Woods hit 71.4 percent of his fairways on Thursday). 
Tiger's swing looked in control and fluid, something that hasn't always been the case this season, even during some of his victories, and he even flew the ball past Rory off the tee on a few of the holes (namely the ninth, when Woods admitted after his round that "I still have it in there, I just choose not to use it on every shot like I used to.").
What it really showed is that Tiger is at his best when his golf game is questioned. Sure, before 2012 people were constantly questioning if he'd ever return to form, but he didn't have a swing the last two seasons that could produce consistent rounds for weeks on end like he's doing now.
These playoffs have been the best run of golf we've seen from Tiger since 2008, and he kept it going at the Tour Championship, putting himself in an incredible position to become the first person ever to win the $10 million bonus three times (he's already the only person to do it twice). 
If nothing else, the opening round at East Lake was a reminder that Tiger is, if nothing else, an incredible competitor who doesn't take kindly to insults. Sure, some might not think that Norman's words were a putdown, but saying Tiger is intimidated by anyone shows a weakness that Woods has never be known to show.
Rahm lost his lead, but a 67 keeps him in the chase at CareerBuilder

Koepka is looking to recover in less than three months to play at Augusta National

Thomas Pieters and his Ryder Cup partner could go at it for a title this weekend
Phil Mickelson returns and the Web.com Tour is cleaning up

Lefty returns at the CareerBuilder Challenge this week