Peter Alliss gives one-finger salute to conclude his Hall of Fame speech
Peter Alliss was inducted into the World Golf Hall of Fame on Monday, and left by giving the crowd a surprising salute.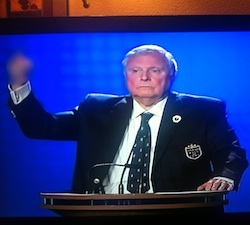 Peter Alliss gave a former teacher a salute of the highest degree during his World Golf Hall of Fame speech. (GeoffShackelford.com)
There are few people in sports quite like Peter Alliss. He came into the game of golf a champion, winning more than 20 times as a pro before deciding his voice and fearless attitude behind the microphone was a better avenue for his talents. 
Alliss was and is incredible at both. When he joins the American telecast during the British Open, it's one of the highlights of the broadcasting year. Unlike some of the American voices in golf, Alliss' pointed remarks and pokes at players seem completely organic, not done to make a splash on a newsreel. 


So it seemed like a tap-in when Alliss was inducted into the World Golf Hall of Fame. And he didn't disappoint. Not in the least bit. As he finished up his acceptance speech on Monday in Florida, Alliss decided to go a different route, focusing in on a former headmaster he had when he was a kid.
Here is the transcript of why you are looking at the picture to your right, of Alliss giving everyone at the Hall of Fame the bird.
So it's time to - I could waffle on for another four or five hours.  I just want to say this:  I think of it often because I did leave school early.  I was quite bright, but I remember my last report which was sent home. 


We had a headmistress that my modest school was called cross by house school.  She was a Mrs.Violet Weymouth, and she was a short Welsh woman. She always had a cigarette dangling out of her mouth and the smoke used to trickle up here, and you could see where the smoke went. There was sort of a brown line up there. But she was -- you didn't mess about with Mrs. Weymouth, I can tell you that.  I'm always staggered today where I read that children go to school and beat up the teachers. They wouldn't have done that in my day, I'll tell you. But I remember the last report she sent back to my parents, and it went something like this: Peter does have a brain, but he's rather loathe to use it. His only interests appear to be the game of golf and Violet Pretty, a girl I liked. She never knew about Iris Baker, but they were the two that introduced me to some of the ways of the world, for which I'll be eternally grateful.  And although we were very young, I wish to God we could do it today. 


I fear for his future were the last words she wrote on my report.  So mom and dad died a long, long time ago, and if there is such a thing as heaven and if people do look down, well, mom, dad, here we are. Look at this lot. Look where I've been, look what I've done.  Never worked very hard at it. But it's all fallen into place. Lovely family, lovely wife, looks after me, shouts a bit occasional. But they are remarkable. They put up with all my nonsense, and I love them dearly. 
And Mrs.Weymouth, if you're there, (holds up middle finger).
There will be plenty of famous golfers and voices inducted into the Hall of Fame for years to come, but few will leave such a mark as they walk off stage. 
(Photo courtesy of Shackleford)
Big Cat is back at it for the second straight week, this time near his home in Florida

SportsLine simulated the 2018 Honda Classic 10,000 times and has some surprising picks

This is truly an unbelievable feat from Paul Shadle at this show in Minneapolis
The matches in Paris are starting to take shape, and the best ever is going to be involved

SportsLine's Mike McClure, a DFS pro with more than $1M in winnings, gives optimal lineup...

The field for the Honda Classic this week is fabulous, and Tiger is just one of the big dr...