PGA Tour: Dustin Johnson's leave voluntary, not a suspension
The PGA Tour says Dustin Johnson's leave of absence is voluntary and not a cocaine suspension, which Golf.com had reported.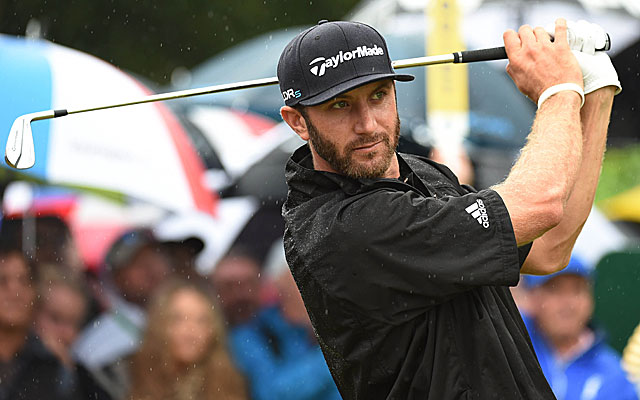 One day after PGA Tour star Dustin Johnson announced he would miss the rest of the season to take a "leave of absence," Golf.com is reporting that his hiatus is actually a six-month suspension for a positive cocaine test.
The PGA Tour issued a response Friday saying Johnson's leave is voluntary and not a suspension.
"With regard to media reports that Dustin Johnson has been suspended by the PGA Tour, this is to clarify that Mr. Johnson has taken a voluntary leave of absence and is not under a suspension by the PGA Tour," the Tour told WLTX (Columbia, SC) in a statement.
Golf.com reported this is Johnson's third failed drug test and second suspension -- and will lead to his second missed major -- since 2009. The first two failed tests (and the first suspension) were kept quiet, starting with his test for marijuana in 2009 and then his test for cocaine in 2012. The second failed test led to a suspension for Johnson in 2012, though the suspension -- like the failed drug tests -- was never announced. PGA Tour policy doesn't require a public announcement of discipline for recreational drug use.
According to Golf.com, the cocaine suspension -- and not a back injury Johnson said he suffered while picking up a jet ski -- is why he didn't play for 2½ months in 2012. He missed every event (including the 2012 Masters) between the Cadillac Championship in mid-March and the Memorial that started on May 31.
Denials, misdirection and outright lies have been Team Johnson's method for handling these stories over the years. Johnson's agent, David Winkle, denied in 2012 that he had been suspended, and Golf.com reports that a few days ago Winkle answered a Sports Illustrated query about a coming suspension by sending a text message that read, "Don't believe everything you hear."
Johnson's announcement Thursday wasn't dishonest, but the implication was that this "leave of absence" was his choice. His statement, however, hinted at problems. He said he would "seek professional help for personal challenges I have faced. By committing the time and resources necessary to improve my mental health, physical well-being and emotional foundation, I am confident that I will be better equipped to fulfill my potential and become a consistent champion."
In addition to the WGC-Bridgestone at Akron this weekend, the 30-year-old Johnson will miss the 2014 PGA Championship, FedEx Cup playoff series and Ryder Cup. As it stands now, his automatic spot on the Ryder Cup team would be filled by Patrick Reed -- freeing up a captain's pick for Tom Watson to use on a disappointing star like, say, Phil Mickelson or Tiger Woods.
Whatever his issues off the course, Johnson was playing well on it. He posted seven top-10 finishes this season, including one win and two second-place showings, and earned more than $4.2 million.
PGA Tour executive vice president Ty Votaw wouldn't comment on the suspension, according to Golf.com. Johnson's leading sponsor, TaylorMade, said in a statement that "we wish him well and look forward to his return."
Jordan Spieth, Brooks Koepka and Patrick Reed are all on this list

We could see Tiger Woods and other stars in some different places next calendar year

SportsLine simulated the 2018 QBE Shootout 10,000 times and came up with some surprising p...
Jon Rahm, Jordan Spieth, Justin Thomas and Tommy Fleetwood are all in the conversation

Are we about to see a major in Texas for the first time in decades?

It's only been a year since the latest comeback so here are a few letters for the last 12...