PGA Tour issues statement on Tiger Woods' drop on No. 14
After Tiger-gate at the Masters, the PGA Tour quickly squashed any controversy at the Players Championship on Sunday after Tiger Woods hit a ball into the water.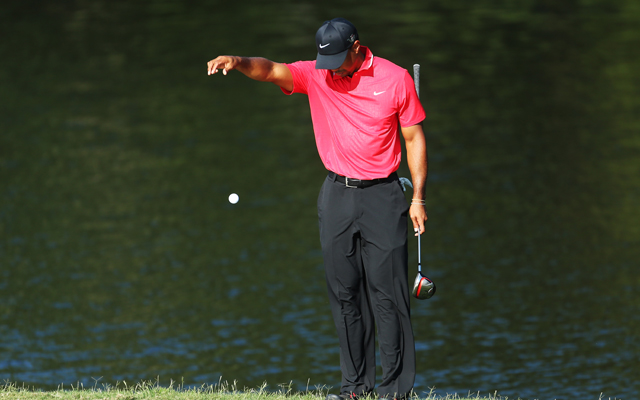 More Golf: Leaderboard | Rankings | Schedule | Expert Picks | Equipment | FedEx Cup
Tiger Woods looked to be cruising to victory at the Players Championship on Sunday afternoon. Then he hit a horrible shot about 30 feet deep away from the fairway on the par-4, 484-yard 14th hole and into a pond. 
That forced Woods to take a drop ... and, with that, Tiger-Drop controversy was renewed after the incorrect drop on No. 15 at Augusta National cost him two strokes. NBC golf commentator Johnny Miller tried to stir up some controversy, saying he didn't properly drop the ball. 
But the PGA Tour quickly quashed any controversy by releasing the following statement: 
"Without definitive evidence, the point where Woods' ball last crossed the lateral water hazard is determined through best judgement by Woods and his fellow competitor. If that point later proves to be a wrong point (through television or other means), the player is not penalized by Rule 26-1 given the fact that a competitor would risk incurring a penalty every time he makes an honest judgment as to the point where his ball last crosses a water-hazard margin and that judgment subsequently proves incorrect (Decision 26-1/17)."
 Woods went on to win by two strokes.
The Ryder Cup is going to be insane after the 2018 season

Rahm and Landry battled one another through four extra holes on Sunday

The Englishman lapped a monster field on Sunday with a closing 65 that was better than it...
It's the second time Phil Mickelson missed the cut in his first tournament of a season

Everything about the event so far this week has been a home run

Rahm lost his lead, but a 67 keeps him in the chase at CareerBuilder