PGA Tour responds to anchored putter ban
PGA Tour says it will discuss USGA and R&A ruling before issuing its own ruling for golfers.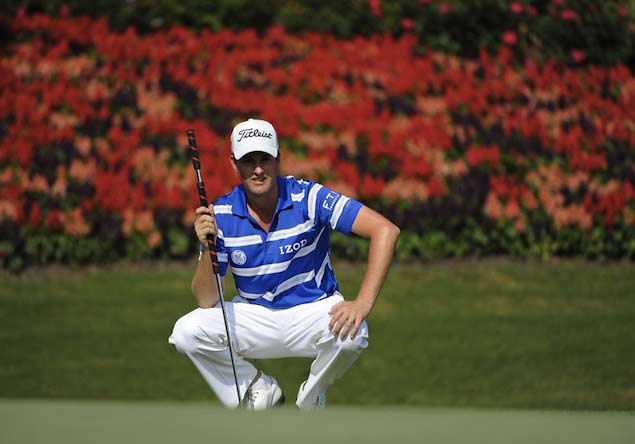 More Golf: Leaderboard | Rankings | Schedule | Expert Picks | Equipment | FedEx Cup
In light of the ruling issued by the USGA and R&A on Tuesday morning, the PGA Tour has put forth its statement on the matter. It's important to remember that just because the USGA and R&A banned anchored putting, it doesn't mean the PGA Tour has to do the same.
Here's the statement:
"We would like to thank the USGA for providing the opportunity for input and suggestions relative to Rule 14-1b over the last several months. During that time, various questions were raised and issues discussed.
"We will now begin our process to ascertain whether the various provisions of Rule 14-1b will be implemented in our competitions and, if so, examine the process for implementation."
The PGA Tour statement went on to say the matter will be discussed with the Player Advisory Council and Policy Board members and an announcement would be forthcoming after that.
No need to wait, though.
The position is going to be that they are adopting the anchored putter ban. As Luke Kerr-Dineen of GolfDigest pointed out, the PGA Tour played this perfectly. They fought the good fight for their players initially but now they can throw up their hands and say, "Hey, the big guys are coming down hard on us."
There's not much the players can do to argue against that, either.
Yes, the USGA and R&A are too heavy-handed for the PGA Tour to go on a path by itself now. The repercussions are not worth whatever reward might be received from doing such a thing (a thank you note from Keegan Bradley and Webb Simpson?)
The Tour will deliberate for a while, but it's only delaying the inevitable -- it will fall in line just like the rest and bend to the wishes of golf's governing bodies.
For more golf news, rumors and analysis, follow @EyeOnGolf and @KylePorterCBS on Twitter or Google+ and like us on Facebook.
Updates from Round 1 of the Tour Championship at East Lake Golf Club

Find out when and how to watch the 2017 Tour Championship live this week

What if the No. 1 guy in the FedEx Cup standings is watching a putt for $10 million on Sun...
Belichick is talking about driving and putting again

The final 30 are set for East Lake on Thursday as the hunt for $10 million begins

There is $34 million at stake, who will take it home?