Phil Mickelson is showing us something different this week at Kiawah
Phil Mickelson is doing something different this week; he's grinding out great rounds when he doesn't have his best stuff.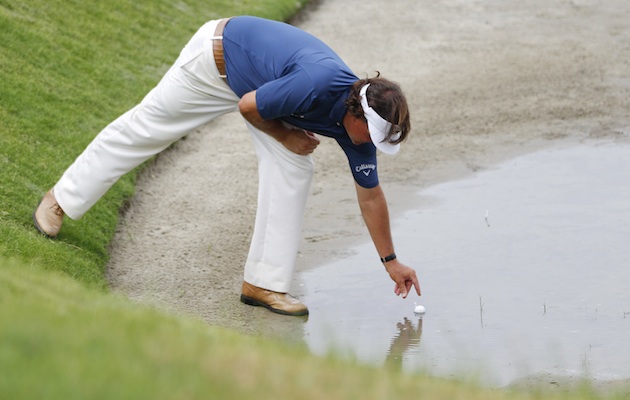 Phil Mickelson gets a drop from standing water on Friday at the PGA. (AP)
One of the reasons Phil Mickelson is such a popular athlete is because the guy demands you to either like him or hate him. There is no Option C with Lefty, just those fans that adore his approach on the golf course and with the fans and those haters that think his whole act is one big phony smile that is as old as a St. Andrews green. 
The reason this is great for golf is because Phil's biggest rival in the game, Tiger Woods, doesn't do that. People can hate Tiger as a person but love his golf game the same way people respect Kobe Bryant as a scorer but despise him as a teammate. Tiger doesn't give off any acts on the golf course or off it, approaching every press conference and autograph session like it's part of the job. That's Tiger. A programmed assassin on the golf course with one goal and one goal only; to win. A lot. 
Phil usually doesn't come off as that "fighter" on the golf course. Sure, he's the second most talented golfer of this generation, and one of the most skilled players ever around the greens, but the guy has off months and years when it seems like he's checked out of the game (he even admitted so last month on CBS This Morning). 
But this week has been a different side of Phil. At 42, Mickelson might possibly be past his prime, but it seems that this week, at this golf course, Lefty isn't going to let up. Through two rounds, Phil is even-par, but that could be the worst explanation for how he's played imaginable. 
You know those rounds when you hit it perfect and can't score? And those rounds where every drive is in the trees but you buckle down and scramble your way to a low number? Phil is doing the latter about as well as anyone might have ever done it at a major championship.
Quickly, let's look at the numbers; Phil has hit 13 greens and 13 fairways through 36 holes, a number that would normally mean a pro golfer was well on his way to the airport on Friday, but he's carded 22 one-putts in two rounds at the PGA Championship, a stat so insane I had to look it up a number of times to make sure I wasn't seeing things.  
Mickelson is determined this week. He's got an edge to him. Every time he's faced with a tricky situation you can see his face turn into a grimacing look that almost never comes off when he's plodding along merrily at the AT&T or Phoenix Open. 
Anyone that has watched any of Phil's first two rounds knows that the guy shouldn't be anywhere close to the lead at this PGA Championship. He obviously can't find a fairway or green to save his life, and he's even missed a few short putts, including one on his final hole in the second round that would have kept him in red figures, but his look this week says otherwise.
Maybe Mickelson is just letting his talent, his real, raw talent, shine at Kiawah, knowing no matter what happens, he'll be able to create a golf shot to save par. Maybe this is his B-game major. If nothing else, it has been epically exciting to watch. The old saying was, "What will Phil do next?" For the first time in years, I'm on the edge of my seat waiting to find out. 
More from the PGA Championship
Big Cat gets paired with an American hero for the first few rounds at Torrey Pines

SportsLine's Mike McClure, a DFS pro with more than $1M in winnings, gives optimal lineup...

Faldo breaks down important notes for the return of Tiger at Torrey Pines this week
From The Golfboard to TopTracer, the stuff you may not know about about rocked Day 1 in Or...

Stick with CBS Sports throughout the week for the latest from the PGA Merchandise Show

There will be over 1,000 companies showing off their stuff in Orlando, Florida, this week