Photo: Yao Ming's golf clubs are longer than yours
Yao Ming got a set of golf clubs and they may have extenders in the irons.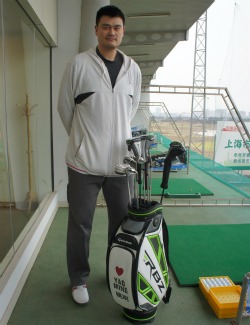 Yao Ming's new golf clubs.
My dad once told me a funny story about how one day him and some buddies were bored at their country club and decided to fill a friend's golf bag full of rocks on the bottom because they knew he was too tough to complain about the weight. 
The friend came in, grabbed his bag, exhaled as he picked it up, but kept on to the first tee. The reason he finally noticed something was amiss? The golf clubs were sticking a few inches higher out of the bag than normal.
And with that story, I give you Yao Ming's golf bag. 
Yes, that is Yao, the 7-foot-6 former center for the Houston Rockets, with his new RocketBallz golf bag, and is easily the golf photo of the week. 

How long are his golf clubs compared to a regular set that you might get at the local golf store? His pitching wedge is 45 inches long, a full inch longer than the average driver!

I had no idea that Yao even played golf, but I was very happy to get the photo, because tall people + golf clubs = hilarious.


For more golf news and rumors, follow Shane Bacon and Eye on Golf on Twitter. 
Rahm lost his lead, but a 67 keeps him in the chase at CareerBuilder

Koepka is looking to recover in less than three months to play at Augusta National

Thomas Pieters and his Ryder Cup partner could go at it for a title this weekend
Phil Mickelson returns and the Web.com Tour is cleaning up

Lefty returns at the CareerBuilder Challenge this week