Recapping day one at the Open: Scott, Rory and a frustrated Phil
Day one at the British Open is done, but there were plenty of story lines to watch at Lytham & St. Annes.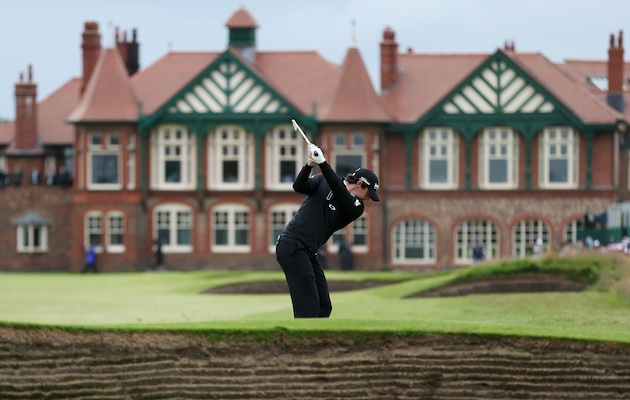 Rory McIlroy's approach shot on No. 18 helped vault him to a T-6 after the opening round at the British Open.
(Getty Images)
The Open Championship is almost always defined by the weather. There are days when a nice, swift breeze blows through the links golf courses, and days when the rain beats up the umbrellas like they're a homemade kite, but occasionally, the weather pattern during a certain British Open round is important for the lack of any at all. That happened early Thursday, when the morning wave of golfers got an incredibly mild Lytham & St. Annes and took full advantage.
Adam Scott is your clubhouse leader,and for good measure. After starting out a little slow, Scott took it to Lytham, making eight birdies in the middle of his round to post a 6-under 64, his lowest major championship round ever. Scott's golf game has improved since Steve Williams took over the looping honors, and a major win would basically be the cherry on top of that change, but as the Australian noted after his round, there's still a long way to the finish line.
Scott will have to battle the likes of Tiger Woods, Rory McIlroy, and a host of others that have made the first leg of this Open so interesting. 
Rory's Wild Day
Speaking of McIlroy, you have to credit the youngster for staying in his round, something that critics have been all over him about in the past. Rory can definitely go low and win events, but when things start going bad he tends to check out, something that seemed apparent at the U.S. Open this year. 
McIlroy could have easily lost his round when a drive on No. 15struck a spectator, forcing Rory to go re-tee and ending in a nasty double-bogey. Rory didn't, and made two birdies over his last three holes to get in the clubhouse at 3-under, a great number for the next 54 holes. 
The thing now for Rory is to keep his foot on the gas. He's put himself in great position at a lot of major championships for such a young player, but there always seems to be a lackluster round that pulls him back to the field. Getting to go early on Friday will hopefully allow him to get some birdies in, post a good number and wait for the rest of the field to battle whatever conditions that happen in the unpredictable afternoon. 
The good news is, Rory definitely seems more focused, and less irritated by all the hype that seems to follow him to each of the majors. 
The Other Group at Three
While Rory bouncing back was a big story, it doesn't take away from the other guys he's tied with at the Open. His buddy and fellow countryman Graeme McDowell was solid as well, posting a 3-under round of 67 after Rory admitted the two had a late afternoon match on Wednesday to prepare for Lytham. 
Bubba Watson's game isn't exactly primed for the British Open, but the mild conditions allowed him to fire at pins, and he's also in that group at 3-under. Bubba isn't the only surprise there. Ernie Els shot 67, along with Steve Stricker, who has never seemed to love links golf. If nothing else, it just shows what some good conditions can do to a leader board. 
A Frustrated Phil Mickelson
One of the things you can always count on with Phil Mickelson is no matter how bad things go, he has a smile on his face, but Thursday was one of those rare moments that Phil seemed totally irritated his entire round.
At one point Phil asked an official if there was a ruling for not being able to see his ball in the rough (of course there isn't), and seemed perturbed when, after finding a ball that seemed plug above a fairway bunker, he was informed that the R&A doesn't have an embedded ball rule (meaning if your ball is embedded into grass, you can get a free drop).
Phil even went as far as slamming his hat on the ground, and went to the range after his round as the sun was setting to work on anything that could improve his round of 3-over 73. The British Open has never been his event, but in conditions like these, with the course playing as soft as it was, it seemed the best option possible for a Phil run at the British. Sadly, he couldn't get anything going, and his attitude was definitely off. 
Where Did You Go, Lee?
There are a lot of guys that are desperate for that first major championship, but none more than Lee Westwood, especially at the Open. This is his event, and it seems coming in that he'd be ready after a solid run at the U.S. Open.
That wasn't the case as Lee matched Phil's opening round of 73, even snapping at a reporter after for asking a rather bonehead question about a shot Westwood had to play left-handed. 
The pressure on guys like Westwood and Luke Donald is incredible (think a poor man's Andy Murray at Wimbledon), so you can understand what it must be like when you play bad to start, but a good round on Friday for Westwood might mean at least a chance to stay around for the weekend. 
Short Hits
-- Zach Johnson's 5-under round of 65 means over his last five PGA Tour rounds, the John Deere champion is 25-under par. 
-- Bob Estes and Brandt Snedeker were the only two players in the field to go bogey free on Thursday. 
-- If Tiger Woods is known for starting major championships slow, Rory might be the opposite. In five Open Championships, Rory has broke 70 four times including his 67 on Thursday. His opening round scoring average in this event is 67.6. 
-- Martin Kaymer's opening round 77 all but ensures this will be the seventh straight major since his victory at the 2010 PGA Championship without a top-10. 
Live scores, highlights and updates as Tiger Woods takes the course at the Honda Classic

Some of the best players in the world were having trouble scoring on Thursday at PGA Natio...

A cool move from the 14-time major winner to this 10th grader from Stoneman Douglas
There is certainly some progress from Big Cat this week at the Honda Classic

The field for the Honda Classic this week is fabulous, and Tiger is just one of the big dr...

Big Cat is back at it for the second straight week, this time near his home in Florida