Recapping Friday's fourball matches at the Ryder Cup
A rookie sensation, a Phil-Keegan encore and a birdie onslaught for a couple of Americans highlighted the afternoon matches at Medinah.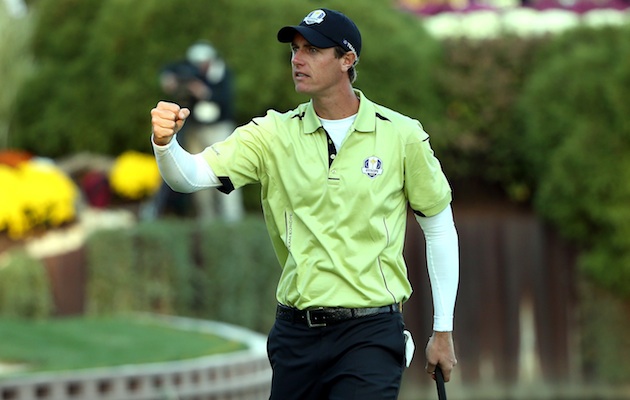 Nicolas Colsaerts had one of the best days in Ryder Cup history Friday at Medinah. (Getty Images)
The first two sessions of the 2012 Ryder Cup are in the books, and although the score has the United States up 5-3 on Europe, there is plenty to talk about on both sides. We take a look at the afternoon fourball matches …
Match #1 -- Bubba Watson and Webb Simpson defeat Paul Lawrie and Peter Hanson, 5 & 4 -- There isn't much more we can say about this match besides 10 birdies in 14 holes for the Americans, who look as comfortable together as any group at Medinah. They schooled the Internationals a year ago at the Presidents Cup as a team and they did the same Friday at the Ryder Cup. Also, this first tee shot by Bubba will go down in Ryder Cup history as one of the most fun ever.
More on the Ryder Cup
More Golf coverage
Match #2 -- Phil Mickelson and Keegan Bradley defeat Rory McIlroy and Graeme McDowell, 2 & 1 -- For the first time in Mickelson's career, he scored two full points in one day at the Ryder Cup and he can thank Bradley for getting his mojo going at Medinah. Bradley was solid, Mickelson was clutch, and they took down the Northern Ireland duo mainly because McDowell couldn't find his golf game most of the afternoon. McIlroy played poor by his standards, but a decent showing by McDowell would have made this match extremely interesting. Instead, Phil's clutch tee shot on the 17th hole to a couple of feet wrapped up the match for the Americans.
Match #3 -- Matt Kuchar and Dustin Johnson defeat Justin Rose and Martin Kaymer, 3 & 2 -- Kaymer, who has completely fallen off the golf map with his play the last year or so, didn't contribute a birdie all day for Europe. Rose was pretty lackluster himself, and Kuchar and Johnson closed out the match with a par on the 16th hole. Kuchar carded four birdies in a row from holes 4-7 to give the Americans a 3-up lead, and Johnson was able to roll in a couple of birdies on his own late in the round to keep the Europeans out of reach of snagging this pivotal match. It seems the idea of grouping two laid-back guys in Kuchar and Johnson worked out beautifully for Davis Love III. For Jose Maria Olazabal, it seems like Kaymer needs to sit on the bench until the singles matches on Sunday.
Match #4 -- Nicolas Colsaerts and Lee Westwood defeat Tiger Woods and Steve Stricker, 1-up -- If I told you Tiger Woods would make seven birdies in his afternoon fourball match and lose, would you stop reading me or just slap me in the face? That happened, but rookie Colsaerts played one of the best matches in the history of this event, knocking down eight birdies and an eagle to single-handedly win this match for the Europeans. Colsaerts and Westwood were in control of the match with three holes to play, but Tiger rolled in a lengthy birdie putt on the 16th and then stuck his iron shot on the par-3 17th within a few feet to give the Americans a chance. But Colsaerts was too much, making a putt from the front of the green on the par-3 to tie the hole and Woods couldn't convert a 15-foot birdie putt on the 18th to halve the match. Stricker and Woods ended the day 0-2-0 as a team.
The next season of golf has a real chance to be one of the best any of us has ever seen

This season will fascinate as old stars converge with up-and-coming superstars

With a single golf lesson up for auction, Tiger Woods changed some lives forever in Texas this...
The Days have had a rough 2017 from beginning to end

Why in the world would a former FedEx Cup winner hop on 24 hours worth of flights this wee...

Following the debacle at the ANA Inspiration earlier in 2017, Thompson has some thoughts