Rory McIlroy downplays Nike rumors
Rory McIlroy is in Shanghai this week and answered some questions about the pending Nike deal said to be worth around $250 million.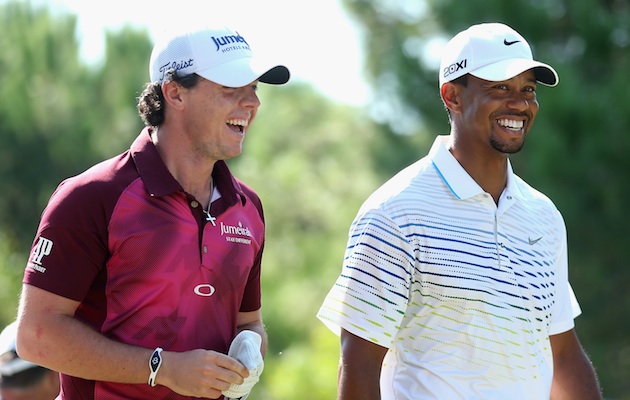 Rory McIlroy and Tiger Woods would sure make for some fun Nike commercials. (Getty Images)
There is no doubt that Rory McIlroy is golf's next big thing. He's young, marketable and very, very good at golf. He already has two majors to his credit and counting. And if the FedEx Cup was any indication after his PGA Championship win, the 23-year-old isn't slowing down.
So a $250-million sponsorship isn't completely insane for someone like McIlroy. That's the rumor flying around about a potential deal between McIlroy and Nike. The 10-year deal would be an enormous splash in the sports world, but McIlroy isn't saying much about it.
Asked during a media appearance in Shanghai this week, McIlroy simply said it isn't his place to make those decisions.
"These rumors have been going around for years and it seems to always come up at this time of the year," McIlroy said at Lake Malaren Golf Club.

"I leave it up to Conor (Ridge, McIlroy's manager) to sort out as it leaves me to concentrate on my golf."
McIlroy's deal with Titleist/FootJoy ends at the conclusion of this season, opening the door to a new deal for clubs, balls and shoes. With a number as high as $250 million over 10 years, you'd have to think McIlroy would be Nike throughout the bag, and it would be as one-sided a sponsor deal as when Tiger Woods re-signed with the company in 2001 for a reported $100 million (Tiger wore Nike apparel before then but played Titleist clubs and balls).
If the deal gets done, which seems like a few months away, it would be huge for a Nike golf department that is really thirsting for a new superstar. The company sidled up to stars like David Duval and Anthony Kim, who have fizzled out, and has players like Paul Casey and Stewart Cink, who are definitely not what they once were. 
McIlroy would be a fresh face for Nike, and it would give it the two biggest stars in the game. With McIlroy not saying much, stay tuned until the managers want to speak. 
The left-hander from Texas had a tap-in eagle in Korea on Friday

List flipped the script from Thursday's action to grab the lead through two rounds

The No. 4 player in the world dumps his putter in favor of a wedge because of a mark on the...
Masters 2018 and several other props for Big Cat have been released

The reigning Player of the Year is off and running early on at the CJ Cup

But hey, at least playing with Lefty will benefit a charity