Rory McIlroy says he's tired, wants to play fewer events in 2013
Rory McIlroy still has some events to play in 2012, but he's already looking at lessening the amount of tournaments in 2013.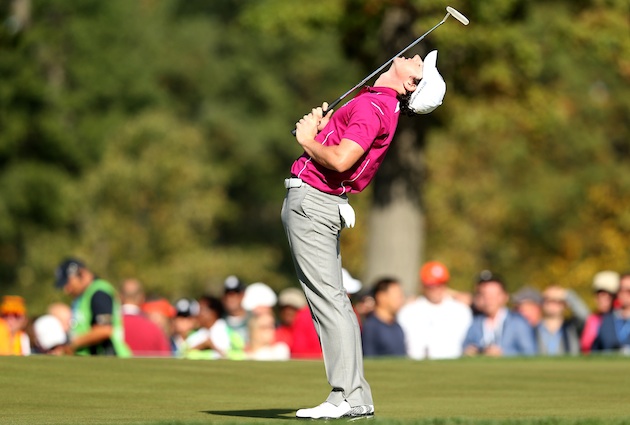 Rory McIlroy plans to lessen his schedule for 2013. (Getty Images)
One quote at last week's Turkish golf event stood out above all others. Rory McIlroy, freshly defeated by Tiger Woods, said after his match, "I'm not that disappointed because I've got the afternoon off around the pool." 
It was a tired response from a guy who later made it clear that this year has taken its toll on him, and he plans to lessen his golf tournament load in 2013.
McIlroy still has some events to play this season, but admitted to ESPN UK on Monday that he's ready for the year to be over. Rory, who won four times on the PGA Tour in 2012 including his second major championship, said he's ready to step back on his golfing schedule and play fewer events next season in hopes that his energy level will be higher as the 2013 season winds down.
"I would just love to cut my schedule back even further and I think next year I will cut it down again to a max play of 22 or 23," McIlroy continued.

"I still have got some big events left and I would love to win the Race to Dubai and repeat what Luke (Donald) did also winning the money list on the PGA Tour, so I am going to give it one last push.

"It has been a great season and I am ready to be done. It is just such a long season these days. But then I feel I have got an obligation to play some of these big events leading up to Dubai."
Now, there are two trains of thoughts to take from these quotes by the No. 1 player in the world. First, it's tough to feel bad for a guy who made more than $8 million in just 16 PGA Tour starts this season, not to mention the extra cash he accumulated from European Tour and money-grab events like the one in Turkey. Rory spent most of his offseason focusing on his fitness, working out and getting stronger in hopes it would improve all parts of his golf game. Also, he's 23, so it isn't exactly like he's dragging an old body to these events each week.
That said, I'm probably in the other group that agrees that playing 26 events, the number he will have played by the end of the season, is a lot, especially when you're traveling as much as he is between the two tours. The best thing about being a professional golfer is you can make your own schedule, and play in as many, or as few events as you'd like. Guys struggling to make the top-125 money list are probably itching to get in events, while men like McIlroy don't need as many events to knock out their season goals. 
Golf might not be Ironman training, but the mental drain it can take over weeks and weeks of tournament play can be pretty daunting. While I can't feel super bad for a kid that is living the life, his schedule is his choice, and he can play in whatever he wants, as spread out as he wants. 
All you need to know from tournaments, participants, field cuts and money distribution

From Rory McIlroy to Charley Hoffman, here's who could steal $10 million

ANGC is about to have its 7th chairman this fall
The No. 4 player in the world likely only has four or five tournaments left in 2017

This recent development in the golf world is not an encouraging one, and Vonn is not pleas...

Find out when and how to watch the 2017 Northern Trust live this week