Rory McIlroy wants a showdown with Tiger Woods in a major
Rory McIlroy and Tiger Woods dueling for the green jacket someday? McIlroy said he wants it to happen, and I'm pretty sure we all agree with him.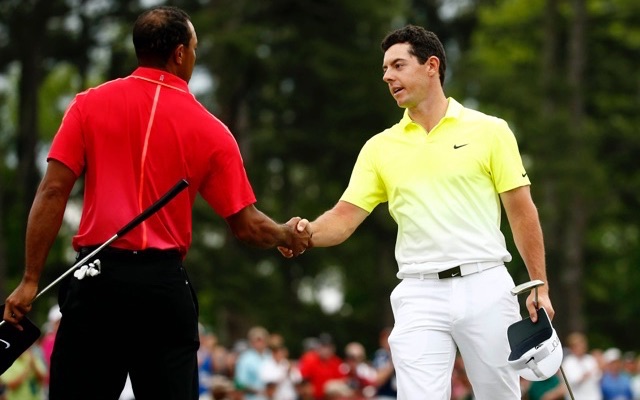 I'm getting a little shaky just thinking about it. A 30-year-old-in-his-absolute-prime Rory McIlroy and a rejuvenated, healthy 44-year-old Tiger Woods trading haymakers for the 2020 green jacket at Augusta. Hoooooo boy!
McIlroy said at the Dubai Desert Classic on Wednesday that he would love to trade blows with Big Cat in a big boy event one of these days. He was asked if he would have "relished" the opportunity to take on Tiger when Tiger was really humming. 
"I would have liked to," said McIlroy "I sort of feel like the competition brings the best out of me. And I think Phil has even said; that maybe if Phil didn't go up against Tiger in his prime, he would have won more majors, but he always said that Tiger brought out the best in him."
Here is the exact quote from Mickelson three years ago. 
"In the last five or six years, I've had some pretty good success head-to-head (against Woods) and I feel like he brings out the best golf in me," said Mickelson. "He's a great motivator for me. He's helped me work hard. He's helped me put forth the effort to try to compete at the highest level year-in, year-out, and I've loved competing against him.
"He's really brought the best out of me, especially when we've been paired together, and I hope that we are able to play together for many more years."
That's good stuff. A rising tide lifts all boats. And McIlroy should know. His tear in 2014 spurred on Jordan Spieth, Jason Day and others. McIlroy said he would still love one classic. against Woods in the future.

"I would have loved to," said McIlroy. "I would still -- hopefully if he can get healthy, I would still love to have a crack at him down the stretch in a major, I would love that, just once. At this point it's just up to him to get healthy and get his game back, and for me to hopefully keep playing the way I'm playing and maybe one day."
Yes, maybe one day. Maybe one clear April day in a few years when Woods has put much of his scar tissue behind him and McIlroy is gunning for Arnold Palmer and Gary Player and their major win totals. Maybe Woods and McIlroy on the back nine on a Sunday at the Masters reminding us why golf is great and why they're two of the greatest of all time. 
Fowler worked his way to the top of the leaderboard on Friday, but he's not there alone

Laurent Hurtubise hit the most impressive shot of the day on Thursday

An improbable duo leads the first event on the continental United States this year
The No. 1 player in the world was up to his old ways

Find out when and how to watch the 2020 American Express live this week

Find out when and how to watch the 2020 Abu Dhabi Championship live this week