Rory McIlroy wins the PGA Championship at Kiawah Island
Rory McIlroy won the PGA Championship and with it became the youngest player to win that event and the second youngest ever to get his second major win.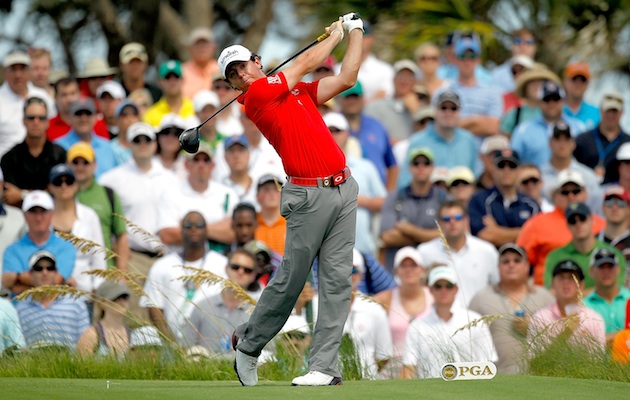 Rory McIlroy set a lot of records this week at Kiawah Island. (Getty Images)
Drama sometimes dies when superstars get in their zone. It happened years ago with Tiger Woods, when major championships became predictably over once his name got near the top of the leaderboard. Roger Federer beat up the tennis world for so long that you knew after the first set that the championship would be his.
And now, we have Rory McIlroy. The 23-year-old won his second major championship of his career on Sunday at Kiawah Island, taking home the PGA Championship with an incredible weekend that saw the Northern Irishman win by eight shots, a new PGA Championship record. 
You'll hear all the stats when reading about Rory, but it's worth noting; he's the youngest player to ever win the PGA Championship, and he won his second major in 17 starts, one better than it took Tiger to grab his second major win (18 starts for Woods, counting his amateur days). The win landed Rory atop the world golf rankings, a spot he's been before but for some reason, it feels different now. 
And all this without much fanfare heading into this PGA Championship week. McIlroy had an incredible start to his 2012, but his game has been lackluster over the last few months and coming in, he wasn't necessarily at the top of a lot of expert's lists. 
But we all knew that Rory had the ability to be a legend in this game, because of his incredible amount of talent and the way he was able to bounce back a year ago at the Masters with that dominating performance at the U.S. Open.
That week, Rory was on a different planet than the rest of the field, but for the first two days at Kiawah, it felt like McIlroy would once again be in the hunt but it might not be his week to add that second major. That was, until the third round, when Rory was hitting it close and making all the putts and despite a little tree trouble, never let up on the gas.
Sunday was basically over the minute Rory made the turn, a nine-hole coronation for Rory that never for a second felt like we would be seeing Augusta National 2.0. McIlroy is a bit wiser now and he's seen both the good and the bad that comes with being a star. 
Winning your first major means you'll never be questioned about your ability to close again, but adding a second means the gates are open for a career with unlimited possibilities. 
Golf was once famously called "a good walk spoiled," but over that final nine holes, Rory had a bounce in his step that showed he was absolutely enjoying the entire experience of adding another career goal to his resume.
We never questioned if McIlroy was for real or not, but this week at Kiawah, we understood that not since Tiger have we seen a guy that can find his "A game" and basically become unbeatable. 
Rory's that man, and his second major win was as impressive as his first. 
More from the PGA Championship
Lefty returns at the CareerBuilder Challenge this week

Find out when and how to watch the 2018 CareerBuilder Challenge live this week
The Ulsterman played solidly down the stretch on Thursday

With three months left before the first major, let's look at the field

Find out when and how to watch the 2018 Abu Dhabi Championship live this week