Rory McIlroy wraps up both PGA Tour and European Tour money titles
For only the second time in golf's history, a man has won both big tours' money titles.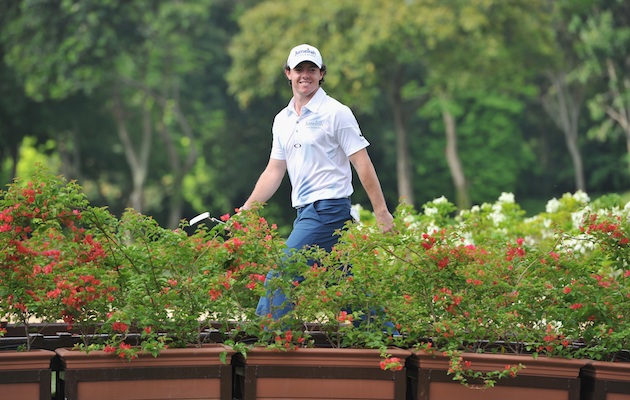 It's all smiles for Rory McIlroy with his 2012 performance. (Getty Images)
Years ago, there was a young man by the name of Sergio Garcia that announced one of his career goals was to be the top player on both the PGA and European Tour money lsist. It was a lofty goal, but Garcia was a talented young soul with the game to set the bar that high and the reach to get people interested in.
Unfortunately for him, doing that wasn't so easy. Up until 2011, it had never happened, but Luke Donald wrapped up both the money title on the PGA Tour and the Race to Dubai over in Europe with an incredible year that included four wins across the tours including the Accenture Match Play and the BMW PGA Championship.
Now enter Rory McIlroy. The Next Big Thing according to anyone with eyes and a decent understanding of the game of golf, McIlroy didn't need a final-round 64 to win at Disney like Donald did a year ago. Or some ridiculous finish at this week's Singapore Open. He simply did what he does these days on the golf course and wrapped up both titles. 
McIlroy finished third at the Singapore Open on Sunday, snagging him the Race to Dubai title to go along with his name atop the PGA Tour money list. This might not seem as impressive as it is since someone did it just a season ago, so why don't we look at a few things.
First, McIlroy was tops on the PGA Tour money list by almost $2 million over Tiger Woods who was in second, and Tiger was about $1.2 million clear of third place. That's pretty awesome, but how he did it is more impressive. McIlroy played only 16 PGA Tour events to snag the money title, three less than Woods. You'd have to go all the way to Lee Westwood, 23rd on the money list, to find someone who played less than McIlroy (Westwood played 15 to McIlroy's 16).
On the European Tour list, McIlroy played just 13 events to earn top honors in the Race to Dubai, so he was pretty darn efficient when it came to scooping up money. 
So, yes, McIlroy, atop both money lists, among other things. This kid is incredible, and things just keep happening for him.  
This season will fascinate as old stars converge with up-and-coming superstars

With a single golf lesson up for auction, Tiger Woods changed some lives forever in Texas this...

The Days have had a rough 2017 from beginning to end
Why in the world would a former FedEx Cup winner hop on 24 hours worth of flights this wee...

Following the debacle at the ANA Inspiration earlier in 2017, Thompson has some thoughts

Fowler is as good as it gets on the PGA Tour