Round 1 recap of the 2014 PGA Championship
All the GIFs, stats, commentary, and recaps you can handle from the first day at Valhalla.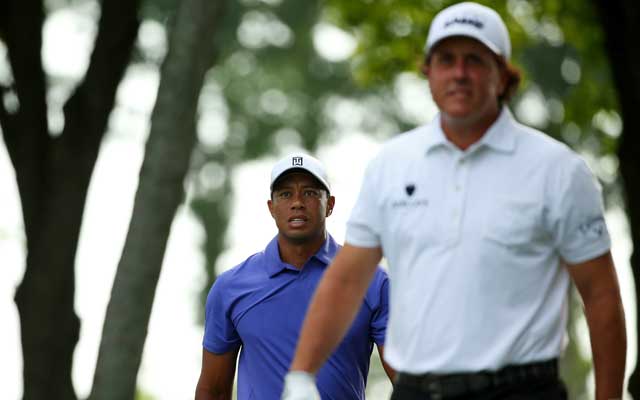 PGA Championship: Leaderboard | Photos |  Odds & picks |  Videos & GIFs |  Stories | Tiger
It was a lengthy but fun first day of the PGA Championship. We have some big names atop the leaderboard and if you missed anything today, we have you covered here.
This is our full recap of all the action on Day 1 from Valhalla.
7:04 p.m. -- Okay, that's it for me today. Rory is a monster and tomorrow will be fascinating. Enjoy your adult beverages tonight.
6:44 p.m. -- Rory narrowly missed eagle on No. 18 and drops a 66. Locked in.
6:36 p.m. -- Kenny Perry rocking a Russell Athletic polo shouldn't surprise me at all, should it?
6:31 p.m. -- I'm about to start rooting against Rory just because of this Omega commercial. My gosh.
6:25 p.m. -- Tom Watson in his last five major rounds: 361 strokes. Tiger Woods in his last five major rounds: 368 strokes.
6:04 p.m. -- Four straight birdies for Rors. Here's the fourth:
6:00 p.m. -- This seems bad.
Tiger Woods is currently losing to 6 senior citizens and 3 club pros. Welcome to 2014

— Will Gray (@WillGrayGC) August 7, 2014
5:49 p.m. -- I'm eating a donut. Just thought I'd let everybody know.
5:24 p.m. -- I'm fading (is this thing still on?) They should re-name this baby the year's longest major?
5:15 p.m. -- Rory goes double-bogey-birdie to start the back. Weee!
4:45 p.m. -- Rory double bogeys the 10th and he's five back now. Also, Donald Trump is back on my TV screen.
4:25 p.m. -- It's been 30 minutes and I can't get over the Bubba telling Ted not to tell the media what club he's hitting. This isn't the World Series of Poker, Bubba.
3:56 p.m. -- This is amazing.
Bubba Watson now telling his caddie not to tell on-course commentators what club he's hitting. Incredible.

— Shane Bacon (@shanebacon) August 7, 2014
3:44 p.m. -- Adam Scott and Jordan Spieth both shot 71 today. That's kind of disappointing, I guess.
3:09 p.m. -- Ryan Palmer just dropped a 31 on his front nine and then dropped the most #TourSauce I've ever seen from the 63rd-ranked player in the world on his second shot on his 10th hole.
2:42 p.m. -- Phil Mickelson acted shocked at the fact that he's 2 under after his round. ""I'm nervous! It's been a while since I've been at this point where I feel like my game is ready."
2:26 p.m. -- This is rough.
Lee Westwood (-6, co-leader) has 8 top-3 finishes in majors in his career. That's the most by anyone without a win in modern era.

— Justin Ray (@JustinRayGC) August 7, 2014
2:21 p.m. -- This doesn't seem ideal from Bubba.
2:06 p.m. -- Bubba into the trees. #prayfortedscott
1:51 p.m. -- Rory just put one past Bubba off the first tee. I don't think Bubba wants any part of Good Rory. Nobody does.
1:43 p.m. -- Is this good or bad?
Tiger Woods in with a 3-over 74. Tied with club pro Jamie Broce. @ClubProGuy

— No Laying Up (@NoLayingUp) August 7, 2014
1:36 p.m. -- Tiger shoots 74 after I set over/under at 73.5. [does line-making dance].
1:16 p.m. -- Lee Westwood leads after a first-round 65. We've been here before, haven't we?
1:02 p.m. -- Not good.
"He's clear of all the fences and parking lots." Another great description of how Tiger's round is going.

— Trevor Reaske (@Tap_In_Golf) August 7, 2014
12:56 p.m. -- I'm guessing Tiger doesn't like tee shots where you can see a courtesy van on his second shot...
12:35 p.m. -- Accurate!
Tiger update: Audible swear words: 2 Birdies: 1

— No Laying Up (@NoLayingUp) August 7, 2014
12:30 p.m. -- Here are those posts I've been working on. First -- the tournament has run out of alternates. Next -- a former Sean Foley student tells Tiger to leave Foley on the range.
12:27 p.m. -- Sorry, I've been banging out some blog posts. Here's something to cheer you up (language is NSFW!)
11:46 a.m. -- This gave me a giggle:
Tiger's back looked good on that penalty drop.

— Dan Jenkins (@danjenkinsgd) August 7, 2014
11:30 a.m. -- Tiger bogeys No. 1 to go back to 2 over.
11:02 a.m. -- Golf is hard update.
Angel Cabrera 11 over through 12 at PGA. Speechless. Just speechless.

— Dave Shedloski (@DaveShedloski) August 7, 2014
10:50 a.m. -- Here's Tiger's first birdie of the week:
10:24 a.m. -- I'm already ready for the full coverage (which is 2 and a half hours away still) and not just the Woods-Mickelson-Harrington group. I wonder why TNT doesn't cover the thing all day like ESPN did. No ratings?
10:06 a.m. -- Guys on the live stream talking about firing sequences. Tiger really does rule the game, doesn't he?
9:57 a.m. -- Tiger just blew one into the gallery on a par 3 so that's about how his day is going.
9:24 a.m. -- I was about to ask if it was too soon to switch out of the Mickelson-Woods-Harrington group as the featured group then Lefty and Paddy both made birdies and Big Cat dropped a par. They're back! 
8:55 a.m. -- Phil just about made the craziest birdie I've ever seen after hitting a provisional (not needing it) and missing the green from like 110 yards out.
8:52 a.m. -- Speaking of Big Cat, here's his opening tee shot:
8:50 a.m. -- What is the over/under for our first "one yard!" of the day from Tiger? I say 9 a.m. Eastern.
8:37 a.m. -- I think Phil just killed somebody off the tee. Today's going to be interesting. By the way, you can watch all of the festivities here.
8:33 a.m. -- Tiger's shirt is already soaked all the way through and I'm pretty sure he and Bones (Phil Mickelson's caddie) just shared the limpest handshake of all time.
8:20 a.m. -- Good morning! Hope you're having a splendid final Thursday of a major in 2014, the Big Cat goes in 15 minutes. I'm setting the over/under at 73.5 (par is 71).
8:05 a.m. -- Welp.
Checking the leaderboard and it's just as we suspected. Epic duel between Frank Esposito and Joost Luiten at the top.

— Jason Sobel (@JasonSobelGC) August 7, 2014
For more golf news, rumors and analysis, follow @EyeOnGolf and @KylePorterCBS on Twitter or Google+ and like us on Facebook.
With three months left before the first major, let's look at the field

Find out when and how to watch the 2018 Abu Dhabi Championship live this week

SportsLine simulated the 2018 CareerBuilder Challenge 10,000 times and has some surprising...
SportsLine's Mike McClure, a DFS pro with more than $1M in winnings, gives optimal lineup...

Paris is just nine months away, and it's not too early to start talking about

This week always feels like a big one on the European Tour, and this year is no different