Round 3 of 2014 US Open in photos, GIFs, tweets, and more
All the GIFs, photos, stats, and more you can handle from the third round at Pinehurst.
More 2014 US Open: Leaderboard | Photos |  Odds & picks |  Videos & GIFs |  Stories
Nobody caught Martin Kaymer on Saturday but there was some terrific golf from Rickie Fowler and Erik Compton. There was also some really bad golf from everyone else -- including an 88 from somebody early in the day.
Pinehurst was an absolute monster for Round 3 (as she should be) and we have a full recap of what happened right here.
7:27 PM: Signing off for the day. Kaymer's tournament to lose on Sunday but if he loses it I bet Fowler is right there to clean things up. Should be fun.
Happy (almost) Father's Day, everyone!
7:25 PM: This seems important.
Something to keep in mind: In 2005 at Pinehurst, defending Open champ Retief Goosen led by three after 54 holes. Then he shot an 81.

— Dan Jenkins (@danjenkinsgd) June 14, 2014
7:17 PM: A Paulina Gretzky sighting!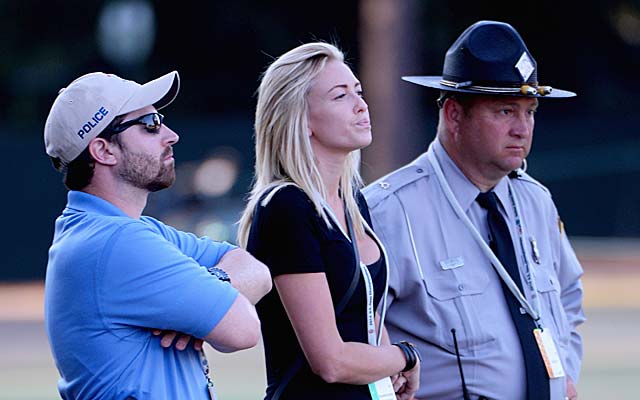 7:15 PM: Oh, hey, a Brooks Koepka sighting!
7:01 PM: Fowler needs to go with the knickers again on Sunday. For many reasons.
6:57 PM: Another bogey from Kaymer and he's down to 7 under but still four clear of Fowler and Co.
6:34 PM: Kaymer just three-putted for bogey (what is that?) and leads Kevin Na by just four. Big final few holes for them on deck.
6:28 PM: No go on the birdie for Compton but what a round of 67 and what a story. He'll be in one of the final two groups on Sunday.
6:25 PM: Compton sticks one on No. 18, he's tryingt to birdie and beat Fowler's round of 67.
6:18 PM: Fowler said he sent a message to Payne Stewart's daughter, Chelsea, after he donned the knickers on Thursday and hoped she and her family liked them as much as he did.
6:02 PM: Rickie Fowler just shot a 67 that probably feels like a 57 given how this course is playing.
5:37 PM: I agree with this.
That front 9 by Kaymer could well have been a 40 and he made it a 36. That's how you win the @usopengolf Can he keep it up?

— Ron Sirak (@ronsirak) June 14, 2014
5:30 PM: Kaymer finishes his first nine holes in 1 over and he's up five. Closing.
5:28 PM: This is one of my favorite photos from the tournament.
5:21 PM: Don't love.
Love or hate Keegan's kicks today? (via @AP ) pic.twitter.com/H4W4nIjptf

— Shane Bacon (@shanebacon) June 14, 2014
5:19 PM: Jordan Spieth gets to 1 under. We looking at another final pairing of Spieth-Kaymer in the final round?
5:03 PM: Erik Compton is in second alone. That's wild. If you don't know his story, you should read about it.
4:49 PM: Kaymer just BLEW one by at No. 6.
4:35 PM: Kaymer in trouble on the par-5 5th and hits a joke of a second shot to make eagle. We could be looking at ballgame, folks.
When they post Kaymer at -10 every other player is gonna be like,"Screw this."

— Alan Shipnuck (@AlanShipnuck) June 14, 2014
4:25 PM: Wow, Martin Kaymer just made an insane bogey (if there is such a thing). If that was his biggest test of the day then he passed it.
4:22 PM: This from Rory McIlroy was hilarious.
4:20 PM: Kaymer takes an unplayable and, yep, we have ourselves a developing situation. Kaymer could drop to 7 under or 6 under after this hole.
4:15 PM: I mean, if you break 70 today you are a man.
4:14 PM: Ohhhh boy.
Not an ideal lie for Martin Kaymer - pic.twitter.com/HUToK3FsoK

— Kyle Porter (@KylePorterCBS) June 14, 2014
4:12 PM: I'm going to do a push up for every bogey made today. I'm going to look like LeBron by the end of the day.
4:04 PM: Kenny Perry just said "It was a golf course of 18 of the toughest pins I've ever seen. It's the hardest setup I've ever experienced in a major championship."
4:03 PM: Kaymer is knocking down flags. This thing is ov-ah.
4:00 PM: Phil Mickelson finishes up his round. He shot 72 (which is actually pretty good) and is now 5 over for the tournament. That might be top 10 when the blood settles today.
3:57 PM: Brendon Todd looks like he's bending over to tie his shoes when he swings.
3:52 PM: Yeesh. Are we going to see this again today?
Via @BWAvery, last time nobody broke par in the 3rd round of US Open was in 1963. Which is about when Spieth's FATHER was born.

— Steve Elling (@EllingYelling) June 14, 2014
3:42 PM: Yeah, this is the understatement of the day.
Retief Goosen after shooting 71: "They made sure there are no low scores out there.'' #usopen

— Bob Harig (@BobHarig) June 14, 2014
3:39 PM: This is the best shot Matt Kuchar has hit all week.
3:34 PM: I can't be the only one who loves that Henrik Stenson wears Boss clothes. Because he is one.
3:33 PM: Martin Kaymer just launched his first iron at the first pin. It was not the swing of someone leading the US Open by six shots. Today should be joyous.
3:28 PM: Every group is on the course. Let's do this.
3:18 PM: It's kind of stunning to me that Rickie Fowler doesn't win more tournaments. He always seems to be hanging around at the big ones.
3:16 PM: What a US Open we have going on.
How about that leaderboard? #creativecropping pic.twitter.com/dryha5nY3X

— Sam Weinman (@samweinman) June 14, 2014
3:14 PM: Here's that Kenny Perry shot.
2:59 PM: Kenny Perry just hit a Bubba Watson-ish hook out of the native stuff and into the cup from a LONG way out. Shot of the tournament. We'll have it up shortly.
2:43 PM: This is how Martin Kaymer is warming up today. Actually, this is how he always warms up.
2:32 PM: Johnny Miller is on fire today.
2:21 PM: I'm a large fan of this Adam Scott-Jordan Spieth pairing. Could watch those two swing it all day. Lots of women probably could, too.
1:57 PM: I guess it shouldn't surprise me Mickelson has been playing the harmonica since he was eight..
1:52 PM: I absolutely love Mickelson-Bones conversations. Lefty just said "I think I can bust it as much as I want."
1:27 PM: Hah!
Best. Phil. Face. Ever. pic.twitter.com/BUDLr8UwZg

— Shane Bacon (@shanebacon) June 14, 2014
12:36 PM: Very cool graphic here.
Martin Kaymer's #usopen scores over the years. Spot any outliers? pic.twitter.com/Ghpg8UYIuO

— Luke Kerr-Dineen (@LukeKerrDineen) June 14, 2014
12:31 PM: Nobody has reached No. 18 yet but I wouldn't be surprised to see the USGA president laying over the cup to guard it. That's how the Open is playing today.
12:25 PM: This seems like a good place to start.
European-born players with 10+ @EuropeanTour wins, multiple majors and World no. 1 before age 30: Seve Ballesteros. Kaymer would be 2nd.

— Justin Ray (@JustinRayGC) June 14, 2014
---
Tee times
PINEHURST, N.C. -- Saturday's a pretty big day for the 2014 US Open. Martin Kaymer's a long way ahead of the field but the championship could drum up a lot of interest if he falls back.
And there are some groups available to make a run and/or bring big crowds to Pinehurst No. 2.
Phil Mickelson and Webb Simpson (11:56 a.m. ET) stands out as a pairing to bring in massive crowds on Saturday and Adam Scott/Jordan Spieth (2:19 p.m.) should see a large following as well.
Boo Weekley/Sergio Garcia (10:28 a.m.) will probably result in a buddy-cop drama on NBC next month. 
There are a slew of other interesting pairings available Saturday:
2014 U.S. Open Round 3 tee times and pairings
Group
Tee Time
Tee Start
Golfer No. 1
Golfer No. 2
1
9:22 a.m.
1
Nicholas Lindheim
N/A
2
9:33 a.m.
1
Billy Hurley III
Zach Johnson
3
9:44 a.m.
1
Zac Blair
Toru Taniguchi
4
9:55 a.m.
1
Paul Casey
Justin Leonard
5
10:06 a.m.
1
Kevin Stadler
Clayton Rask
6
10:17 a.m.
1
Russell Henley
Matthew Fitzpatrick (a)
7
10:28 a.m.
1
Boo Weekley
Sergio Garcia
8
10:39 a.m.
1
Ryan Moore
Cody Gribble
9
10:50 a.m.
1
Kevin Tway
Bo Van Pelt
10
11:01 a.m.
1
Retief Goosen
Louis Oosthuizen
11
11:12 a.m.
1
Ernie Els
Harris English
12
11:23 a.m.
1
Stewart Cink
Bill Haas
13
11:34 a.m.
1
Alex Cejka
Shiv Kapur
14
11:45 a.m.
1
Kenny Perry
Billy Horschel
15
11:56 a.m.
1
Phil Mickelson
Webb Simpson
16
12:07 p.m.
1
Patrick Reed
Scott Langley
17
12:18 p.m.
1
Daniel Berger
Gary Woodland
18
12:29 p.m.
1
Jim Furyk
Garth Mulroy
19
12:40 p.m.
1
Graeme McDowell
Lucas Bjerregaard
20
12:51 p.m.
1
Fran Quinn
Seung-Yui Noh
21
1:02 p.m.
1
Victor Dubuisson
Jimmy Walker
22
1:13 p.m.
1
Aaron Baddeley
Justin Rose
23
1:24 p.m.
1
Jason Day
Marcel Siem
24
1:35 p.m.
1
Danny Willett
J.B. Holmes
25
1:46 p.m.
1
Steve Stricker
Rickie Fowler
26
1:57 p.m.
1
Hideki Matsuyama
Ian Poulter
27
2:08 p.m.
1
Erik Compton
Francesco Molinari
28
2:19 p.m.
1
Adam Scott
Jordan Spieth
29
2:30 p.m.
1
Chris Kirk
Rory McIlroy
30
2:41 p.m.
1
Matt Kuchar
Henrik Stenson
31
2:52 p.m.
1
Keegan Bradley
Brendon De Jonge
32
3:03 p.m.
1
Dustin Johnson
Brooks Koepka
33
3:14 p.m.
1
Brandt Snedeker
Kevin Na
34
3:25 p.m.
1
Brendon Todd
Martin Kaymer
The four-time major champ dishes on the three-timer

A pair of lefties are in prime position to win the 2018 Masters

SportsLine simulated the 2018 Qatar Masters 10,000 times and came up with some surprising...
SportsLine simulated the 2018 Honda Classic 10,000 times and has some surprising picks

After his third win at Riviera, it's time to raise expectations for Watson

It was a star-studded week in Los Angeles, and this tournament (as always) delivered the g...