Rumor mill of the week: Tiger Woods' ex-wife dating a NHL hockey player
Tiger Woods' ex-wife, Elin Nordegren, has been seen out with a NHL defenseman.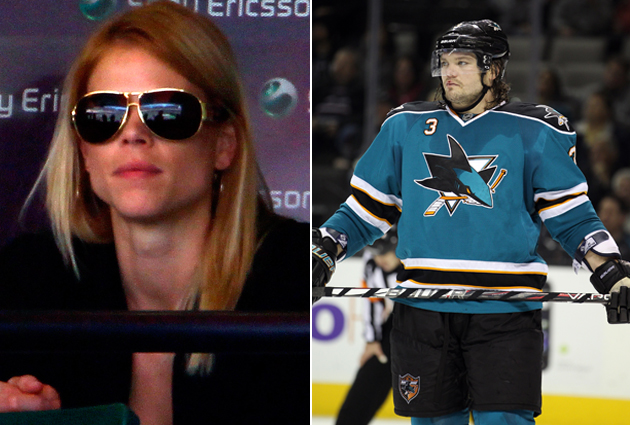 What would be the most logical step for a former model that married an uber-famous athlete only to be caught in a cheating scandal the likes the sports world has never seen? Date another athlete, of course! 
That's what Elin Nordegren is supposedly doing, according to a report by Radar Online (we only bring you the credible news!). Nordgren, a Swede, is currently link to San Jose defenseman Douglas Murray, another Swede, even if, say, the guy in the supposed relationship is denying the whole thing.
Yes, the report said they were "being affectionate" at some nightclub, and while we are a golf site (swear!), we would rather not just sit here and report the gossip-y type of things. 
So, with that, who the heck is Douglas Murray? Since I wouldn't consider myself a hockey genius, I turn to my buddy and cohort Adam Gretz of Eye on Hockey to bring you the skinny on the 32-year-old Murray.
If you're not familiar with Murray as a hockey player, he's a massive 6-foot-3, 240-pound Swedish defenseman that has spent his entire career with the San Jose Sharks since the team drafted him in the 8th round (241st overall) of the 1999 NHL draft. He's known more for his defensive play and physical style of play than his offense (in 422 games over seven seasons he's scored just six goals, with four of them coming during the 2009-10 season). He's also not afraid to drop the gloves and fight, with over 24 regular season fights on his resume (via HockeyFights.com) throughout his career. 
When he's not on the ice he's also bit of an entrepreneur having helped to develop what's called the Ubertap, which is described on its website as being "the toughest and most efficient keg tap." The best way to describe is that it's simply a hands free, three-spout tap to put on top of a beer keg to maximize the amount of suds it can distribute in a short period of time. 
Murray graduated from Cornell University with a degree in Hotel Management. During his time in school he developed the Ubertap with a couple of his friends. In a 2008 interview he was asked if he was having much success with the system and he simply said, "Not right now, but we're making some kids happier."
So, yeah, there you have it. An athlete, a model, a keg tap and plenty of questions. 
The Englishman lapped a monster field on Sunday with a closing 65 that was better than it...

It's the second time Phil Mickelson missed the cut in his first tournament of a season

Everything about the event so far this week has been a home run
Rahm lost his lead, but a 67 keeps him in the chase at CareerBuilder

Koepka is looking to recover in less than three months to play at Augusta National

Thomas Pieters and his Ryder Cup partner could go at it for a title this weekend