Sergio Garcia confirms what that he said about his golf game
Sergio Garcia said Saturday he didn't think he was good enough to win majors, and stood by those comments after his final round at the Masters.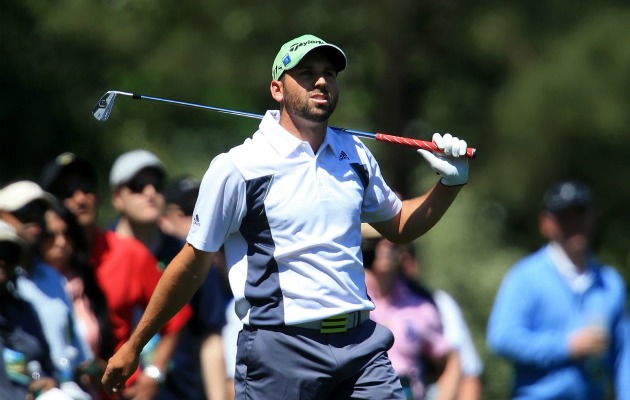 Garcia stands by his comments that he isn't good enough to win a major on Sunday at Augusta National. (Getty Images)
AUGUSTA, Ga. -- Sergio Garcia wasn't very happy on Saturday after his third-round 75 dropped him out of contention at the Masters. Talking to Spanish reporters, Garcia said, "I am not good enough to win a major." 
Sunday was another day, and after posting a final-round 71 that opened with a double-bogey on No. 1, Garcia was again asked about the comments he made about his game not being good enough for a major. 
He didn't back down.
"Do you think I lie when I talk?" Garcia said when asked about the comments. "Everything I say, I say it because I feel it.  If I didn't mean it, I couldn't stand here and lie like a lot of the guys do.  If I felt like I could win, I would do it. Unfortunately at the moment, unless I get really lucky in one of the weeks, I can't really play much better than I played this week and I'm going to finish 13th or 15th." 
Asked what his game is missing, Sergio simply answered, "Everything."
Now, I'm no sports psychologist, but I'm guessing it isn't the best thing for the 21st-ranked player in the world to admit the don't have the golf game to win a major championship. 
Garcia has been in playoffs for British Opens, battled Tiger Woods in a PGA Championship and has put himself in the position to do things in majors, but what if he's just being honest? What if Sergio really doesn't think he can win a major?
It isn't a terrible thing that a professional athlete is being honest about his feelings. Maybe in a year or so his mind could change as his golf game evolves into something different, but for now, Garcia is standing by what he said, no matter how crazy it seems.
Plenty of stars were eliminated early, but we have some intriguing matchups this weekend

It did not go well for the former Dallas Cowboys QB in the Dominican Republic

This was the shot of the day from Matt Kuchar in Austin on Friday
Love him or hate him, he matters

Dustin Johnson and a few other big names have been eliminated going into Friday

To Claire Rogers, an Edible Arrangement seemed like proper thanks