Slowly but surely, the FedEx Cup is working
It didn't start out as hot as the PGA Tour might have wanted, but this year is the first time the FedEx Cup truly feels like it's ready to go.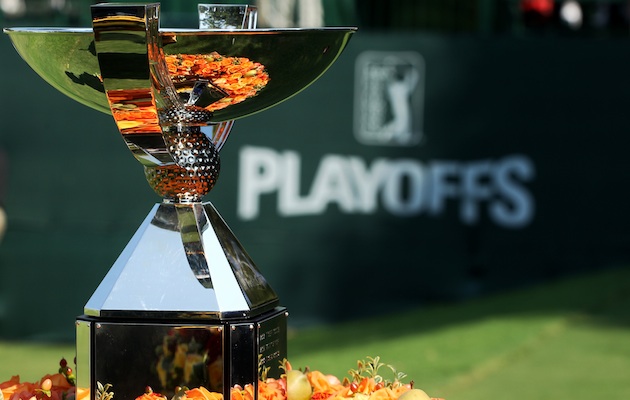 The FedEx Cup champion could also name the Player of the Year in 2012. (Getty Images)
As a sports fan, there really isn't any other judgement of how you feel about a game than that deep down urge for a team to make a play. You know that feeling I'm talking about. It's when you're sitting at a Lakers game with a friend of yours, a diehard from Los Angeles that bleeds purple and gold, and internally you can shake that feeling that you're hoping the other team wins. Or when you're sitting at a sports bar with no dog in the Monday Night Football game's fight, but inside you know exactly who you want to pull this one out. 
And it's the same feeling that started to surround me last week when I realized the FedEx Cup was upon us and I really didn't have anything bad to say about it. Sure, this thing has been a joke in the past, but things take time and it seems this year golf fans can honestly say they're actually pumped up for the playoffs to begin. 
Is there a reason? Sure, there are plenty.
First, it's been one of those golf seasons without a true champion. You've had a long-hitting lefty take the Masters, and a hometown American boy snag an up-for-grabs U.S. Open. We saw a former superstar leave England with the Claret Jug and an upcoming superstar run away with the PGA Championship, but 2012 hasn't had a true golfer emerge as the best in the world (did you noticed I wrote that whole paragraph without mentioning the only guy with three PGA Tour titles to his '12 resume, right?). 
Another reason is the playoffs start off with a dream matchup. On Thursday at the Barclays, Tiger Woods and Rory McIlroy will go head-to-head in the first meaningful match of their careers. No, it isn't a Sunday at Augusta National, but Bethpage Black always has a major championship feel and Rory and Tiger will be battling for the top spot not only this week, but in the entire four-week playoffs. Woods is the champion not ready to yield his crown, and Rory is the youngster still not scared to pull driver on just about every hole and boom that high draw as far down the fairway as his body will allow.
That could be why this matchup is so exciting. Rory plays like Tiger used to, and he seems to do it with a smile on his face and a hitch in his step. McIlroy is more Tiger 2.0 than people give him credit for, mostly because he enjoys overpowering golf courses with his perfectly timed golf swing and sweet-spot potential.
On top of all that, the playoffs roll right into the Ryder Cup, an event that seems as even this season as it has in over a decade. The American team might actually be better on paper than the Europeans and to start off the FedEx Cup, we have the two biggest names on each squad playing together. 
But the cast of characters aren't to be forgotten. If Bubba Watson leaves with the FedEx Cup trophy, it'll be his year. Same can be said for a guy like Jason Dufner or Zach Johnson or even Webb Simpson. 
For once, the FedEx Cup is going to make a PGA Tour season, and it seems like players are genuinely excited to get out there and start battling. 
That was the whole point of this to begin with, right? 
(Oh, and there is still that $10 million thingy ...)
Everything about the event so far this week has been a home run

Rahm lost his lead, but a 67 keeps him in the chase at CareerBuilder

Koepka is looking to recover in less than three months to play at Augusta National
Thomas Pieters and his Ryder Cup partner could go at it for a title this weekend

Phil Mickelson returns and the Web.com Tour is cleaning up

Lefty returns at the CareerBuilder Challenge this week