Struggling all week, Tiger Woods finishes career-worst 5 over at Masters
Four-time Masters champion stumbled to closing 74 as memories of his victory two weeks ago quickly fade away.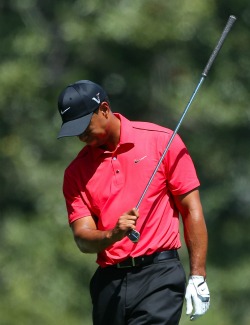 Tiger Woods failed to break par for just the second time in his professional career at the Masters. (Getty Images)
AUGUSTA, Ga. -- After winning for the first time on the PGA Tour in 30 months, Tiger Woods arrived at Augusta National thinking he had plenty of confidence and nothing but answers.
He left with nothing but shrugs and many of the same old questions.
Woods finished with a final-round 74 and finished with his worst finish ever at the Masters on Sunday at 5 over par.
Woods never posted a score better than even-par 72 for the week, which was as uneven as the terrain on which the famous course is built. It marked only the second time as a professional that he didn't break par in any round and extended his victory drought to his past seven Masters appearances.
It's been an incredible month -- he walked off the course with an injury at Doral, won two weeks later at Bay Hill to snap a 30-month drought, then chopped it around this week as the pre-tournament favorite. He never truly contended.
Some of these comments sound like they were dug out of a time capsule from more than a year ago.
"I didn't hit the ball very good this week, and what's frustrating is I know what to do, and I just don't do it," he said (Watch: CBS interview). "I get out there and I just don't trust it at all. I fall back into the same old patterns again, and I just need to do more reps. 
"Thank god my short game was good this week and my putting was really good. Unfortunately, they were all for pars, not for birdies."
While his ball-striking was spotty at best and dismal at times, Woods only made two birdies on the par-5 holes, which he played a combined 1 under for the week, losing miles of ground on the leaders on the course's easy three-shot holes.
"If I look back on the week, I played the par-5s atrociously," he said. "This is a golf course you just have to dominate the par-5s, and I did not do that at all this week."
There's not much where he was dominant, really. It was stark reversal from Bay Hill, where he won by five strokes 14 days earlier.
"Well, you're not going to play well every week," he said. "Unfortunately it was this week for me.  I had the wrong ball-striking week at the wrong time."
Before this week, Woods' worst finish as a professional in 16 appearances was T22.
The next season of golf has a real chance to be one of the best any of us has ever seen

This season will fascinate as old stars converge with up-and-coming superstars

With a single golf lesson up for auction, Tiger Woods changed some lives forever in Texas this...
The Days have had a rough 2017 from beginning to end

Why in the world would a former FedEx Cup winner hop on 24 hours worth of flights this wee...

Following the debacle at the ANA Inspiration earlier in 2017, Thompson has some thoughts