Teenage amateur Hossler nearly steals the show, after taking lead, during Friday matinee
Beau Hossler, 17, climbed to solo first for several minutes in the second round of the U.S. Open, his second trip to the national championship.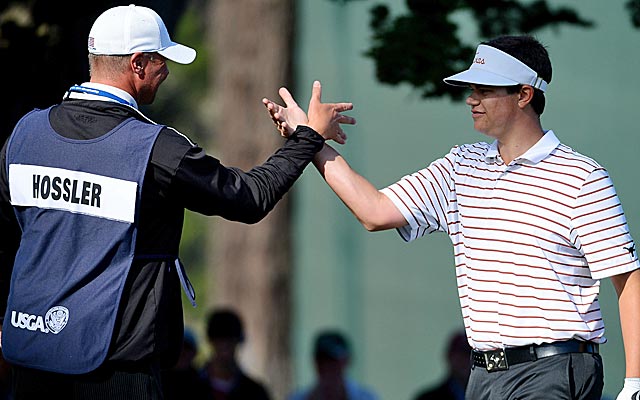 17-year-old Beau Hossler has a legitimate shot to win the U.S. Open
(Getty Images)
SAN FRANCISCO – It was brief, it was fleeting, but like the panoramic views from the hill overlooking the 18th hole at Olympic Club, it was certainly beautiful.
For a few minutes on Friday, a teenage amateur was leading the U.S. Open.
Beau Hossler, a 17-year-old from Southern California who will start his senior year in the fall, started quickly in the second round and climbed into solo first at 2 under before fading on the course's punitive front nine.
But it was a blast while it lasted.
No amateur has won the Open since 1933, and realistically, it wasn't going to happen this week, either. But Hossler wowed people four and five times his age in the Olympic Club gallery and provided a glimpse of what should be a promising future.
Heck, it was similar to when Matt Kuchar, a 19-year-old amateur, turned heads at Olympic Club in 1998, when he played in the penultimate group in Saturday's third round before finishing T14.
112th U.S. Open: Round 2
Related links
Hossler said he felt like a savvy veteran for much of the day, finishing with a 3-0ver 73 that left him in T10 shortly after he signed his card.
"I just felt pretty comfortable out there," he said. "Pretty nervous starting the round. I'm normally pretty nervous on the first tee, but once I got through the middle of the round I found out I had the lead. After hole one I felt pretty comfortable.
"I felt I was getting into a little bit of a zone. Unfortunately, I kind of lost it coming in. Just really glad to get it to 2*under through 10 holes."
At that point, he was leading major winners like Tiger Woods, David Toms and Jim Furyk – all old enough to be his biological father. Amazingly, the kid said all the right things afterward, sounding every bit like a polished veteran of big-league events.
"I was pretty excited about it, but then again I had another 40 holes at least to be playing in the tournament," he said. "You got a long way to go and you can't get too wrapped up on where you're at. You got to keep focused and try to go out there and salvage some pars on the first six holes, which is pretty difficult to do."
That's the most difficult stretch on the course, and he played it in 4 over.
Hossler admitted that, as confident as he was in his skills entering the week, anybody who believed that he would be leading at some point might need psychological counseling.
"I would probably tell them they're nuts," he said.
 
This isn't Hossler's first rodeo. He went through qualifying last year and shot 76-77 at Congressional and missed the cut.
"I feel like I learned so much," he said. "You can't substitute being actually being there."
Another fast-track teenager in the field, 14-tyear-old Andy Zhang, the youngest ever to play in the U.S. Open, shot a respectable 79-77 in his first PGA Tour-sanctioned event.
SportsLine simulated the 2018 Omega Dubai Desert Classic 10,000 times and has some surprising...

SportsLine simulated the 2018 Farmers Insurance Open 10,000 times with some surprising res...

The Ryder Cup is going to be insane after the 2018 season
Rahm and Landry battled one another through four extra holes on Sunday

The Englishman lapped a monster field on Sunday with a closing 65 that was better than it...

It's the second time Phil Mickelson missed the cut in his first tournament of a season