Ten (ridiculous) reasons why the Europeans will win the Ryder Cup
We have no idea who is going to win this Ryder Cup, but we can always come up with wacky reasons why it might happen for one team or the other.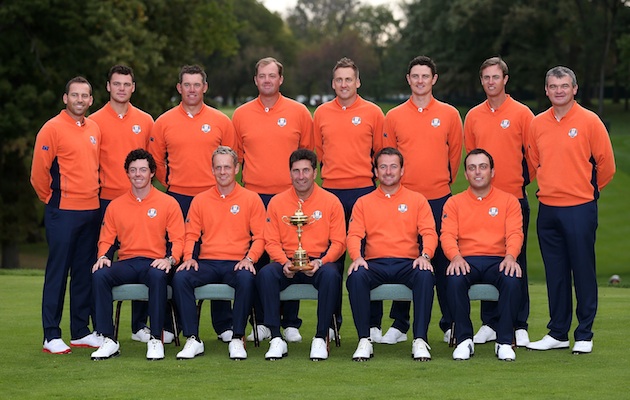 Even if the Europeans don't win this week, they'll at least get to leave with these cool orange sweaters. (Getty Images)
The Ryder Cup kicks off Friday. It's one of the most-cherished golf events in the game and one that has all sports fans focused on the team event for three excruciatingly timid days of golf. I've already given my winning pick, but honestly, what the heck do I know? The Europeans could trounce the Americans. The Americans could whip the Euros, and we won't know any of that until Sunday evening.
So with that, we present the 10 ridiculous reasons why the Europeans will win this Ryder Cup -- just a day after we gave you our 10 reasons why the Americans could do it. Read on ...
More on the Ryder Cup
More Golf coverage
Sergio is back! -- Sure, they won the cup in 2010 without Garcia on the team, but they didn't WIN it like they win it when he's there. So with Garcia back they can both win and WIN, a win-win if you will.
The Americans only have one golfer without a spouse while the Europeans have four -- According to one Stephanie Wei, the Euros have four guys without someone on their arm this week, which means way more focus, I'm sure. It's probably as big an advantage as home field, if you really wanted to know the truth, and also if they win, less champagne they have to buy.
Rory McIlroy and Graeme McDowell share a bond way greater than anything on the American side -- I'm starting to think these guys are twins. Here are the reasons; 1) They're both really cool guys that everyone seems to enjoy. 2) They both have a walk about them that screams confidence without it being too much. 3) They both dress well. 4) They both have a U.S. Open trophy to their credit. 5) They both are from Northern Ireland. Yep, I've decided these guys are the Sedin Twins of the golfing world, and it makes me really, really nervous.
Sergio Garcia is playing in a big event and it isn't a major championship -- That's the simple recipe for Garcia: play on a huge stage as long as it isn't a major and he will dominate. Book that.
Justin Rose, Lee Westwood, Luke Donald and Ian Poulter are playing in a big event and it isn't a major championship -- Oh yeah, these guys, too. 
The vice-captains are awesome -- No offense to Fred Couples and the gang, but these vice-captains are AWESOME. Who wouldn't feel comfortable with Darren Clarke, Miguel Angel Jimenez and Paul McGinley around? I'm all in on this group.
Their biggest question mark is 3-1-1 in his career at the Ryder Cup -- Paul Lawrie don't play around.
Francesco Molinari will finally be allowed to be his own person -- Molinari has never been able to flap his wings as his own person in this event with brother Edoardo dragging him down all the time like he did at Celtic Manor. Now Molinari can play with a number of other guys, none Italian, and really show that he's the Eli Manning to this whole Peyton analogy. 
They only have one rookie -- Nicolas Colsaerts is the only rookie, and good thing for him they shaved all the rough so he can bomb it out there and not worry about where it goes. It's like Davis Love III is playing right into his hands!
They're due -- They haven't won this event in two years!
From Rory McIlroy to Charley Hoffman, here's who could steal $10 million

All you need to know from tournaments, participants, field cuts and money distribution

ANGC is about to have its 7th chairman this fall
The No. 4 player in the world likely only has four or five tournaments left in 2017

This recent development in the golf world is not an encouraging one, and Vonn is not pleas...

Find out when and how to watch the 2017 Northern Trust live this week