The art of a Tiger Woods press conference, speaking strictly in 'healthy' doses
Tiger Woods' press conferences are very different, and we investigate just how often he plays the same instrument to the media.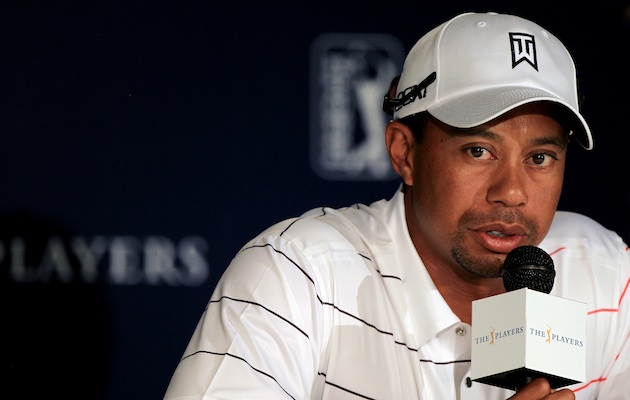 Tiger Woods is healthy, just ask him. (Getty Images)
On Sunday evening, as the British Open was winding down and articles were being published on sports outlets all across this great land, I caught a glimpse of Tiger Woods' press conference. 
More on Tiger Woods
Related content
Woods had struggled on Sunday, shooting a 3-over 73 to finish four shots behind eventual champion Ernie Els, and Tiger was being asked the typical questions that Tiger gets asked after every round that doesn't end in a win. 
• "What happened out there?"
• "What can you take from this experience?"
• "What do you need to do at the next major to give yourself a better chance at winning?" 
And Tiger gave his typical answers. For all the brilliance Tiger displays on the golf course, his press conferences are as Joe Durant as they come. He's always short off the tee, never missing fairways or providing the wrong answer. Even when his entire world crumbled around him, he stayed composed and in the moment when a random reporter would ask a seemingly  inappropriate question. 
So I heard something from Tiger that caught my ear.
"Well, I finally feel like I'm really healthy. And I've got my pop back in my swing. So I'm hitting the ball distances I know I can. Unfortunately when I get out here with a little bit of adrenaline, it goes a little bit further, too. It's a combination of having my strength and my speed back, at the same time playing tournament golf."
"Humm", I thought. I've heard that before. I know Tiger's popular vernacular in the media room. He loves the words "traj" and "process," but it took that moment to realize that Tiger liked talking about himself "finally being healthy" as much as anything. 
So I started doing some research. Now, in Tiger's defense, there are as many dumb questions thrown his way in each press conference as there are vanilla answers from Woods, but it is interesting how often he simply repeats himself. It isn't cliched responses like you might get from a rookie quarterback who just drove his team to a big win. There isn't any "stay in the moment" talk. It's more Tiger's own press conference dialect. 
So is Tiger "finally" healthy?
After the third round of the 2012 Players Championship, Tiger said, "My knee is finally healthy enough to take the pounding." That was just a few days after mentioning before the tournament started: "It's nice to actually be healthy again and do all my training and everything I need to do to get ready to play." That was in May.
And two months before that, at the Honda Classic, where Tiger closed with a final-round 62 to nearly take down Rory McIlroy? 
"I'm excited. I'm excited to have a full schedule leading up into it, and on top of that being healthy enough to prepare. Very pleased at some of the progress I've made, and it's getting better each and every week, which is good. That's what we want to have happen, and ultimately try and peak four times a year, and that's what I'm trying to do."
And remember in early February, when Tiger stormed up the leader board at the Pebble Beach Pro-Am with a third-round 67? Take a guess what he attributed his success to when someone asked if he was surprised how fast he'd recovered from a knee injury that had Woods miss both the 2011 U.S. Open and British Open.
"The first part of your question: Am I surprised? No, because that's what I like about what I'm working on with Sean. And the speed that it's come is I'm finally healthy to be able to do it."
Ahh, Tiger. His revelations never let us down.
Now, this isn't some sort of downplay on how injured Tiger has been in his career. First it was his neck, then his knee, then his Achilles', and they've all taken substantial chunks out of his career (Tiger has missed four majors since '08 because of injury), but it is entertaining to see how he's "finally" healthy at just about every tour stop.
"I finally was able to get healthy enough where I could get the reps in. Once I got the reps in, everything started coming along pretty quickly, and I think that's one of the reasons why Australia happened as fast as it did." -- Woods, after his third round at the 2012 Abu Dhabi HSBC Golf Championship.
(How did I forget about reps?)
And before the week started? 
"Well, I haven't been able to practice until I got healthy and that's what was exciting about going down to Australia. I was finally healthy enough to practice, and I had not practiced a whole lot after I got hurt at Augusta."
And the double bomb of health and trajectory? 
"Yeah, I was able to control the ball in that wind.  Hit it all different trajs and all different shapes.  As I said, that was a big steppingstone for us. To play and put myself in contention and almost win the Australian Open, and then play even better at The Presidents Cup. That led into what I did at the World Challenge.  It was just a building process. It was something that, I had to get healthy first, and once I did, that things started snowballing the correct way."
But it isn't only 2012 where this has been the case. Even a year ago, Tiger was talking about finally being 100 percent, his go-to statement about where his game's at. 
After his Chevron win in December, Tiger talked about his play up until that moment, and how it has progressed because, shocker, he's healthy.
"They're kind of mini-tournaments to me.  I was treating [them] as such because I didn't play too much.  The exhibitions also in Asia, as well as Aussie Open, Presidents Cup, and now here. I got better each week, and that's because I was healthy and able to get the reps in." 
And at the Presidents Cup?
"Yeah, I'm finally healthy. So it's good to be healthy and be able to practice and play."
And what about the final major of 2011? 
"But now that I'm healthy, it's so much easier to be more patient because I feel good. I have way more energy because I'm not trying to block out pain and trying to ignore that. I can just go out there and just play golf." 
Tiger continues at the PGA Championship ...
"Well, I'm finally healthy, so that's a big one. I haven't been in a while, so that's something I'm very excited about finally, that I can come out here and just play and have fun again."
So, for those counting at home, Tiger is healthy, dangit. He's been telling you this for a year! 
The next season of golf has a real chance to be one of the best any of us has ever seen

This season will fascinate as old stars converge with up-and-coming superstars

With a single golf lesson up for auction, Tiger Woods changed some lives forever in Texas this...
The Days have had a rough 2017 from beginning to end

Why in the world would a former FedEx Cup winner hop on 24 hours worth of flights this wee...

Following the debacle at the ANA Inspiration earlier in 2017, Thompson has some thoughts