The Bacon 'Bag: Phil's Ryder Cup chances, Long Putters and Tiger at Firestone
Our weekly Bacon 'Bag focuses on Phil Mickelson's Ryder Cup chances, the long putter controversy and if Tiger has a good shot next week's Bridgestone Invitational.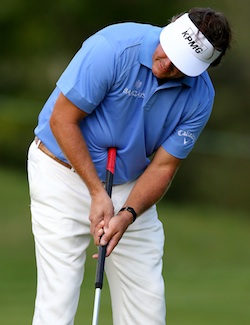 Phil Mickelson made it in two of our questions thanks to his belly putter and Ryder Cup slip. (Getty Images)
Golf is full of questions. How do I hit it further? How do I break 90? What is wrong with Tiger Woods? Why are you such an idiot? 
It's a game that will never be figured out in the millions of years people will play it, but it's fun to try to figure it out. Starting this Tuesday, it'll be you guys that help us answer the in-depth (and ridiculously fun) questions about the game. Have a  question? Fire it our way on Twitter to either @shanebacon or @eyeongolf with the hashtag "#eyeqs". We will pick out the best of the week, answer them as best we can, and continue this throughout the rest of the season. 
So we begin eight here with our weekly Q and A with the readers …
Q. Phil is close to falling out of an auto Ryder Cup spot. If his poor play continues, is he a captain's pick? @betterthanm0st
A. Well, you're definitely right, Phil is currently seventh on the US Ryder Cup team's points list, and it's top-8 that are automatically in. 
The guys after Phil read as such; Hunter Mahan, Keegan Bradley, Rickie Fowler, Brandt Snedeker, Dustin Johnson and Steve Stricker. Behind them are names such as Jim Furyk  (15) and  Bill Haas (16), so it isn't exactly like there are all bums behind Lefty.
But, to your question. Do I think Davis Love III will use one of his four captain's picks to snag Phil if he doesn't make the top-eight? Yes, absolutely I do. 
The American Ryder Cup team, while solid, isn't full of a ton of veterans, and I think guys like Phil and Stricker would get picked solely on their veteran leadership. I know Mickelson is struggling, but we saw something similar with Tiger Woods in 2010, when he was a captain's pick and went on to finish 3-1-0, the best of anyone on the American team (along with Stricker). 
Phil will be on the 2012 Ryder Cup team, one way or another.
Q. Honestly, do long-putters really deserve all this negative press? @chicagoduffer 
A. It was rather strange how much this got played up this week, considering the debate has been going on for decades if long and belly putters should be banned, but I'll give you my two cents on the debate if this deserves so much negative press.
The argument is basically a steroids-style of argument. If at one time, a supplement now deemed "steroids" was legal, and you were a professional athlete trying to get stronger so you could perform better, you'd use it, no doubt about it. It might not be a natural way for someone to get bigger, but it's something that's out there and your goal is, simply, to be better so you earn more money and can stay in The Show longer and provide for your family. 
Long and belly putters are the same to me. They're legal as of now, and if a guy can make 28 putts a round instead of 29, he's going to make a ton more money each year and win more tournaments. The difference between the best golfer in the world and the guy that is 125th on the money list is smaller than you'd think, and a putt a round takes you from the mini tours to the Nationwide, the Nationwide to the PGA Tour, and down the money list to a top-25 player.
Every player on the PGA Tour using these devices, at one pint, used a short putter, and they perform better with something that is anchored. Is it fair to the guys that don't use an anchored system? Right now it is, because if those guys wanted, they could make the switch (like Phil Mickelson tried last season). 
Now, personally, I don't like them. I've never used them because I'm an old school golfer that still prefers a 2-iron to a hybrid and standard grip to cross hand. I like my golf as simple as possible, and messing around with a belly putter seems like it would only confuse my minimalist mind even more (I honestly think me using a range-finder has screwed with my feel shots, which used to be the best part of my game and are now so technical that I actually will shoot shots from 40-yards or so, which is as annoying as it is ridiculous). 
That said, if I got my hands on a belly putter and it saved me two shots a round (And this is what I did for a living), it would be dumb not to change. So, in conclusion, they're legal so I don't see why guys get so much flake for using them, but I'm not a huge fan simply because I like old school golf, and that doesn't really strike me as such.
Q. The player with the best total score at the 2012 majors? @tommathies
A. Well, first, you have to toss out anyone that hasn't made the weekend in all three of the majors, which interestingly enough, kicks out all the major winners of 2012 (Bubba Watson missed the cut at the U.S. Open, Webb Simpson withdrew from the British and Ernie Els wasn't even invited to the Masters). 
Phil Mickelson is out for missing the cut at the British, Louis Oosthuizen played great at the Masters and solid at the British, but didn't make the weekend at the U.S. Open, and while Tiger Woods has made the cut in all three majors, he's a combined +9 through the first three.
My pick for best score in all four of the majors? Graeme McDowell, who is 2-under through the first three, and doesn't look like he's going to slow down when the PGA Championship rolls around. In fact, with the winds likely and the conditions tough, I might even say he's the favorite heading into Kiawah Island. 
Q. You think Tiger is going to get the W at the Bridgestone? @darealtiger
A . We still have a full week before it's worth chatting about the Bridgestone, but it wouldn't be fair to anyone to not include a Tiger question in this mailbag.
Do I think Tiger will win at Firestone? Actually yes, I do. The golf course is perfect for him, he's comfortable there, and it appears that he can find his game in the blink of an eye as long as the event isn't a major championship.
The only red flag? If he wins that week, he will surely play bad the next week, which happens to be the PGA Championship, so maybe he'll tank on purpose. Also, that was a joke.
SportsLine's Mike McClure, a DFS pro with more than $1M in winnings, gives optimal lineup...

Paris is just nine months away, and it's not too early to start talking about

This week always feels like a big one on the European Tour, and this year is no different
It's going to be a telling year for where McIlroy's career is eventually placed among the...

Big Cat and the 44th POTUS got in a game over the weekend

A scary situation emerged out of Honolulu during the Sony Open